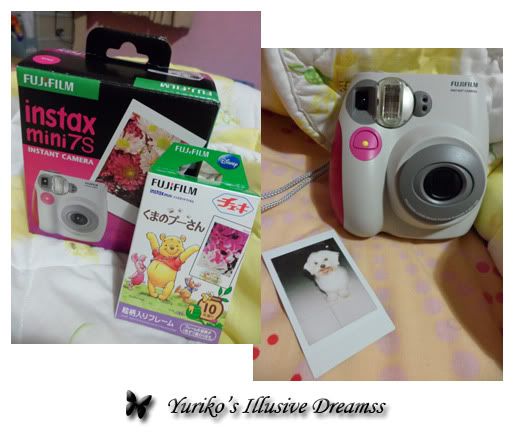 After lamenting about this for the longest time, i finally went to get it for myself!
Totally in ♥ love with it right now. Haha! And i got mine in PINK! My favourite colour! They have it in Full White! And i was hesitating about getting it. But it cost $30 more just because its fully white and considered a special edition! Well, even if not for the price different, i still prefer the one in PINK anyway! =p
Gonna be buying more pretty films! Currently i only bought 1 box of 1 of the Winnie The Pooh collection. Gonna be buying the Doraemon, Mickey and Minnie, Hello Kitty, and more of the Winnie The Pooh collection in other designs! Weeeeee~ =) Will be buying the photo album to keep those pretty poloroid photos soon! =)
Tested out the camera yesterday! And as always, Muffin is my first model for the first photo taken by all my new cameras! =) And guess what, Muffin loves my new toy too!! He was so excited to snap new photos with it! He was smiling happily and looking at the camera ready to snap photos! =) Aww i love my cutie lil boy!
Here's my take on the Fujifilm Instax Mini 7S camera!
Well, the camera is nice and cute(and it comes in PINK!, also this is 1 of the reasons y i wanna buy it in the first place) and the photos came out nicely! And it is really easy to use! Plus since its called a instant camera, the photos came out instantly! which is y i like it! no need to send my photos to the shop to be developed! Plus i've always like the poloroid effect!! And there are many cute and pretty different designs of frames for the films! (this is another factor that tempted me to buy it!) =)
The down side is that, although it says MINI, it is in fact still pretty bulky and a lil heavy! (i know its alrdy pretty small compared to some other poloroid cam!) Well, i nv like carrying heavy stuff as it'll hurt my shoulders and back (tts if its in my bag, and im carrying my bag), tt explains y im complaining bout it. Also, since it is a instant camera, i had to make sure every photo is properly aimed and taken, as there is no way to delete the photos and choose which ones i like before it prints out! (a mental prep i had to have in mind before i buy it!). Plus the films are pretty expensive! 1 box is about $14 to $16, and there is only 10pcs per film pack! Which means i had to bring along xtra boxes of films if i intend to bring it out and snap many photos! Other than these downsides, i love everything else about it! Haha! =)