been sick these days and thank god im alrdy much better today. felt terrible the past few days! just tt my nose is still blocked and flowing at times. still coughing slightly, but my throat is better now. all thanks to my
Vitamin N
! hehe! had it the whole night long~
wanna know whats that magical
vitamin N
? hehe! its my
BF
! LOL!
anyway since i've neglected my blog for so long, i shall do a quick run thru of my last few days! =)
Friday
after work went to
Bedok
.
Bf
and his sis went to pick me up from there and we head to
ECP
for dinner before heading home.
Saturday
went for my facial session in the afternoon with
Mummy
. After which came home to wash up and bathed
Muffin
and
BF
came over to pick me up and we went to
Anchorvale CC
to meet
XiaoQiang
,
Peh
and
Jonatha
n for
Badminton session
! The game was good! Its been a long time since I last exercise of played badminton. So it was really fun! After which we wanted to have dinner at
Sunset Grill and Pub
, but by the time we reached, it was already closed. So we changed venue and head to
Lau Pa Sat
instead.
Valenz
and
YanZi c
ame to join us for dinner. After dinner, we head to
RWS
to catch the semi finals of the
worldcup
!
Uruguay Vs Germany
! Gosh lose money again. =( and again I let money slipped thru my fingers! I had filled up the betting sheet, and was about to go buy for bet. Just a few steps slow! By the time I want to walk over to the counter. GOAL~ I was too late. Sigh. =( anyway by the time the game ends and we head home to wash up and slp, it was already in the morning at 5+ to 6am.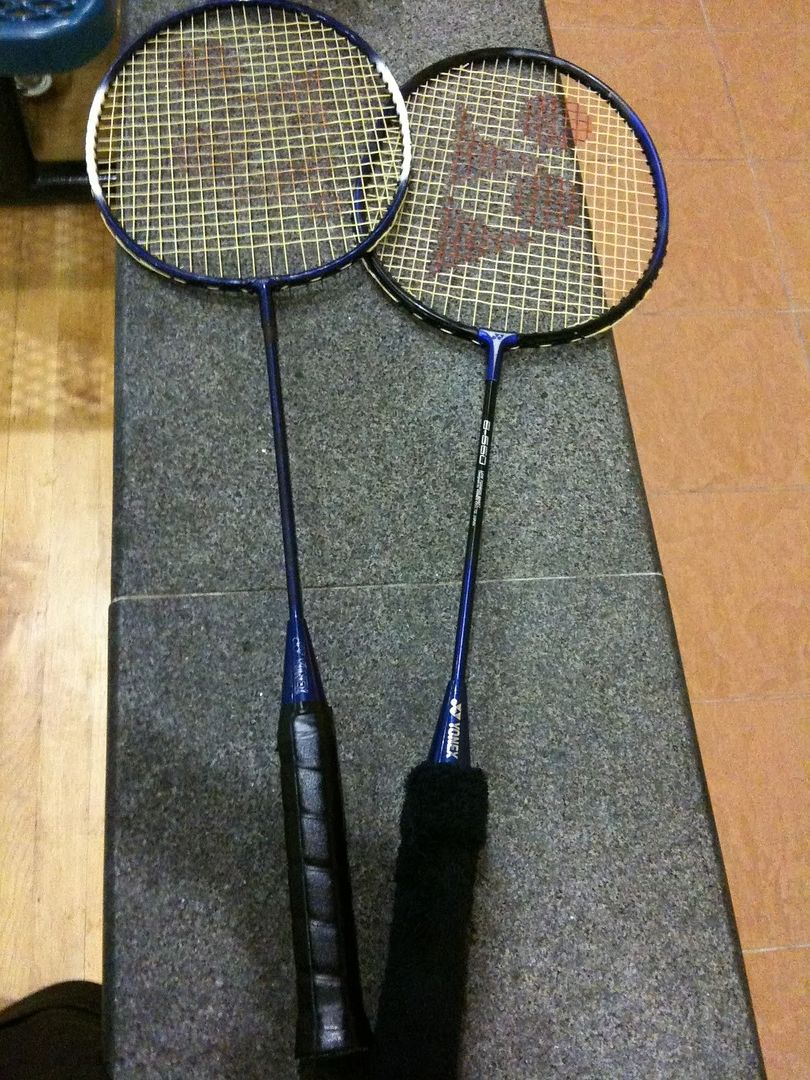 Our badminton rackets! =)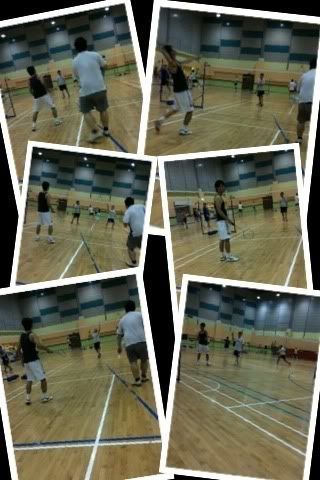 the guys in action! playing doubles!
Sunday
, woke up in the afternoon and we went to wash his car together. After washing, we went home to wash up and prep, and went to
Marina Square
to meet a few of his campmates and god sis
Kammy
. Had our dinner at
Hotpot culture
. This is where I suddenly don't feel well. Down with a bad flu and my nose was running badly! After dinner, the few of them left for home, while bf, me,
Kammy
and
Chang
continue to hang around there for awhile til the place was almost closing. After which we head to
ECP
to continue slacking the night thru. Played pool, played some games, catch some bears and we all had the
yummy mango snowflake ice
! =) at about 2+am, just before the final match of the
Worldcup
,
Holland Vs Spain
starts,
bf
send me home to rest while he went back to
ECP
to continue the night with the rest and watched the worldcup.
As for
Monday
, in the morning I woke up and I felt terrible. Feeling feverish, terrible bodyaches, down with bad flu and I had a bad throat and coughing! Sigh, thus I ended up skipping work and rested at home. Slept practically the whole day! Only woke up to eat medicine and food. After which I back to bed. =(
As for
yesterday, Tuesday
, woke up still feeling drowsy and still having a bad flu, bodyaches, sorethroat and cough. But I had to go to work anyway. While on the way I felt the whole world was spinning around me.At world wasnt too bad cuz im sitted most of the time. During lunch i tried the 'Pi Pa Mi' Herbal drink. gosh its super gross! it felt like drinking the whole bottle of 'pi pa gao' thats diluted with water. -.-" drank only 1/4 the bottle to soothe my throat and i gave up drinking it. So not gonna drink it ever again! After work went straight to bf's place. watched some hk drama, had dinner and went to slp.