Genting Weekend Getaway - 2nd to 4th July 2010 - with Bf and friends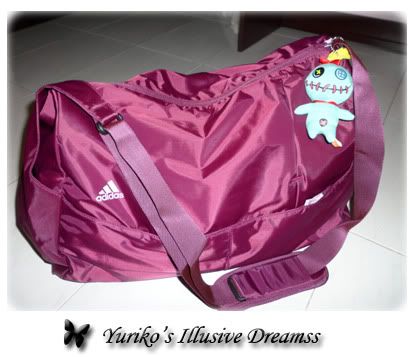 My New Adidas bag that was bought on Thursday while shopping at Parkway with bf. Specially for this Genting Trip! Haha! All packed and ready to go! And my lil Scrump tagged along with me! =p
After work on Friday, went home to prepare and bf came over to pick me up from my place back to his place. At 10+pm, his dad send us over to Golden Mile. Met up with YY there while we waited for XiaoQiang, Peh and Valenz. Boarded the bus and we were on our way to Genting!
Our 2nd toilet break stop point at Msia,Yong Ping. And we had our dinner there as well!
As it was way too cold in the bus, I couldn't really slp at all, end up by the time we reach Genting in the morning I was extremely tired and having a bad headache! When we alighted from the bus, it was about 5+am! And it was super duper cold! We were literally shivering and freezing! Temperature was about 14degree Celsius!
Upon reaching, we went to check-in and went back to the room to place our bags, before we head out to have DimSum for breakfast! After breakfast as it was still early, we went to the arcade as it was the only place that's open! Played til the Awana Skyway to the Chin Swee Temple was opened, and we head to the temple to pray. After the visit to the temple, we took the shuttle bus back. The girls then head to the room to rest while the guys went to check-in the other 2 rooms. It took them about 1hr plus to 2 hrs as there were tons of people! After they check-in, each of the couple went to their own rooms and we washed up and rest. At about 4+ we met up again and head to Ah Yat Restaurant for our lunch~ Yummy! Food was yummy and we were all very full! After lunch, the guys head to the casino, while we girls went shopping! As the shopping places were pretty limited, we soon finished shopping, and decided to get ice cream, found ourselves a nice spot to sit down to rest our legs, enjoy our ice cream and start our girls talk and gossiping session!~ haha!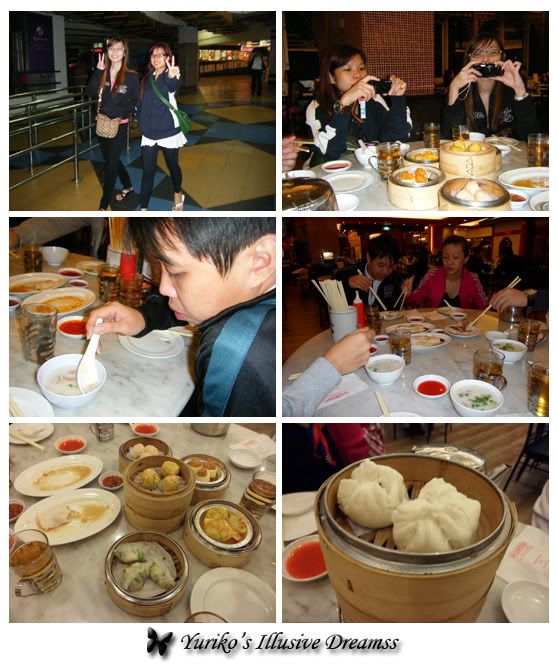 Walking towards the restaurant for our Dimsum breakfast!! And thats part of our foodie!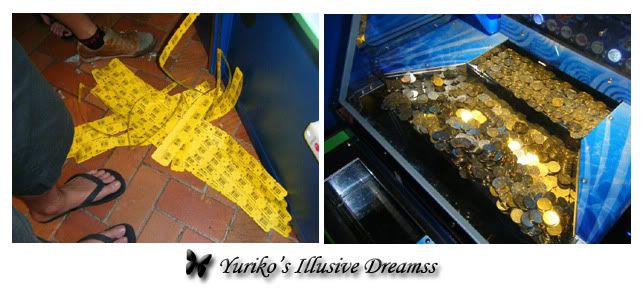 At the arcade~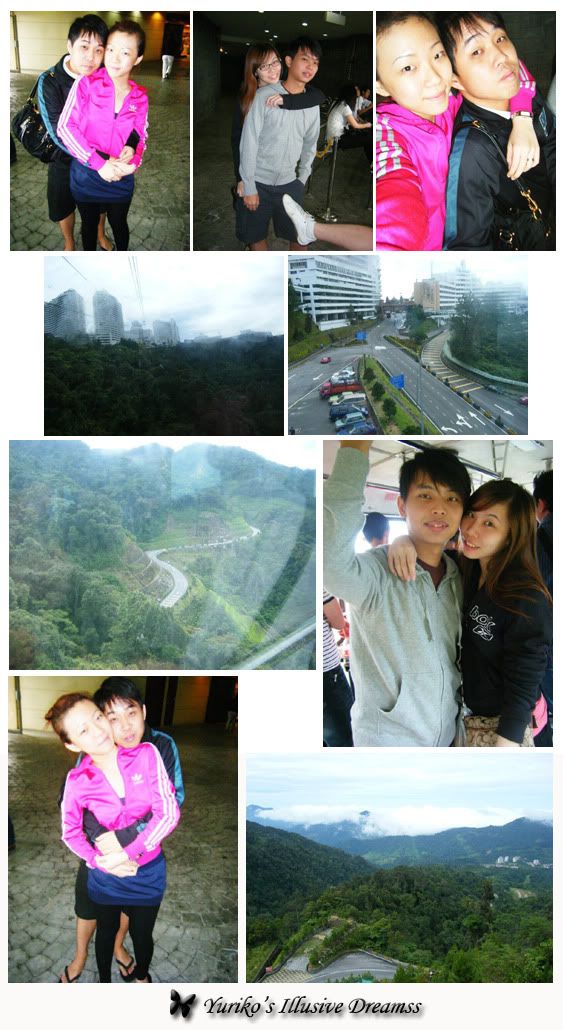 While waiting for the Awana Skyway, and while onboard and on the way towards ChinSwee Temple~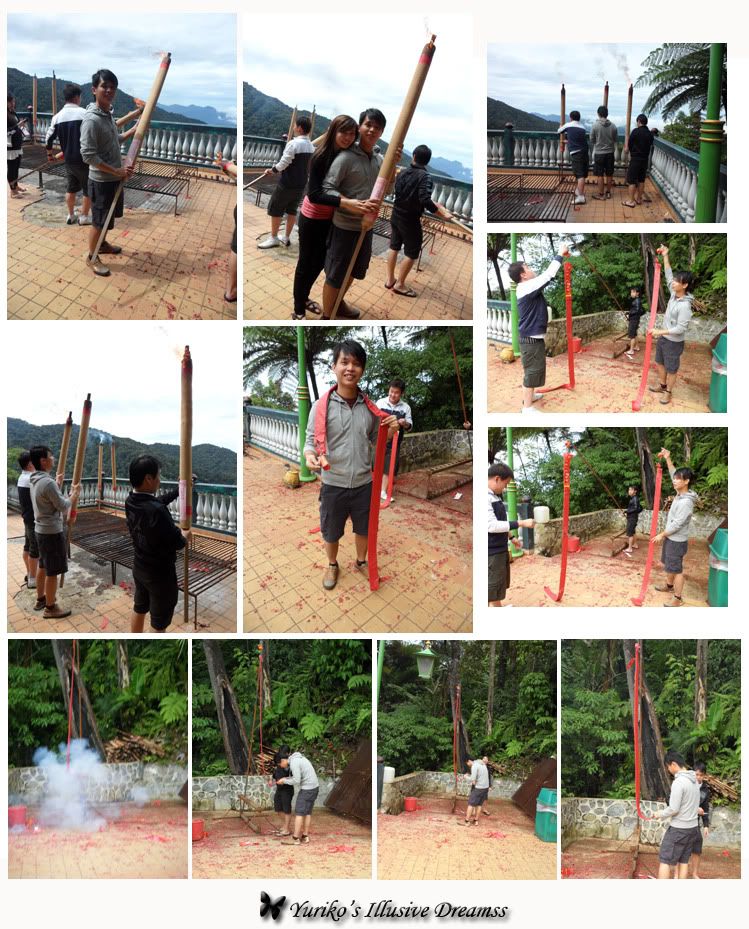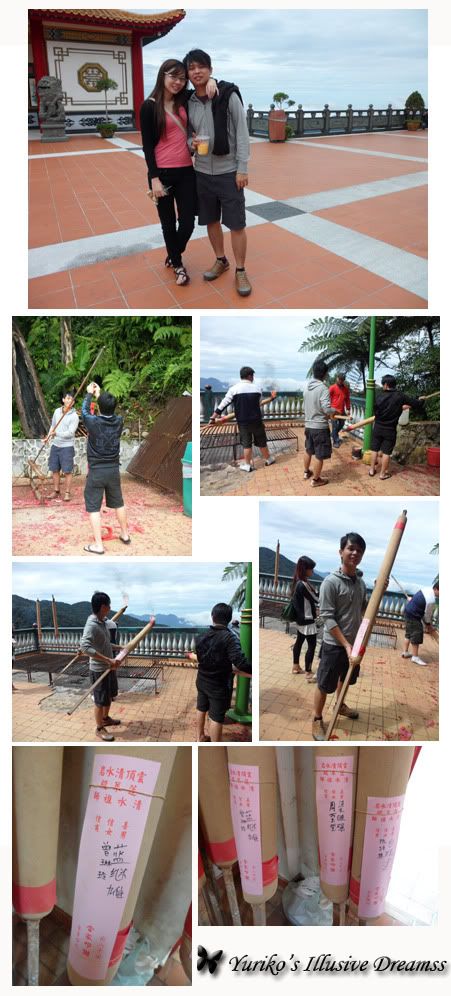 At ChinSwee Temple. The guys with their huge joss stick, and playing with fire crackers!!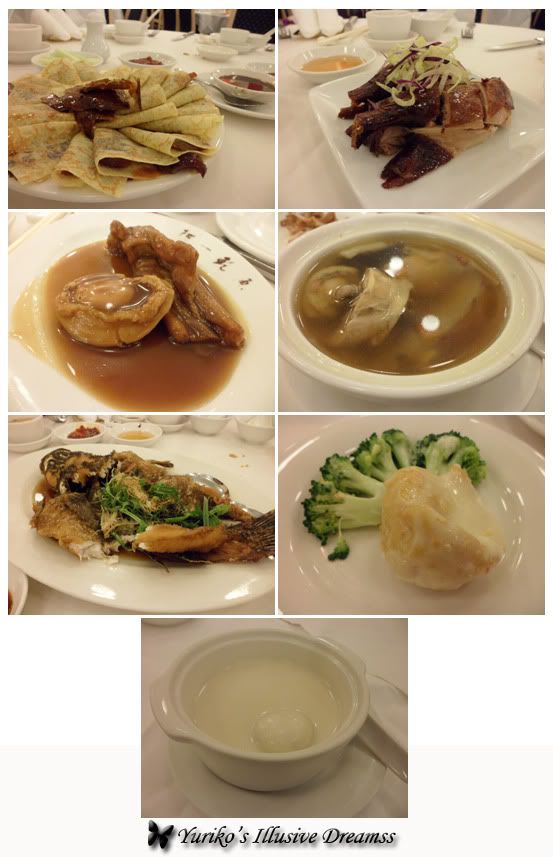 Our late lunch at Ah Yat Restaurant! Yummy! but i forgotten to snap 1 of the dish! The fried rice! 8dishes in total!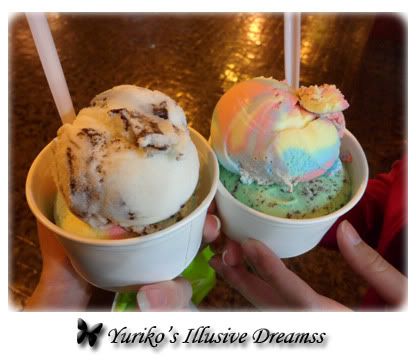 Yummylicious Icecream that Me and YY had!
At about 10+pm, we went back to our rooms to put down our shopping bags before we head over to Cloud9 club to meet the guys. We had wanted to catch the Worldcup match of Argentina vs Germany at The Sports Bar beside Cloud9, but it was way too packed and so we head to a café elsewhere to catch the match while having some drinks. Bf and me had Earl Gray tea! Yay! Something warm to warm me up as I was feeling super cold!
the girls~ outside Cloud9 while waiting for the guys!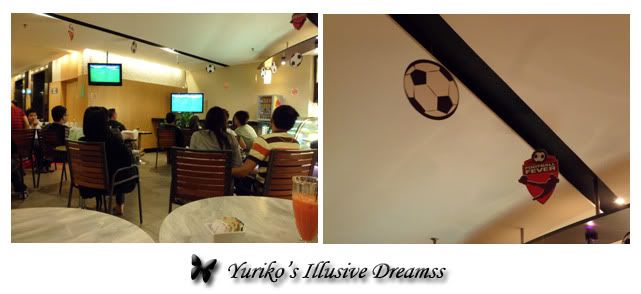 At the cafe where we watched the worldcup match! Worldcup fever!
The match was terribly played by Argentina, and they eventually lose to Germany by 4-0! Yay to Germany Go Go Goal~ hahaha! But sad for the guys as they lose money~ Oh well, after the match, they went to Mary Brown for dinner, while bf and I went to packet Pepperoni Pizza from Pizza Hut and noodles from Only Mee! Went back to our rooms to wash up and ate our dinner before we head to bed to slp for the night.
On Sunday(yesterday) morning, we woke up at about 10+ to 11. Washed up, packed up and check-out! After that we head to Kenny Rogers for breakfast! Yummy! Another of my favourite foodie~ After eating we continued shopping! Last min some stuff caught our eyes and we quickly rush to buy them before we rush over to check-in for our bus and boarded the bus back to SG.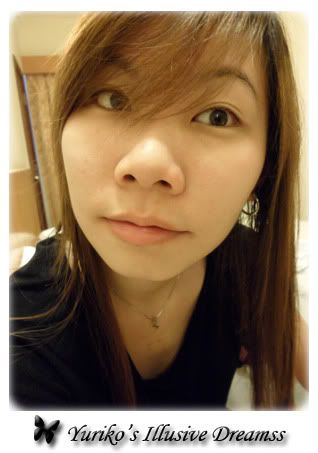 without fail, i had to have at least 1 narcissistic photo of me myself and I! LOL! and this is the ONLY 1 as well! =p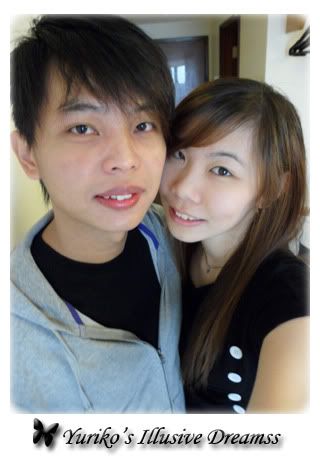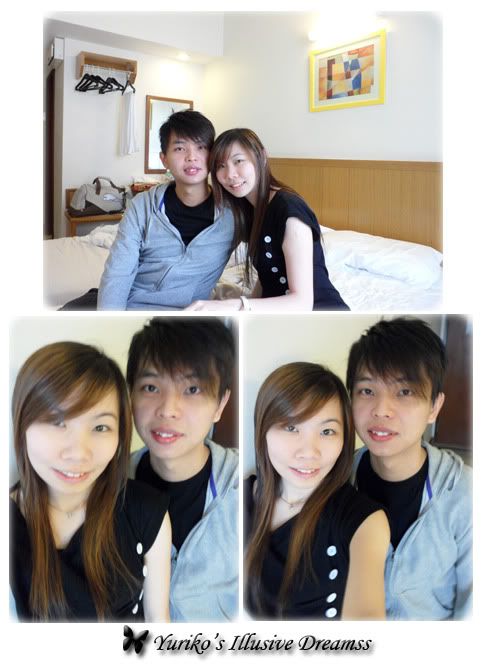 Bf and Me
Gosh what a rushing trip~
Many things that were planned, were not executed, example visiting the Outdoor Themepark with YY, casino, and more phototaking! This trip, we didn't even take a group shot together! So sad~ Oh well, im looking forward to our Taiwan and Korea trip which is still in the midst of planning now! =)