lately i've been drinking and supporting
Brand's
products! my favourite would definitely be the
Brand's Innershine Berry Essence
!! Its not only
Yummy
, but also contains lotsa
Goodness
! =D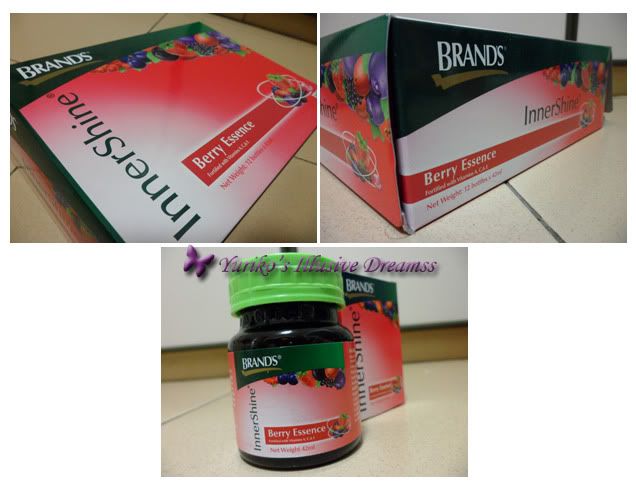 ALL MINE!! =p
i first gotta know bout it when one of my family member brought it home~ decided to try it as i saw the word
BERRY
! haha! i like all sorts of berries! =p and as assumed, its really sweet and tasty!! and i can drink it as it is in room temperature or have it chilled in the fridge before consumption!!
right after i drank it the firs time, i gotta learn from
Rain
da jie's blog that its really good for health! cause she have been drinking it for a few months now, and her myopia have improved!!
WOW
right? haa! and also i did some search on
Google
, and found some reviews about it mentioning that after they drank it, their complexion improved and they look much more radiant!
And as
Brand's
stated, it contains seven types of premium berries, specially selected from Europe and America. The combination of seven berries is an excellent source of antioxidants, which neutralize harmful free radicals in the body and prevent degeneration of eye cells. It contains Zinc and is fortified with Vitamin A, C & E, providing the required nutrients to benefit ocular health. A natural extract, it contains no artificial colouring and preservatives – that means you can enjoy the goodness of InnerShine Berry Essence everyday!
and thus i told my Mummy bout it, and she went to buy a dozen of it home!! weeeeee~ gonna be drinking it pretty often now, and im planning to buy it on a much more frequent basis and have it stocked up at home at all times! =p
hopefully my skin would look much more radiant and my myopia would improve too!! =)
that aside, i use to dread the taste of
Brand's Essence of Chicken
when i was younger. but as i age, i realize im starting to like it!! been drinking it during recent years exam periods, and im gonna drink it on a random basis from now on too~ cause it has recently been proven by researchers in London to provide a boost to your metabolic rate to decrease mental fatigue and improve mental alertness and physical energy in as short a time as 30 minutes!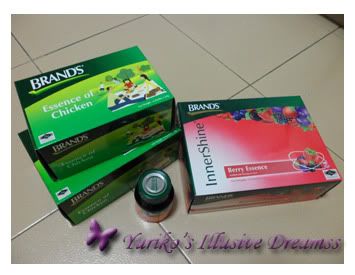 Brand's Essence of Chicken and Innershine Berry Essence!! *yumyum*
weeeee~ im a
Brand's supporter
!! LOL!!