Yesterday 28april2010
, as mentioned in previous post, i went to pick
Dear
up from work after i was done with the vacuuming and mopping of the whole house and done ironing the clothes. My house was extremely dusty due to some fibre installation done earlier in the day.
after picking
Dear
up, we headed home to rest for awhile before we head out to
East Coast Lagoon
for dinner with
Bei
,
Valenz
,
XiaoQiang
and
YY
!! Finally all the couples are united! No one alone~ =)
The guys did all the ordering of the food, and as always, they ended up ordering
LOTSA
food! each of them ordered something, and the whole table ended up being filled up!
Our table of food! Yummy Yummy! Before and After! =p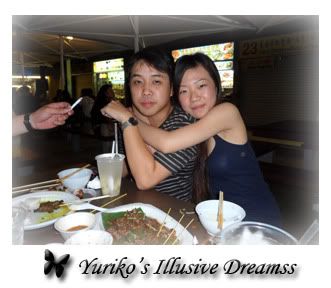 The sweet and cute couple, XiaoQiang and YY! finally a photo of them!
and XiaoQiang looks so much happier here now that YY is with him! =)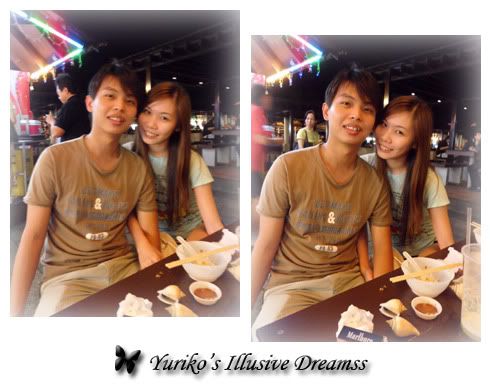 And not forgetting, Dear and Me! ♥ =)
(Valenz and Bei didnt wanna take photos that day though~ thus no photos of them~)
anyway after dinner, we slowly stroll back to the car, midway we saw the parking attendant checking out
Dear
's car coupon!! Well, the fact is, we forgotten that we
ONLY
put half an hour worth of parking coupon! but ended up there for 2 hours? Haha! Immediately we panic, but he was quick to react and press to unlock his doors! That alerted the parking attendant and he walked off right away! Phew~ another min late and we're
SURE
to get a parking ticket! LOL! lucky us!
Bei
and
Valenz
headed off to run some errands, while the rest of us drove over to the
Bowling alley
. Nope, we didnt bowl, though i kinda wanted to. Cuz
XiaoQiang
's nails were too long, and
YY
didnt wanna play. And so we went upstairs to the arcade while waiting for
Bei
and
Valenz
to come back and meet us~ Ended up we caught a couple of keychains and cute lil Mickey and Minnie (
this is super sweet and its as if God had them there specially for US! below pict will tell you more!
), with Pooh! And
Dear
was so bored he played lotsa random games!! from Initial D, to Soccer, to a Cycling Balloon game (
i cant rmbr the name of the game
,
but he look so cute playing that game! *melts*
), and also some fighting robot game!! And i joined him to play one of my old time favorite game,
Time Crisis
! haha! Its been years since i last played it! And im seriously aging! only played for awhile and both my arms were aching!! But, i still enjoyed playing it with him! Plus the best part for me was, i played better then
Dear
in this game! hahahaa!! Yay!
The couple soon came back to meet us and we went downstairs to catch bears again! this is so addictive! seriously! and we ended up spending bout close to
$60
just catching bears, and playing games~ *
faints
* But
Dear
was so sweet when he said this to me, '
its ok, at least those bears made you happy!
" =) *
Im all Smiles
* hehe!
After we left
ECP
, we went over to
Loyang Temple
to pray as
Dear
and
Bei
were gonna fly to
Thailand Today
!
Thailand
, as everyone should know, is in a mess right now. Internal warfare and chaos. But his group of friends insisted on carrying on with their plans. Both his parents and i persuaded against him going, but him being him, insisted on going as well.
After we were all done, we headed home for the night. Helped him with some last minute packing. Lotsa cuddling, and off we head to bed to sleep.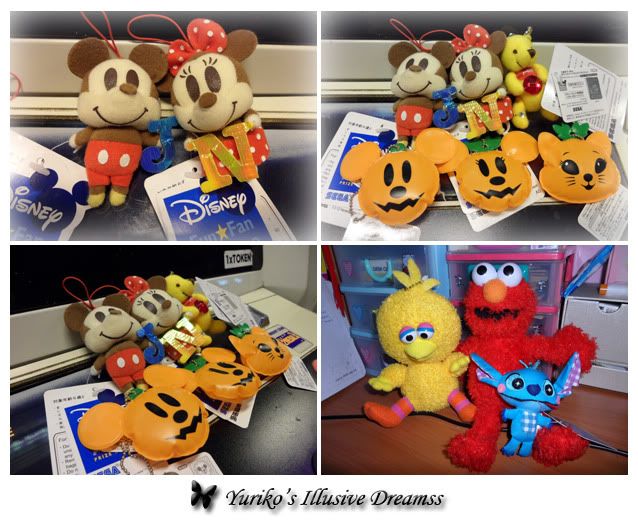 Our catches for the day! =)
the BigBird and Elmo and Stitch is so cute! spend ALOT to catch these!
Also, do Notice that the Mickey is holding a letter J, while Minnie is holding a letter N!!
J for Jasmine, and N for Nicholas!!! (if u're unaware, Nicholas is my Dear BF!)
So sweet, matching and coincident right!! And in the whole machine, there is ONLY 1 of each! the others were mostly letters Ks, and Ws!! Thats y i mentioned, its as if God placed it there specially for the both of US! =)
As for
TODAY
,
29april2010
, we woke up early to prepare, and we went over to pick
Bei
up and i send them both to the airport. *
sulks
* heart filled with worries and anxiety! plus, im so gonna miss him!!