woke up and bathed
Muffin
.
lazed around til afternoon went over to
PS
to join him and his parents for shopping. he bought a couple of stuff, and also bought me my BB cream. after which we went to catch bears again!
and this time round he finally manage to catch me the 2 plushies that i've been eye-ing for a long time!! a
Baby Mickey
and a
Scrump
! Been wanting a
Scrump
for a long time!! But always wasn't able to get it! As its pretty difficult to catch cuz of its size and shape! (
yes i know its sold in departmental stores! but i refuse to get it of the shelf as it wouldnt be fun and loses it purpose and i wont treasure it as much!
) Scrump is
LOVE ♥
! Firstly cause i like the colour of it,
Pastel Turquoise
! (
correct me if im wrong. cuz to me it does look turquoise, cuz i do know some people says its green. hmm...but i prefer to know it as turquoise! haha!
) Yes, i dont know since when i like that colour alot! (
even my toe nails now are painted in Pastel Turquoise!
) That aside, its really cute and last but not least cuz its from my favourite cartoon movie,
Lilo and Stitch
!! i simply love that movie and i love
Lilo
!! Plus
Scrump
is a handmade doll by
Lilo
! haha~ I dont really fancy
Stitch
as much though, but its also kinda cute nonetheless~ =) Oh and notice that the
Baby Mickey
is also wearing clothes that is of almost similar colour! weeeeeee~ i
LOVE
♥
~ tts y both of them are
UBER CUTE
~=D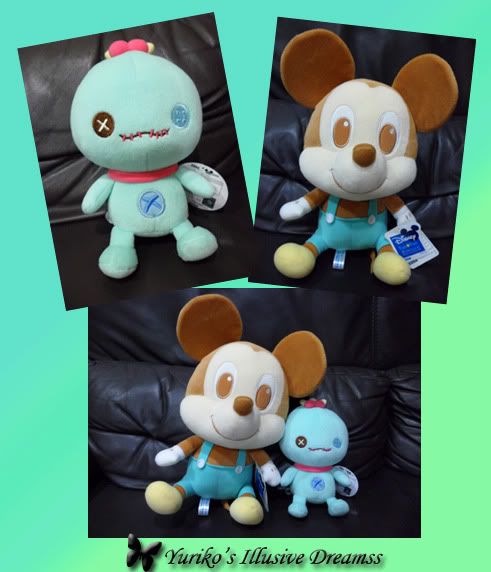 So yay to BF for catching them for me! =) Aint they both CUTE! =D More cuties added to my collection~ weeeeeeeeee~
after which we packet some foodie back home and they watch soccer while i used my laptop and played around with my iPhone. Couldn't watch the TV with them as i forgotten to bring my specs along! *
sulks
* silly me~