After sending
bf
to airport in the morning, came home to rest as i was still kinda tired! lack of sleep!~
In the afternoon,
Lisa niece
came over by cab and pick me up and we head over to
Bugis
! Head to
Sakae Sushi
for our Lunch! and this is where we heard a China man said to the waitress, "
Screw me, Paste de bill!
"....and we both burst out laughing! hahaha!! After this Joke-of-the-day, we both ended up laughing throughout our whole day!!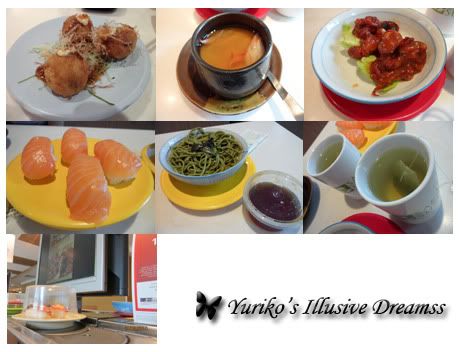 Our foodie! Sushi, Sashimi, Hot Green Tea, Baby Octopus, Cha Soba, and Chawanmushi!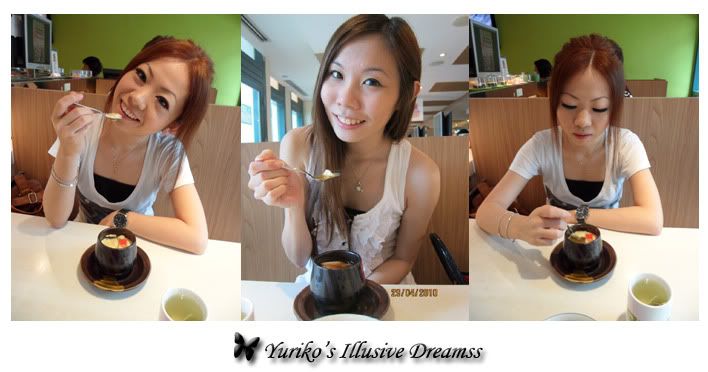 After lunch, we shopped around
Bugis Junction
and soon head over to
Illuma
to continue shopping. By this time, i already had a couple of shopping bags on hand!! *
gosh
* (
bought 1 pair of sandals, 1 pair of heels, a top, a new blusher brush, sponge and a bottle of hydrating mist to put in office next week!
)
As we were done shopping there, we took a bus to
Marina Square
and continue shopping! And again i bought new hair accessories! a big ribbon hairband and a ribbon hairclip! =)
Gosh, just a day out and more damage to my wallet!! =( I cant stop buying!! and lucky for Lisa! Cuz nothing caught her eyes and thus she ended up not buying anything at all!! =(
Ok, back to topic, soon we got hungry and walked over to
Singapore Flyer
, to have
Popeyes
for dinner! Continued chatting and laughing over lotsa jokes and issues~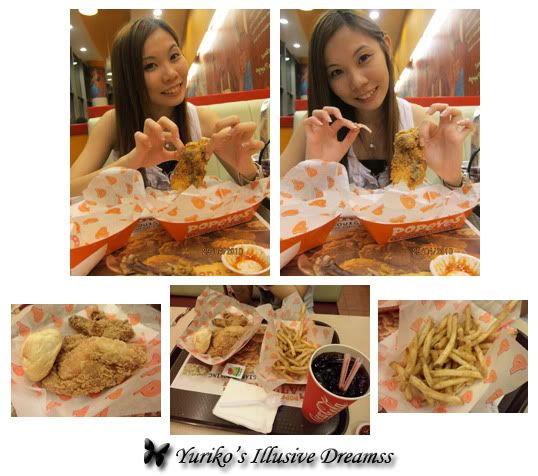 At Popeyes!
And after dinner, the intense walking begins! We wanted to head to the new bridge to snap photos~ And so we walked and snapped and walked and snapped. We kept walking and walking and ended up at
Marina Bay Sands
! Haha!! The good thing is, we get to explore a new place! And i manage to finally step into
Marina Bay Sands
! though we didn't go into the Casino though~ haha!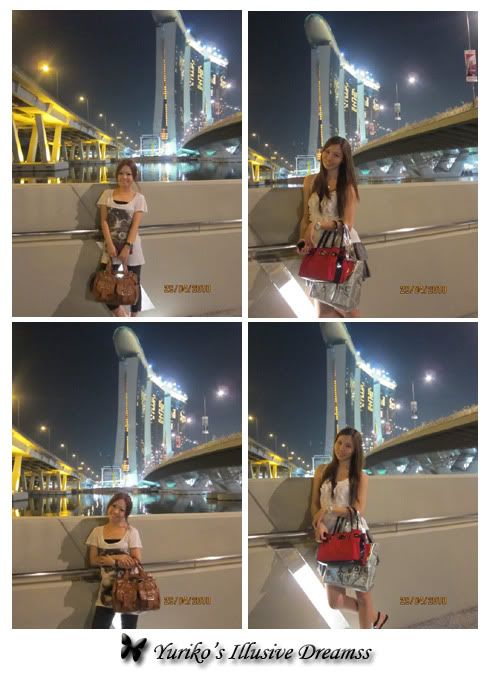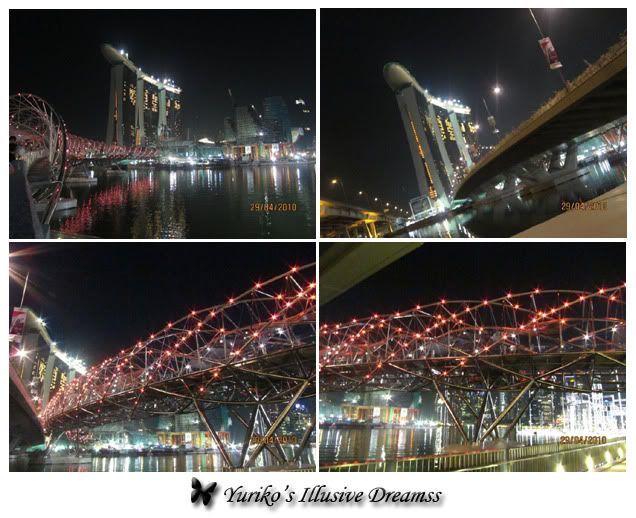 Its quite awesome! aside from the construction that is still going on which is quite a prick to the eye! haa~ other than that the view is pretty nice! =)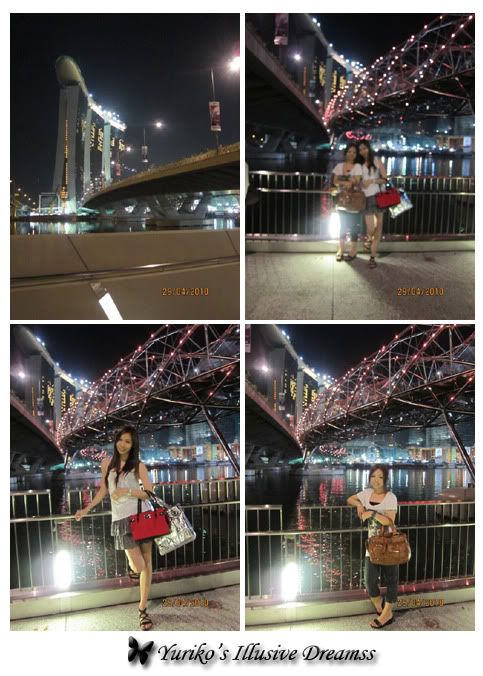 Pretty Pretty!
But the shot of Us together was blur! taken by some 'kayu' passerby who didnt know how to focus! -.-"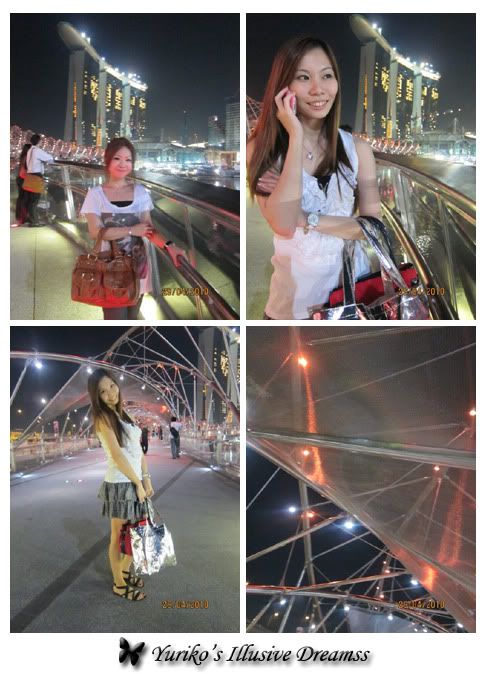 On the bridge!
And a candid shot of me while i was on the phone with my Dearest!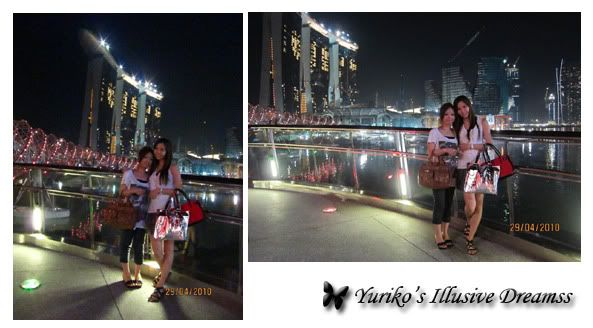 Us with the awesome view! =)
I love this photo!!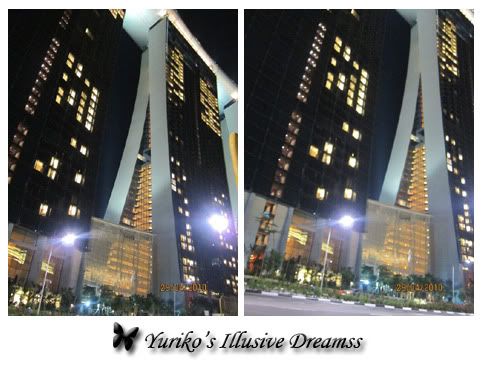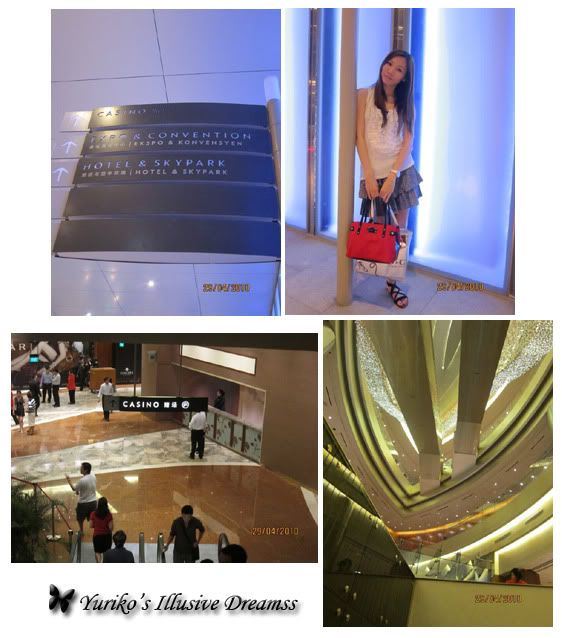 Reached! Virgin Trip to Marina Bay Sands!!
Its very pretty inside as well! So gonna try out the Casino one of these days!! =)
But the bad thing is, after which we got stucked there! Firstly cause its way too far for us to walk back, the taxi queue was ridiculously long and there aint any bus nor train to get home!! So we ended up boarding a random bus and ended up at
Marina Bay MRT
station! So instead of our initial plan to cab home, we took the train instead. Upon reaching my station, she alighted with me and cabbed home instead~ =)
By the time i got home, my arms, legs and feets were aching from all the long walking with the heavy shopping bags on hand!
Anyway am uploading photos, blogging , and on the phone with
Dear
!! =) Though he is miles apart right now, it felt like he is so near! Cuz throughout the day we've still been in constant contact over the phone! Hehe! Glad he has safely landed at
Thailand
~ And at
Pattaya
now! But still cant help worrying bout his safety since its still dangerous over there~