random day~
sunday
,
yesterday
night
Dear
came over to pick me up and we head to
Bedok
to get our dinner before heading back to his place. i had my favourite soya beancurd while he has his wanton noodles. While eating, watched football with his family members. I soon got tired watching, not because its boring, but because i was simply too tired! had woke up very early that day to go cycling in the morning with lil bro, after which was home doing chores for the rest of the day~ I ended up knocking out pretty early!
as for
today
, woke up and played
Puzzling
and
TapTapDefense3
on my
iPhone
while waiting for
Dear
to wake up~ cuz he slept only at 6am~ when he finally woke up, we head to
Eastpoint
for our brunch at
KFC
! its been awhile since we ate it! had avoided it for some time cuz its very unhealthy, heaty, oily and fattening! haa~ anyway i ordered the Zinger burger meal while he ate 2pc chicken meal and a shroom burger~ after which we went to
Pet Safari
to look at the lil doggies before heading home~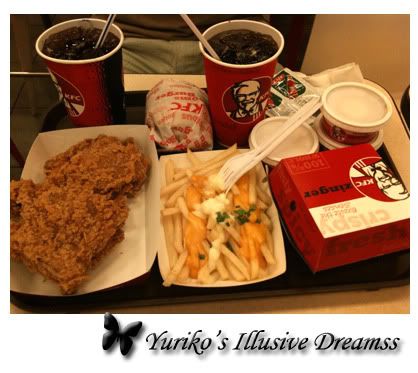 our food tray with out food and drinks at KFC! =)
in the evening went out with his family for dinner~ they had intended to go
Eastpoint
to collect some stuff and head elsewhere for dinner, but since we had to wait for awhile for it, we soon decided to have dinner at
Sakae Sushi
at
Eastpoint
~ after dinner went to the arcade and i caught myself a handful of sweets and a cute
My Melody
plush! =) We then shopped around and i spotted a pair of earphones which is really cute!! It comes in many different colours and in the shape of
M&M chocolates
~ hehe! i like! had almost walked off without buying it cuz i didnt see the colour i want~ but thankfully
Dear
's eyes were pretty sharp! and spotted the last
light pink
one among them! weeeeeee~ Last piece! and i got it! hehe! Yay! new earphones to match my
iPhone
! =)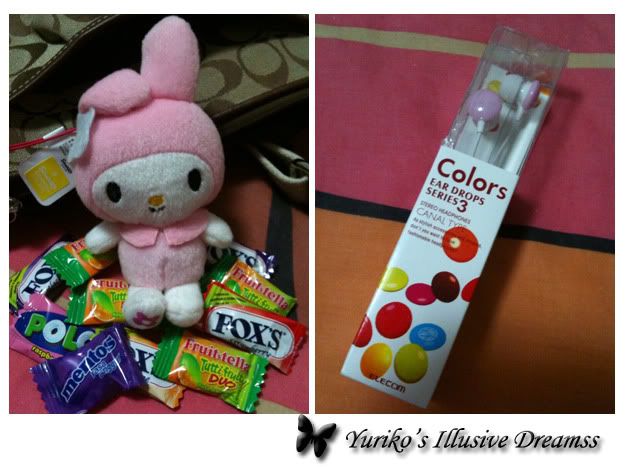 My Melody Plush and sweets! and my new light pink M&M shaped earphones!
after which head to
Pasir ris
to get bubble tea~ before we went to attend a wake~ after it all, head home and continued watching our
HongKong Drama
,
Zhu Gong Bao Qi
! =)
Btw,
HAPPY BIRTHDAY
to
SIMIN
&
BRENDA
!! sry to
simin
that i couldnt make it to your bday celebration. but im sure u still had fun with the others who were there~ =) Best wishes~