♥
COT D&D cum Graduation dinner cum Gathering!!
[backdated post]
Location:
Carousel Restaurant@ Royal Plaza on Scotts
&
Le Bar 2
Attendees:
Kelvin, Jeffrey, Alan, Mike, Jerrain, Jenny, Alex, Glenn, SuFen and ME (10pax)
Date:
22 Jan 2010 (Friday)
Time:
7.45pm til 3-ish am
Event:

Our very own, exclusive COT D&D, cum Graduation dinner, cum Gathering!
for those who dont know, didnt notice my past blog post, or its the first time u're reading my blog,
COT = my Circle of Trust!
Had been very excited since weeks ago during our presentation period and after we finally graduate, Had been looking forward since the day we finally confirmed and compromise on the venue date and location without anyone being unable to turn up due to personal event, out of town and work, Had been eagerly waiting for the time to pass on that day itself!
And finally, the date approaches, the time struck, and im still rushing to prepare, finding clothes to wear, shoes to match, make up for the day~ ended up i was late, when i suppose to be one of the earliest since im not working! haa!! anyway met up with
Glenn
at
Payer Lebar Mrt Station
, as he works near there, and my train would go past that station~ but end up he had to wait for me and we both ended up late~ Reached
Orchard
and we rushed to
Royal Plaza on Scotts
~ The moment we head into
Carousel Restaurant
we spotted a few of them, and head over to our table which is at the corner and realize, we werent the latest! apparently
Alan
and
Kelvin
havent reached either~ But they soon came~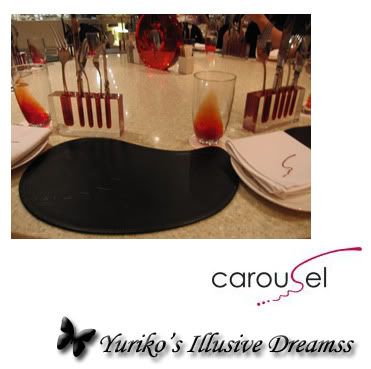 our pretty utensils at Carousel! ~
And the
BEST
part was, everyone of them that had been invited had turned up, though we had initially kinda expected 1 or 2 of them to be unable to make it! =)
Dinner was great!
Dining table is nicely arrange with artsy cutlery! Food are sumptuous and yummylicious, with oysters and sashimi that are fresh, a variety of seafood, Asian to French to Mediterranean buffet counters, to bakery, salad bar, fruits, desserts such as cakes, icecream, fondue, etc. All are good, probably except the choice of soup and the disappointing desserts! The place was crowded, thus kinda noisy, and so we all had to be a little loud and rowdy during our conversations, chats and catching up~ The price was a little steep! But, the
MOST
important factor was the company of people with me that was truly wonderful, heartwarming and lovely!
Took a couple of photos, and
Jerrain
surprised us with a personalized gift for each of us!! How Sweeet and thoughtful of her!! =D Well, she gotten each of the ladies personalized engraved pendent, and the guys personalized engraved handphone chains, thats placed in very cute boxes! the ladies gotten a stalk of rose, which in fact the rose is a box, and the guys gotten a cute bear box! On top of that, she had personalized and little card for each of us! I dont know how each of theirs looks like, cuz everyone's is different, but for mine, she had printed pictures of us from the first year we met (2007) til our last year of school (2009)!
=)
*HUGS* Da Jie!! Thanks for the lovely gifts and card! It'll be treasured well by me! =) Love Ya!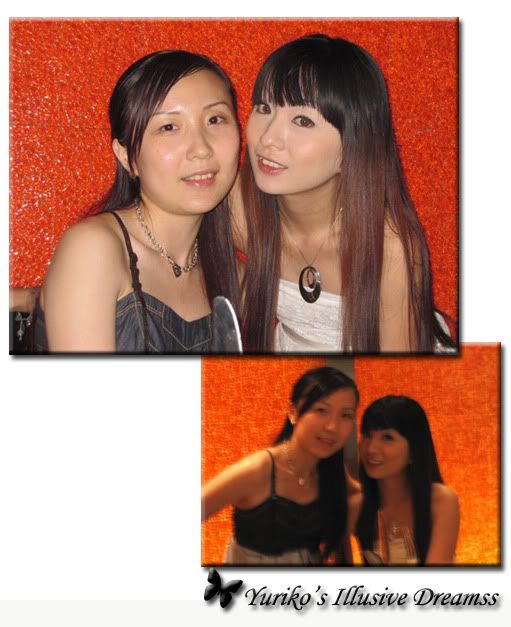 the 2 pretty Js jiejie~! Jenny & Jerrain!
Full attendance Groupshot! !! =) standing by each other throughout the 3 years! with a blink of an eye, we're all graduates! Gonna miss them all~
Top Left to Right: Mike, ShuFen, Alan, Jeffrey and Alex
Bottom Left to Right: Me, Jenny, Jerrain, Kelvin and Glenn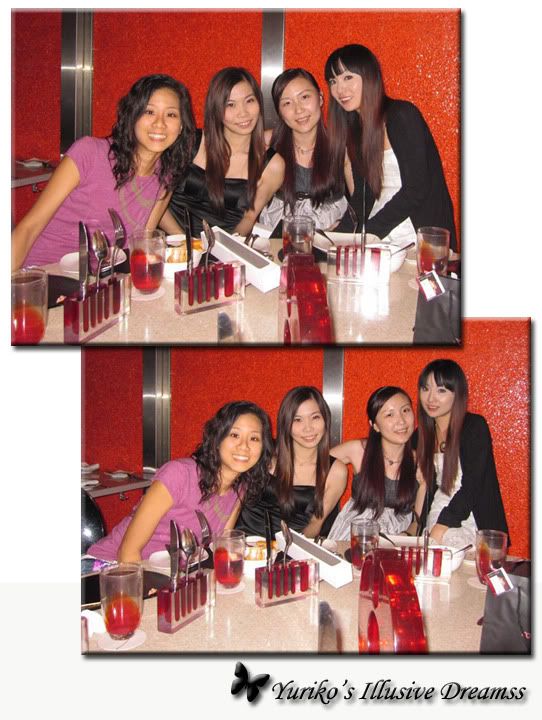 the ladies~
as Jerrain named it, the Js~ cuz J for Jasmine (me), Jenny, and Jerrain and S for Shufen~ =)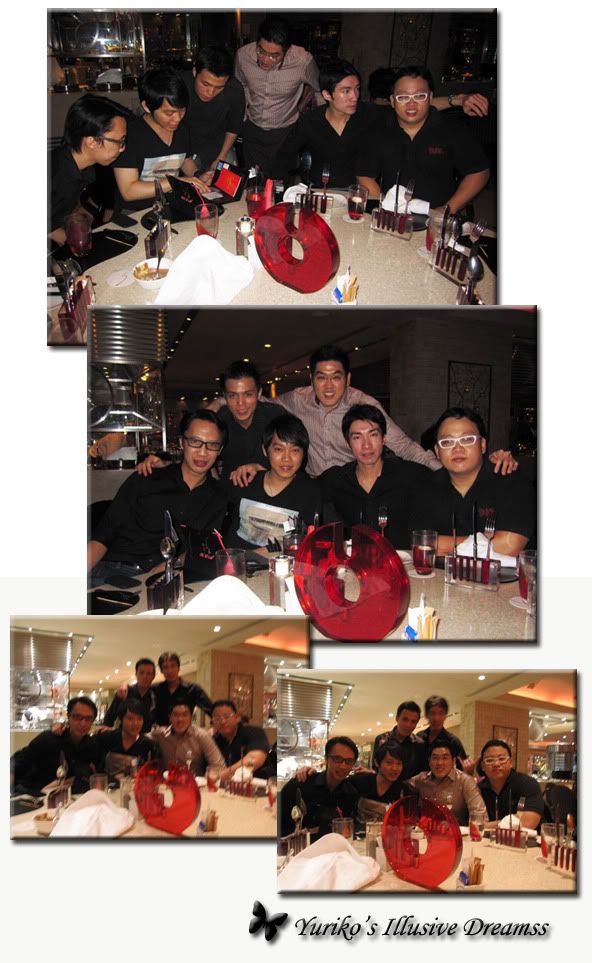 the guys! its quite a cute sight to see all the guys surrounding the lil bill and checking it! =)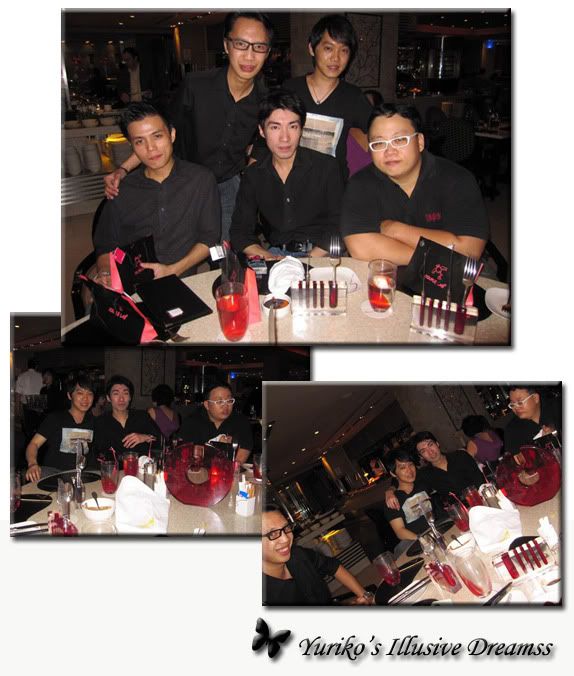 the guys in black! and also the official guys of our COT! =)
and thats Jeffrey and Alan! as mentioned by Jerrain, Alan looks kinda constipated in the candid shot! haha! =p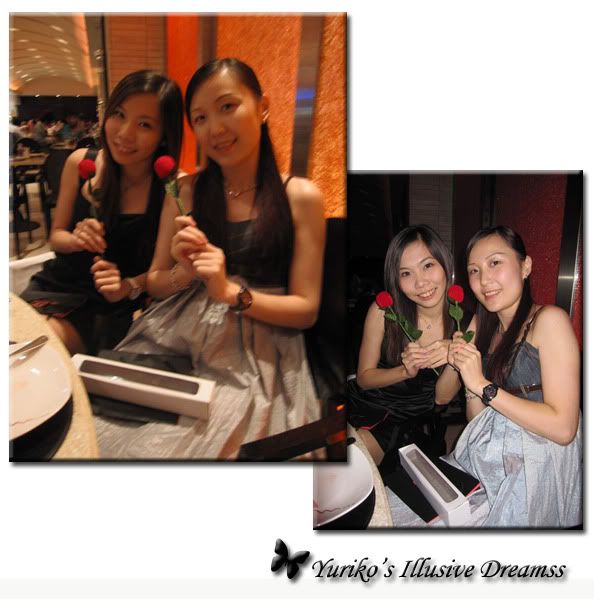 Me and Jenny with our very lovely gift from Jerrain! =)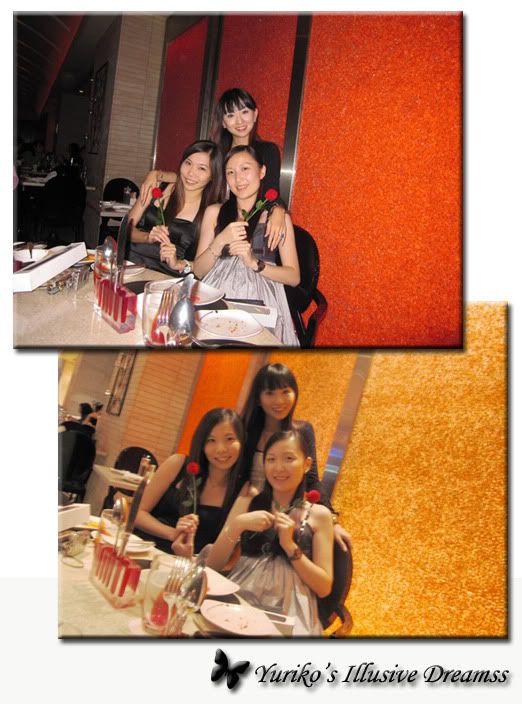 The official girls of our COT! =) the 3 Js!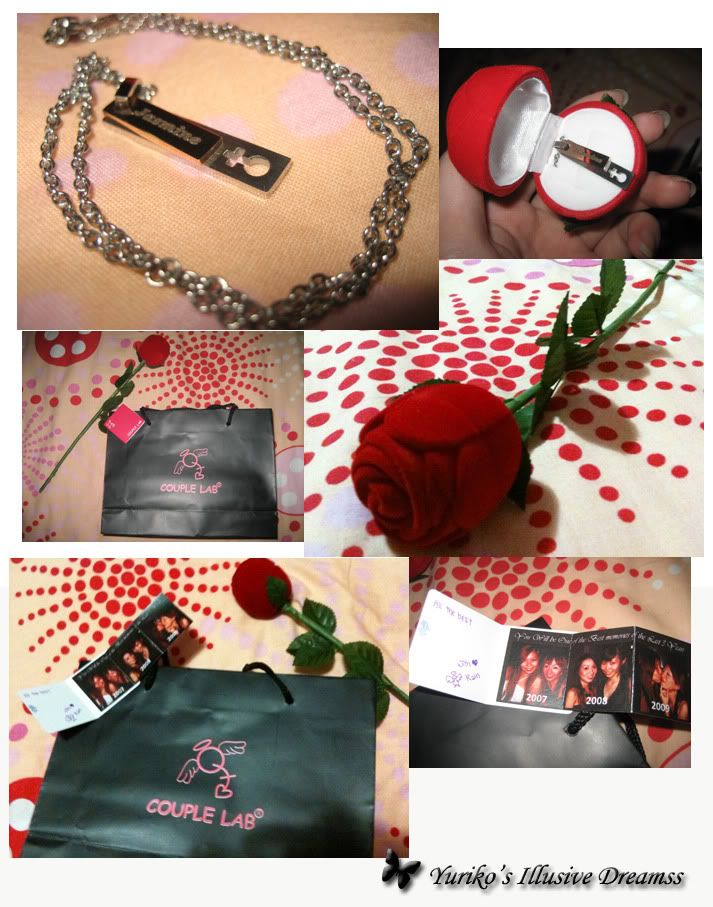 The lovely gift from Jerrain! a Necklace with my name engraved on it! and the lil card! =)
Anyway, after our so-called
Graduation Dinner
cum
COT D&D
, those who had to leave, lefted. While the rest of us remaining(
Kelvin
,
Jeffrey
,
Alan
,
Mike
,
Glenn
,
Jerrain
and
ME
), left together for our next round @
Le Bar 2
! The interesting part was the ride to
Le Bar 2
! Well, we had all planned to drink, so all of us didnt drive except
Alan
! and so the
7
of us squeezed into his car, as we didnt wanna waste time going 2 rounds up and down to fetch each other, and we all wanted to just squeeze and reminsce the day where 6 of us squeezed in the Volkswagen Beetle!!! Haha! And so
Mike
took the front seat as usual,
Kelvin
drove
Alan's
car, and
Alan
,
Jeffrey
,
Glenn
,
Jerrain
and
Me
were behind! haha! Ended up
Jerrain
sat on my lap~ She's pretty light and petite! so wasnt a problem for me! but silly her didnt wanna rest her whole body weight on me! ended up her legs were trembling! hehe~
There was quite a jam along
Orchard
road, and so
Kelvin
took another way there, and soon we reached our destination, all still in one piece! haha! The guys frequent the place, and so we had already reserved the
VIP
seats!
I LIKE
! Cuz its very spacious, sofa seat, cozy, and no need to squeeze with outsiders~ Haha! And Kelvin's gf
YangWen
came down to join us~ Without mentioning, the night was crazy!
Alcohol
, after alcohol~
Drink
and drank~ Cheers~ Played games such as our favorite
5-10
, Jerrain's specialty
Scissors Paper Stone
, and
Direction
~ More
photo taking
~
Chatting
~ and
Singing
~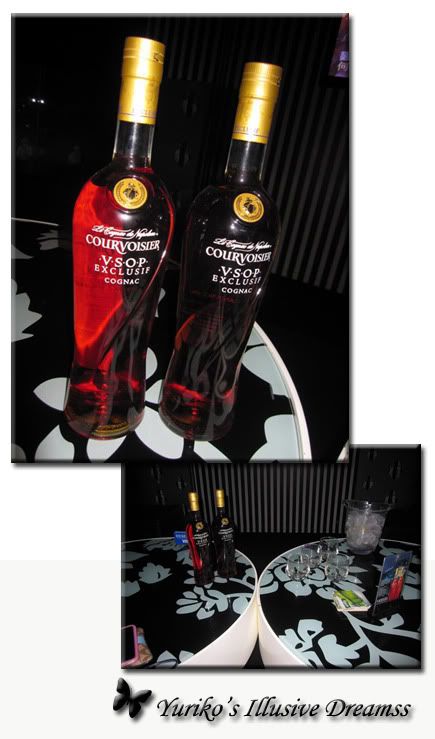 our booze for the night at Le Bar 2~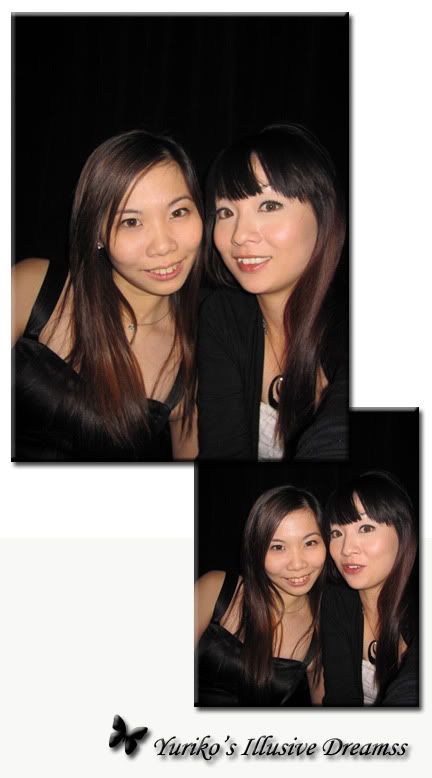 Jerrain Da Jie and Me keeping ourselves busy by snapping photos while the guys were busy taking their puff!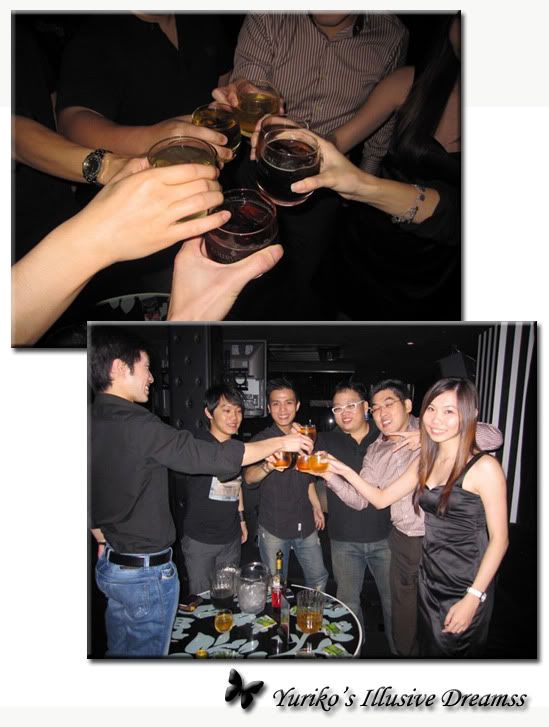 we started our night with "Cheeeers~ Bottoms up!"
Cheers to First Class Honours!
and Cheers again to 2nd Upper Class Honours!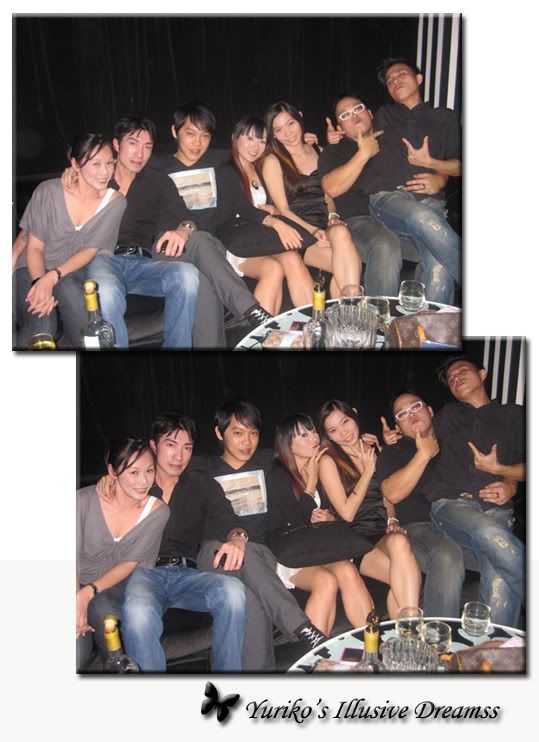 Groupshot!!
from left to right: YangWen, Alan, Jeffrey, Jerrain, Me, Mike and Kelvin
(hmmm..where was glenn?! he's missing from these picts!)
the boys~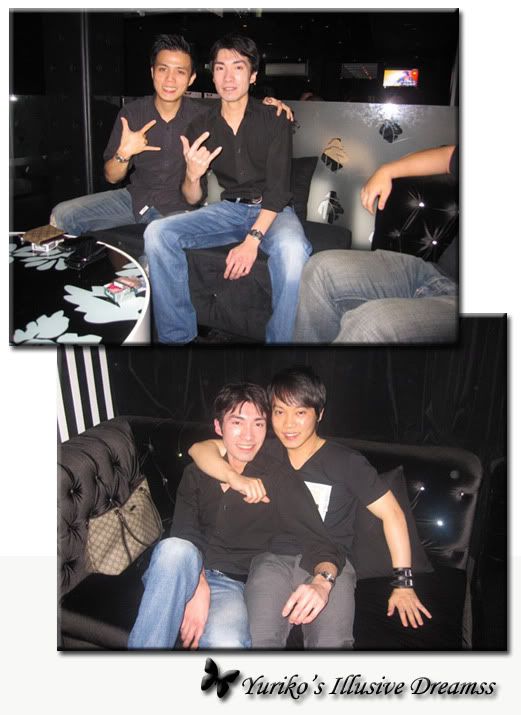 and the pretty boys AGAIN!
trust me! its not always that i find guys who love snapping photos! hah!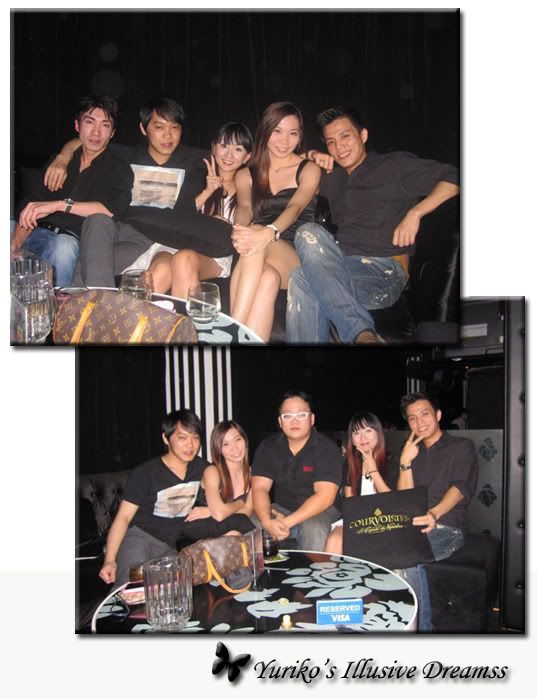 more group shots~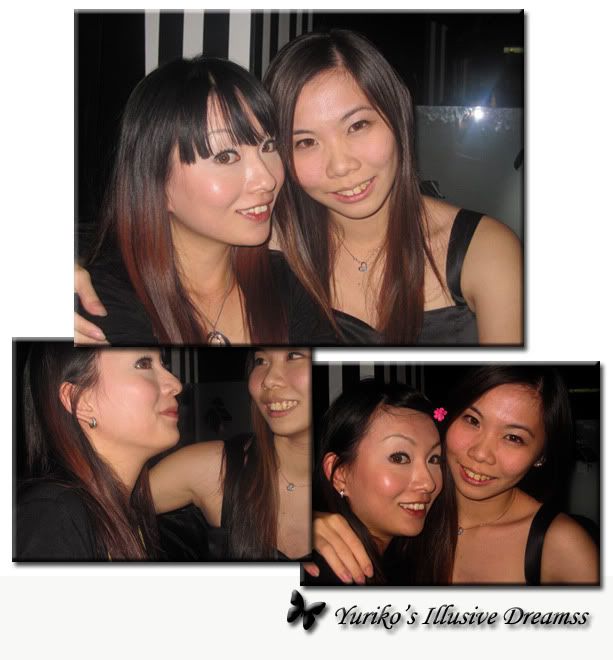 Jerrain and Me again! =)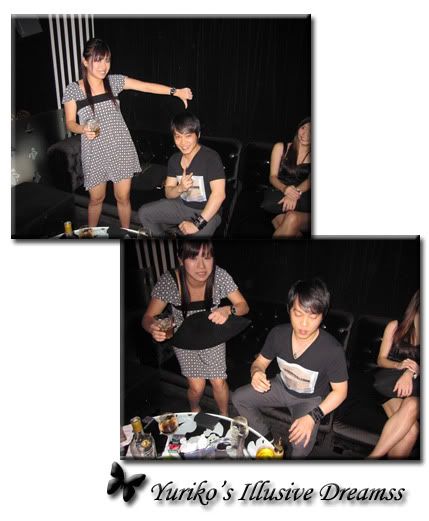 and the games begins~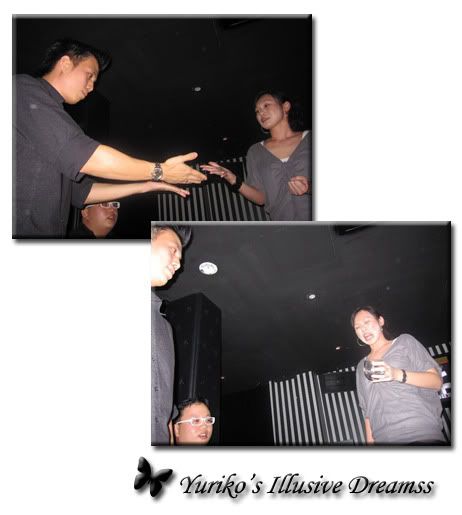 battle of the couple! Beary Xiong is a big bully!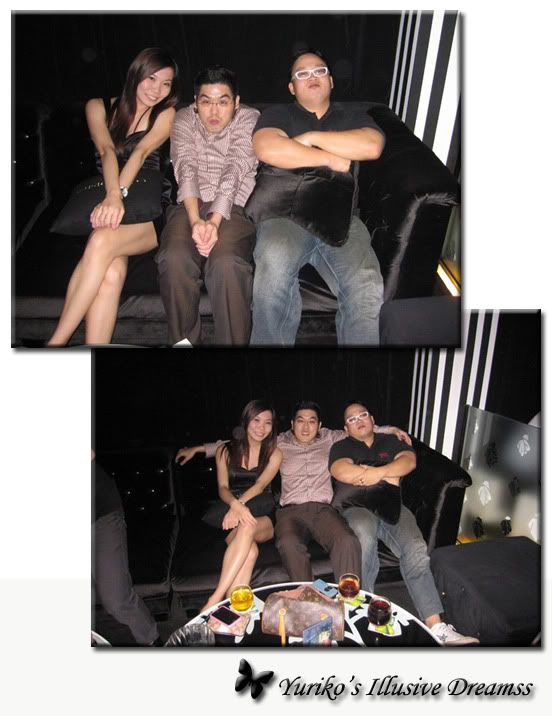 Me, Glenn and Mike korkor~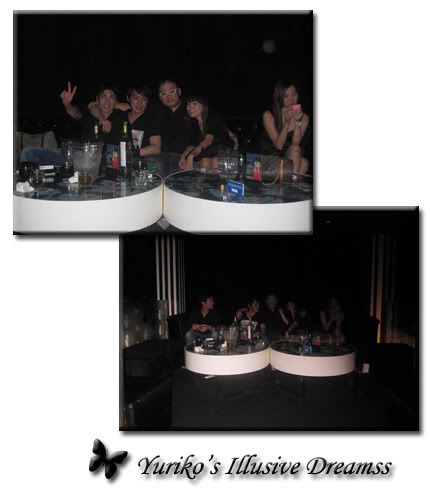 smaller group shots~ and from the photos it does look like we have the whole room or place to ourselves! haha! as Jerrain calls it, exclusively ours~ haha! we were in fact just in the VIP seating! hehe! =)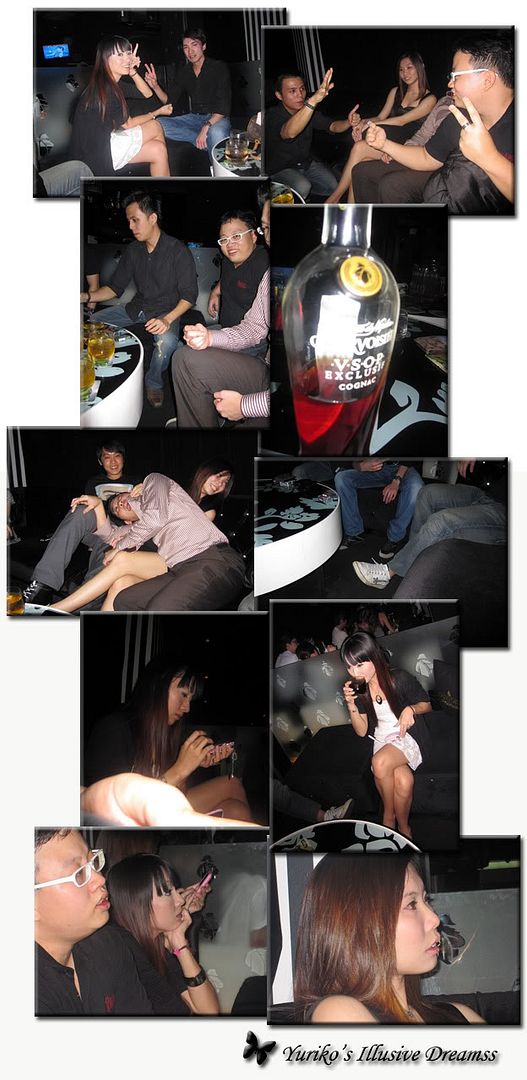 random happenings~
drinking~ singing~ games~ emo-ing~ iphoning~ lotsa fun laughters and madness!!~
Our sweet bear's other side! with his poor victim, Mike korkor~ =P
hahaha! they look so sweet right! LOL!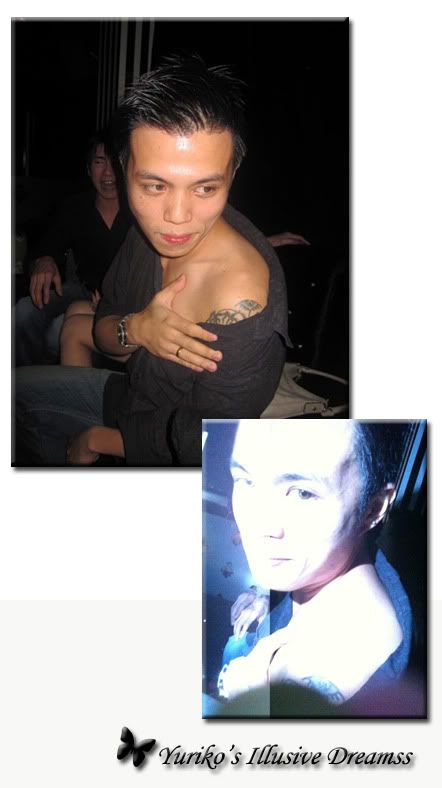 Xiong decides to flaunt his tattoo AGAIN! haha! i realise he does that whenever he's high on drinks! hahahaha!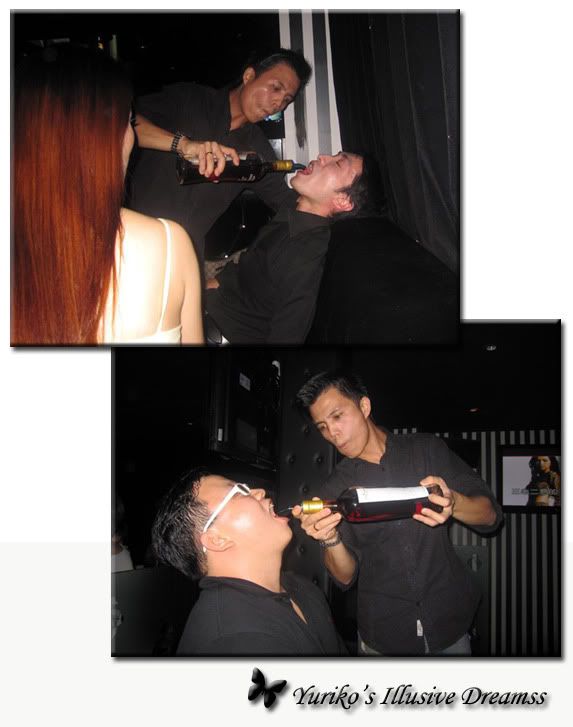 and the bear goes around pouring the alcohol into everyone's mouth for a few seconds!
he's always the the culprit that gets everyone high and drunk! the killer of the night!
anyway thats Alan and Mike under the bottle~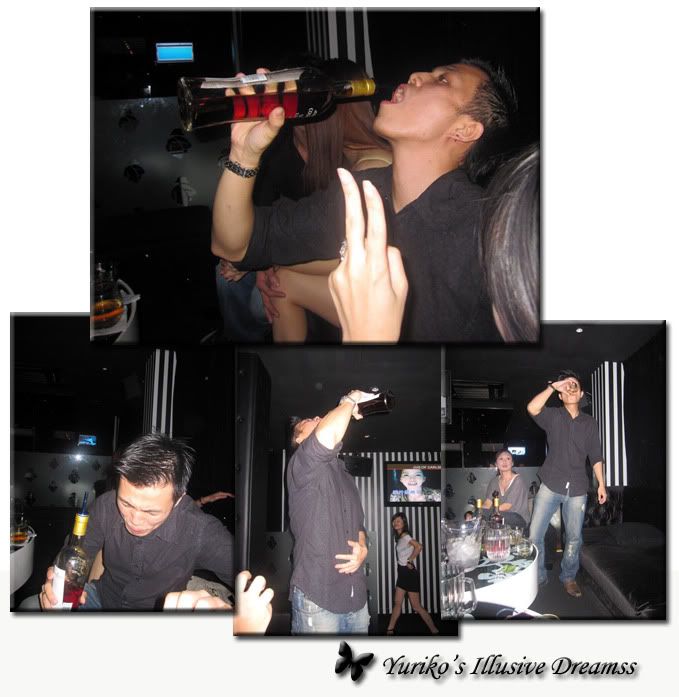 and there he is trying to kill himself too! haha!
taste of his own medicine!
the alcoholic bear cum Johnnie walker's gd friend!!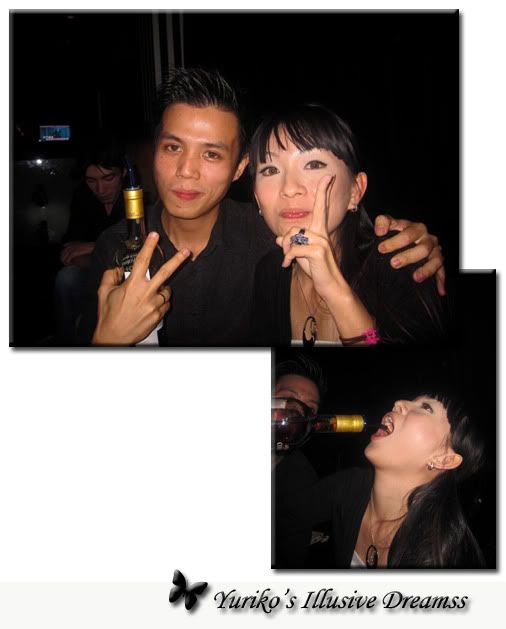 Its Jerrain Da Jie's turn!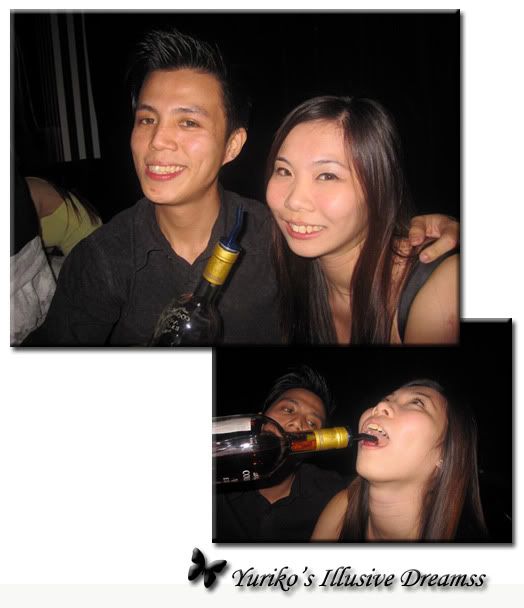 and without saying, i cant escape either~ haha!
Beary Xiong, Me and Mike Korkor with the BOOZE~
The night was fantastic, aside from the fact that a few of them gotten drunk and high~ haa! The lights were switched on, and the place was gonna close, and so we all parted and left for the night~ Our gathering finally came to an end! So sad but true, the night ended~
COT
! Looking forward to our next meet up soon! (i hope!)
Special Thanks
to
Jeffrey
for coordinating and organizing this gathering!
Thanks
to
Kelvin
and
YW
for sending me home that night!
Thanks
to
Jerrain
for the lovely personalized gifts and cards~
and
Thanks
to my
COT
for not only making this night a total success, but also a very memorable and wonderful event for me! =)
Love you all!!
♥