Yesterday
, woke up and
Dear
brought me to
Tampines Mall
to buy my
Magnum Mascara
,
Eye and Lip Make-up remover
, and another
Gel Eyeliner
from
Maybelline
as they are having a promo! weeeee~ after which we went to get our Brunch before heading home to eat and watch TV. Later in the afternoon, we head down to another of his uncle's place for visiting~
watched tv, eat, played poker, played with his cousins, and '
Lou Yu Shang'
AGAIN
!
Haaa~ i seriously wonder how many times i've '
Lou
' this year! haha! at least 5 to 6 times? Haha! Anyway after it all, his parents send his grandma and uncle home, while me and BF took cab with his other uncle and aunt back home~ upon reaching home, washed up and watched soccer til late~
and Yay to
Portsmouth
for winning 2-1!! Hehe!
As for
today
, woke up and head to
his grandma
's house for yet another gathering and visiting~ and this is gonna be our last stop for
CNY
visiting for this year, as its the last day of
CNY
! gosh~ 15days of
CNY
just came by and ended like that in a flash~ Anyway we had yummy home cooked food by his grandma, watched tv, and went downstairs to get bubbletea to quench our thirst and cool off from the terribly hot and humid weather~ we soon left and headed home~ upon reaching home, the first thing i did was to grab the towel and head straight to the bathroom to have a cold shower~!
after which, we headed out again and meet
Xiao Qiang
and went to
Ubi
to view cars~ gotten the quotation, grab some drinks and sit down to chat for awhile in the aircon room before we eventually left and headed home~ And just now, we went to
Changi Airport
for dinner~ ate our usuals, gotten a cup of soyamilk and walked around a little~ and
Dear
got me a new necklace from
MiniBits
~ Haha! It aint expensive, but the little thoughts counts! Plus its pretty nice and chosen by him! I like!! =) we almost gotten the one with a Eiffel Tower pendent, but after looking at it for awhile, we both agreed it looks kinda like a giraffe from far! hahaha! and so we ended up getting the one with a locket! =)
Thanks Dear
!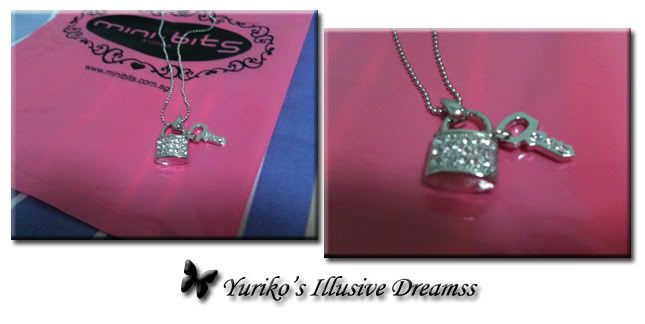 as for now, am watching
Tv
and gonna be watching soccer~
Lets cheer for
Liverpool
and
Manchester United
!!
You'll never walk alone~
Glory Glory United!!