♥
Shopping! Movie! Bears! Love!
yesterday
, after im done with my chores, went to
Tanjong Pagar
to meet
Dear
, before we took the train to
Outram
and walked down to
Chinatown
!
Chinese New Year
is coming thus
Chinatown
is once again filled with lotsa shops selling
CNY
goodies, and etc.! As its still pretty early, the crowd aint very bad yet! Strolled around to see if we needed anything, before we eventually decide to leave for home~ We didnt buy anything as he didnt drive, and we didnt wanna carry lotsa stuff home via public transport! But we'll be heading down again soon, the next time we would be driving of cuz! haha! Along the way to the bus stop,
Dear
spotted a stall selling
peanut sesame balls
! had been craving for it for sometimes, but didnt manage to find it, or its all sold out! thus
Dear
bought them for me! haha! =) And off we boarded the bus to
Bedok
to packet our dinner before taking another bus to head home~
as for
today
, we woke up, washed up, and off we went to
Plaza Singapura
~ parked the car, and our first stop was to get our movie tickets for '
Sherlock Holmes
!'. After which we proceeded to the arcade and
Dear
caught me the white with pink stripes
Tigger
! weeeee~ we then place the
Tigger
back in the car, before we walk over to
Midpoint Orchard
to have
Burger King
for Brunch~ After eating we went to
John Little
to shop~
Dear
bought lotsa essentials and stuff, and also bought me my Gel eyeliner and Hair Dye~ haha! weeeeee~ and since CNY is coming, with every purchase, they gave us
Tigger
red packets! i like!! hehe! =)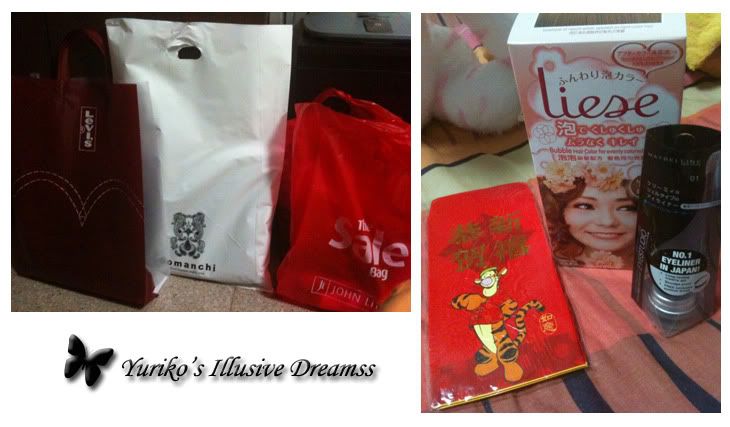 some of our shopping bags~ and the stuff he got for me with the Tigger red packet! =)
After which we headed back to
Plaza Singapura
to place our stuff in the car and head to catch more bears again! this time round, with just 1 dollar, he caught yet another plushie! but we exchanged it for a
Doraemon
speakers~ As they ran out of stock for it, we placed our names and contact and will be going back to collect it in a few days once the stock arrives!
Then we went to
Levis
to get myself a pair of jeans! The Trade-In-Your-Old-Jeans for $50 deal is Da Bomb!! For once my
Levis
Jeans is so much cheaper!! haha! Then we went to
POA
, where dear got himself a pair of pants, and we shopped around a little before heading in to the theater for our movie at 7pm!
I must say, this show is a
MUST
watch! Very interesting story line! and i've always like
Sherlock Holmes
! Its basically about the Detective, Sherlock Holmes, and his stalwart partner, Watson, engaging in a battle of wits and brawn with a nemesis whose plot is a threat to all of England!!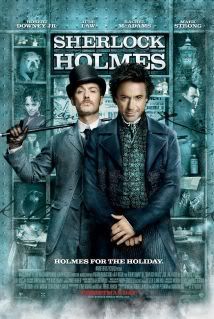 after the movie, we head back to the arcade to continue on our mission! This time round, we played a new machine! not by just catching the bear itself, and not the huge sweet catching jackpot machine either, instead its a miniature of the huge sweet catching jackpot machine. Only this machine catches gold chocolate coins, and we're suppose to push the coins down~ The mission here is to collect as much gold chocolate coins with a blue sticker that has the arcade logo chopped on it! and we ended up having 10 of them!! With that, we exchanged for a huge
Tigger
that holds a prosperous
CNY
wording, and 3 little cutesy
Minnie mouse
,
Mickey mouse
, and
Donald duck
! =)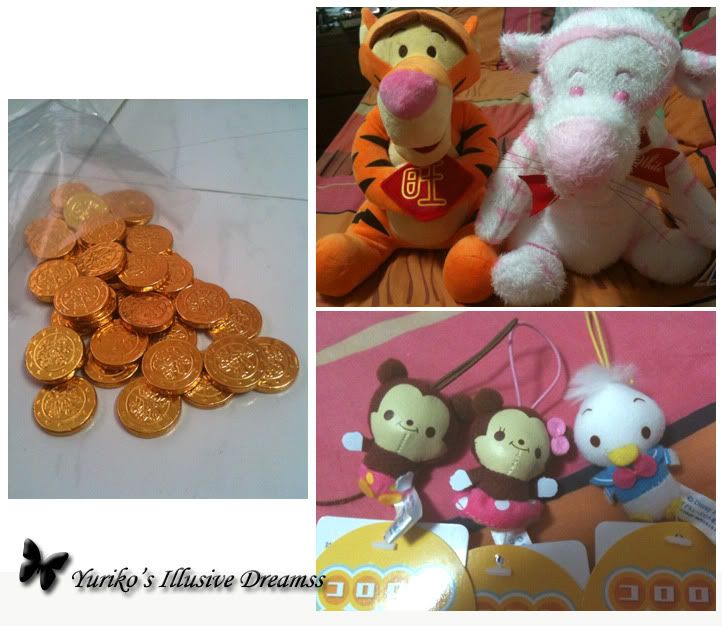 the chocolate gold coins! the 2 tiggers! and the 3 lil cutesies!
after which we had intended to go to
Selegie
for the soya beancurd! but it was extremely packed!! thus we left and head to
Geylang
for
Pig Organ soup
and packet
Rochor soya beancurd
and
'You Tiao
' home instead! =)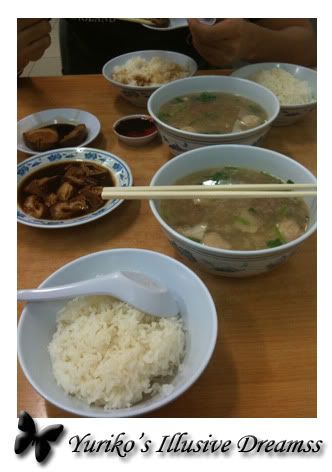 our pig organ soup at Geylang~ i forgotten to snap our Rochor beancurd and 'You Tiao' though!
Thanks
my sweety
Dear
for the wonderful day out, for all the plushies you've caught for me, for all the stuff that u've gotten for me, for the movie, and also for satisfying all my cravings! Hehe!
♥
♥
♥