did lotsa spring cleaning and chores yesterday! clean the windows, vacuum the floor, iron the clothes, fold the clothes~
after which i washed up and prep and head out to
Orchard
to meet sweety
Caelyn
! =) was so happy to see her~ cuz the last time i met her was before my exams! tts quite some time already!! anyway upon meeting, we were both hungry and thus headed to
Mos Burger
for dinner and catched up! after which we shopped around from
Taka
, to
Wisma
, to
Ion
~ didnt really buy much this time as im really very broke now and need a job badly! only bought 2 pairs of earrings from
Diva
, while she bought my favourite chocolates,
Royce
!
after which most of the shops were already closed and so we decided to sit on the benches outside
Ion
and started snapping photos~ trust me its the first time we really had so much fun and laughters taking those photos! haha! cuz we did lotsa stupid nonsensical faces! hahaha! anyway after awhile we decided to move our butts and walk around, but soon find ourselves sitting again outside
Taka
~ thats when we realise, we're always sitting outside the
LV
boutiques! haha! we didnt choose those spots on purpose. We just simply let our feets and butts decide where to sit. haha! anyway after much chatting, her bf,
Vic
came down, and we proceeded to chill out at
Acid Bar
! =)
us at orchard~ outside Ion~ too bad i've only got these 2 photos~ caelyn refuse to send me the others as she says she doesnt look gd in them...*sulks*
its been quite a long long time since i last went there~ probably a year? hmm..but the place is still more or less the same i guess..and we headed in at the right time! shortly after we ordered our snacks and booze, the liveband started! weeeeeee~ i like!! cuz they sing so well! and they are really fun people! =) i ordered my all time favourite
Hoe Gaarden
, Caelyn had a
Mango Margarita
, while Vic had
Bourbon Coke
~ and we also had potato wedges and their yummylicious cantonese chicken wings! Super delicious!! =) anyway we continue snapping silly photos for awhile before we decided to call it a day and headed home~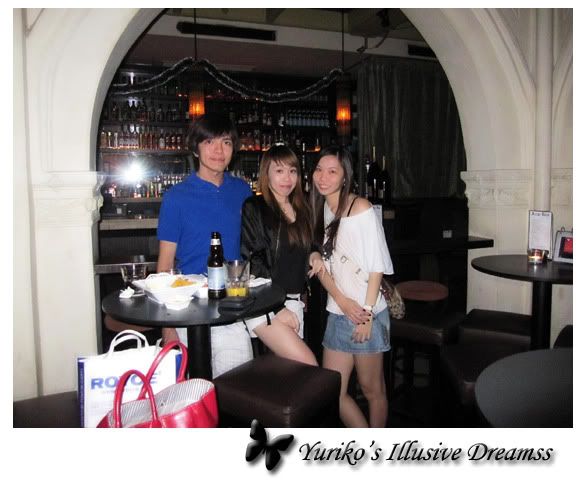 us at Acid Bar with out drinks and snacks~
upon reaching home, came online to played some games while waiting for
Mr N
to reach home too, as he was out with his friends to celebrate his friend's bday. we then chatted on the phone and thats when hell broke~ we started to have a tiff~ sigh...really dread it... and i probably just wasnt in a fantastic mood these days, and so my temper became really bad.. we eventually ended the day and the phonecall with a "
gdnight. bye.
"
SLAMS.
sigh...ended the day badly...and guess what.... my day starts of miserably today....
i couldnt sleep for long....probably cuz the sun light was shining into my room and its way too bright for me to continue sleeping, my handphone rang, his sms came, and my mind was still pretty bothered by whatever that happened last night...
sighh...
i just hope the rest of my day would be better...especially at night, as i'll be meeting him and we'll be heading to his cousin's daughter's 1mth chalet.......
as for now, im gonna immerse myself in my chores and continue spring cleaning~ clean the balcony glass door, wash my room fan, etc~ not gonna go think about anything else~
clean clean clean~ wipe wipe wipe~ wash wash wash~