Smile! Cuz its a wonderful day!
Flowers nv fail to put a smile on my face, chase the blues away, and brightens up my gloomy days! =)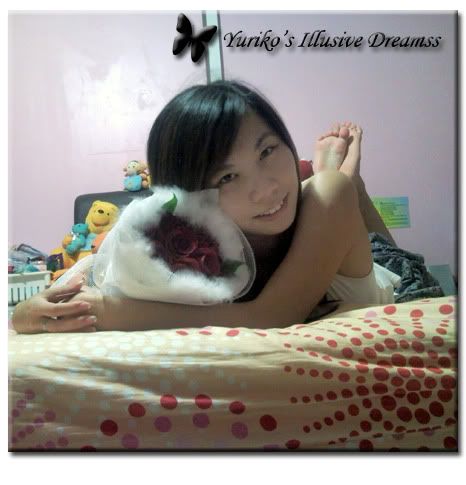 My thoughts manifested once again! Outta the blue today, my door bell rang. Looking at the clock, i couldnt think of anyone who would come by my place at that hour. So i guessed it was probably the Newspaper man collecting the monthly subscription fee, or some sales man. But to my surprise when i look thru the lil hole on my door to check who it is, i saw an aunty holding a bouquet of flowers.
And so i opened the door and she pass me the flowers, ask me to sign off the acknowledgment slip and said the flowers were addressed to
ME
!! i was so happy!! haha! i didnt ask much, closed the door and took the flowers back to my room right away. Notice there was a card attached and so i was curious to see what was written on it and who its from! Guess what! No names written. Instead its stated that its from
A Secret Admirer
! LOL!!
One thing for sure its definitely not from Stan, as he's not the kind who would give or surprise me with flowers outta the blue. And to him its just a pure waste of money. Spend awhile thinking who it could be from while admiring at the beautiful roses..But alas, i gave up thinking and was just happy and contented looking at the bouquet!
Haha!! Well, i think i've mentioned before in one of my past post, that i rarely receive flowers in this whole entirely life of mine! The amount of times i received and the no. of stalk can be easily counted!! Just a
recollection
~ i've received a small bouquet of 3 stalks of
Pink Roses
back when i was in secondary school from one of my ex bf
ChongMing
during vday, another stalk of
Red Rose
from yet another ex bf
Jack
during vday, a stalk of
Sunflower
(
my fave!
) beautifully wrapped and in a bouquet from
Kevin
on a random day, a bouquet of
Pink Roses
for one of my photoshoot from
Glenn
(
not exactly counted ba. cuz its suppose to be a prop for the shoot! but still sweet of him to get them for me!
), and another stalk of
Red Rose
from a
Secret Admirer
whom sent it to my office back when i was still working in OMS! (
Gosh that came as a shock to me and i thought there is a stalker at my work place! Til date i still dont know who it is from!
). and the last one i received was a stalk of
Red Rose
from my bf
Stanley
during vday. Yeap and that is all!!
And now an addition to my recollection!! a really beautiful bouquet of 10 red roses from yet another secret admirer!! hahaa!! =D This is definitely the prettiest bouquet as its beautifully wrapped up in white and tied with a gold ribbon! My fave colour combination! White and Gold!
I LOVE
! =D On top of that its also the biggest bouquet i've received in my life compared to those i received in the past! Hehe! (i aint that worried bout who it is from, as im sure its from someone close since my address is known! and it must be someone who had planned to brighten up my day and make me smile! just to let u know...u certainly did!)
In anyway whoever it is, my secret admirer~ Thanks for the awesome looking bouquet of roses! Really beautiful! And it u've succeeded! as it certainly put a big wide smile on my face and without a doubt brightened up my day! Thanks so much! =D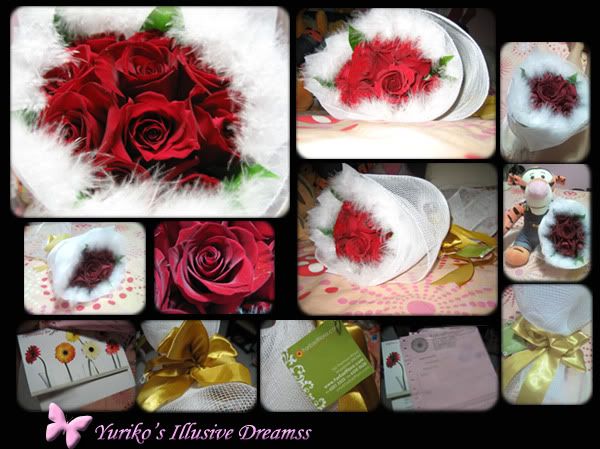 The Passion of Aphrodite!