Timbre @ The Substation
He came to pick me up after work and we went to
Timbre @ The Substation
to celebrate our belated
2nd Year Anniversary
as i was having my exams and he was busy during the actual day. Place and ambient was not bad, food was good, drink is also good, staff are mostly very friendly and apologetic except one. But their service is pretty slow and kinda screwed up in the sense they serve food to wrong tables and tk hours to serve the food. To make matters worse, we were informed that the gas stove was having some problems, they ran outta chicken wings, and i hardly eaten the whole day and was feeling
VERY
hungry! =(
A hungry Yuriko is a angry Yuriko
! *sulks*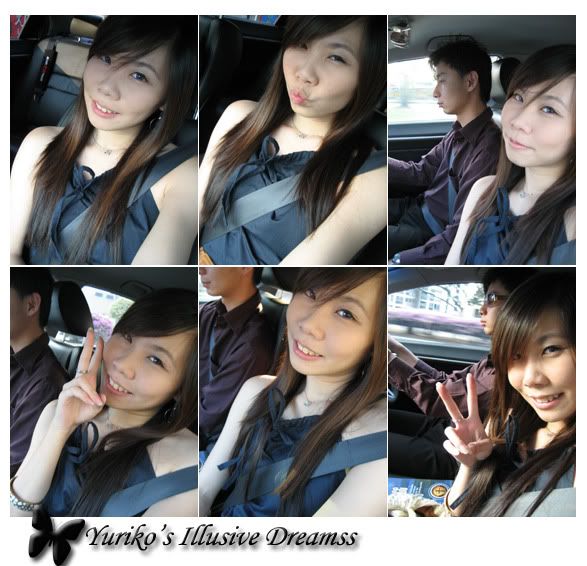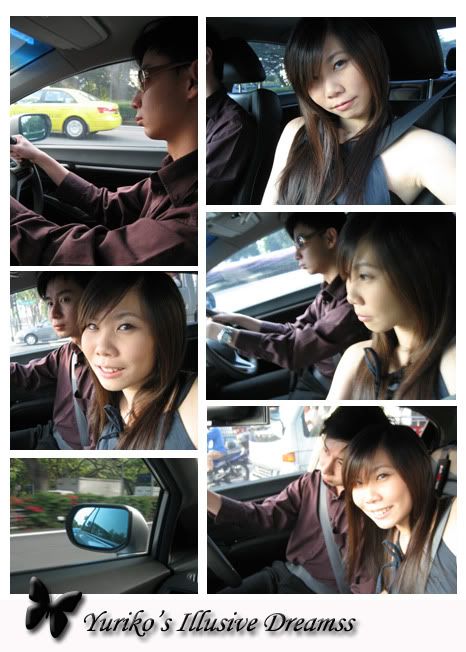 In the car while on the way to Timbre. i was bored and started camwhoring as usual~ haa!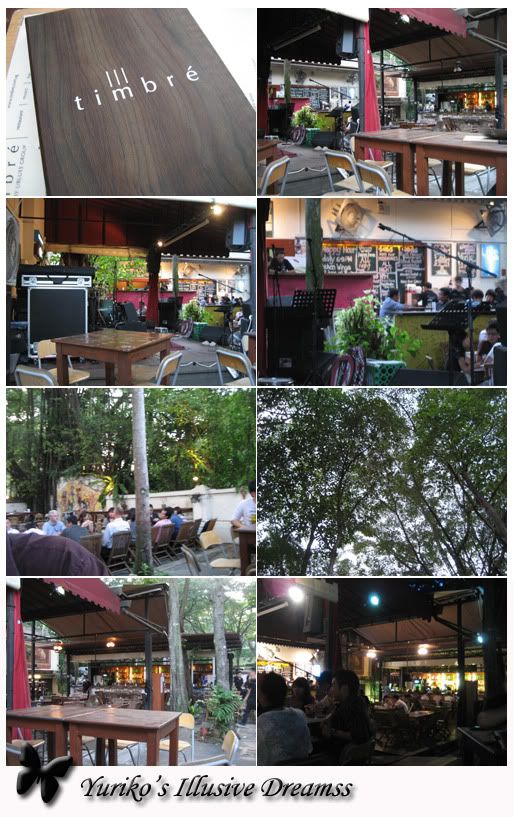 at Timbre!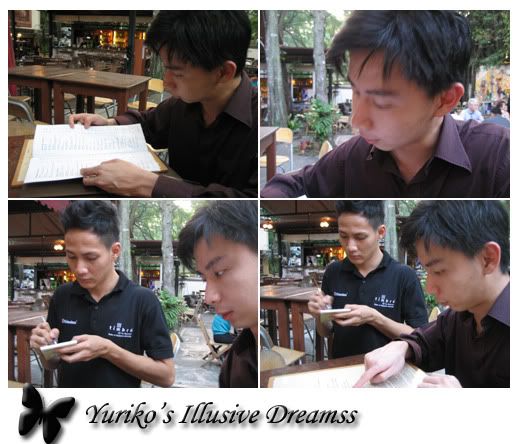 Stanley looking at the menu and making the order.

and so we reached there at about
6+ to 7pm
, ordered the food and drinks.
drinks
came first without a doubt, followed by the
cheesy baked mussels
that came shortly after. then we waited til
8+pm
before the
Pizza
came..have a feeling they forgotten about us!! and then we waited til they fix the stove and cooked our
Sirloin Steak
which i suspect that they had initially served it to the wrong table, as we saw a guy seating nearby who came much much much later but his steak was served first!
ARGH
! by the time the sirloin steak came it was about
9+pm
! i was so angry i had told them i wanted to cancel the order for the steak! they keep coming to tell us another 10mins, then after 20mins, they came by and apologise and said it'll come in 5 to 10mins. but then another half hr past and still no sign of the steak! argh!! and so i told one of the waiter that i wanna cancel the steak! he wasnt too happy, but anyway 10mins later he came by with the steak in hand and said its alrdy done. and gave a very bad attitude! i had so wanted to complain him la! other staff were very nice! He is the only black sheep! Gosh! I could have shouted in his face and said
"Which part of my 'Cancel our Steak' do you not understand and rejected it right away!
~" but alas i didnt, cuz i could tell in
Stanley
's eyes that he had really wanna eat the steak since he kept telling me bout how nice it was and we had kinda came specially down just for the steak. sigh..and so not wanting to spoil the day further, i just kept quiet, ignored the waiter and calmed myself down...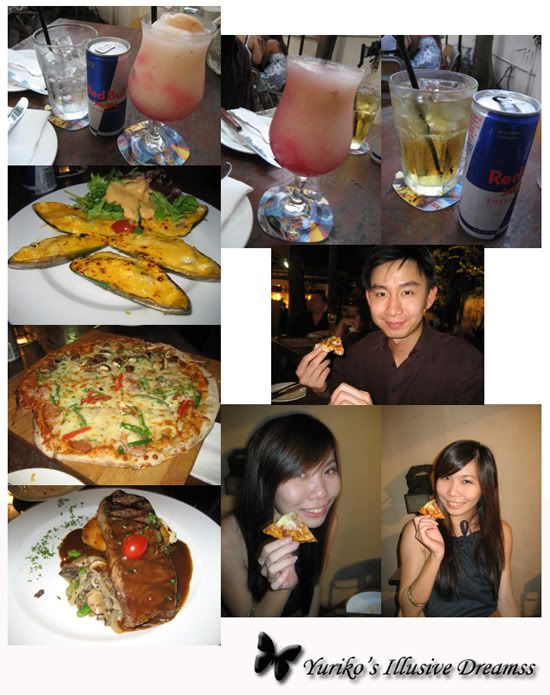 Our food and drinks! His Vodka Redbull, Mine Lychee Freeze, and our Cheesy Baked Mussels, Sirloin Steak and Pizza Half-Half (Triple Mushroom and German Sausage with Pepper)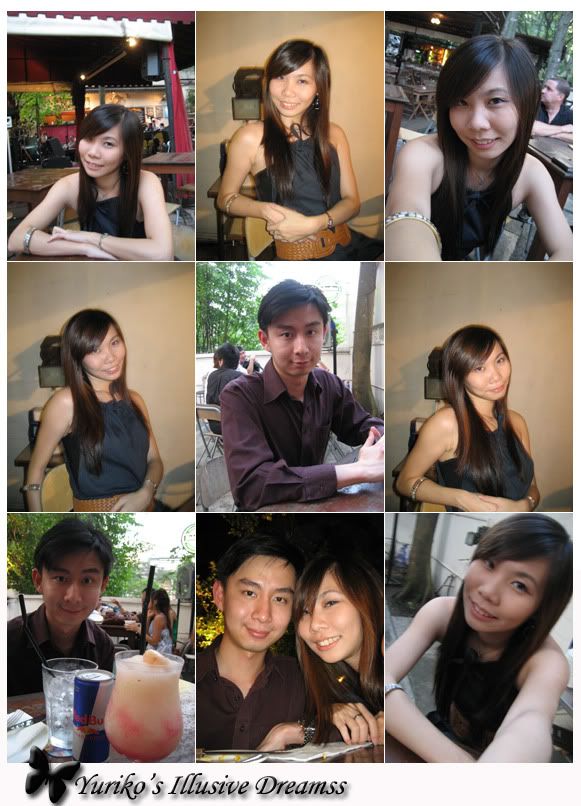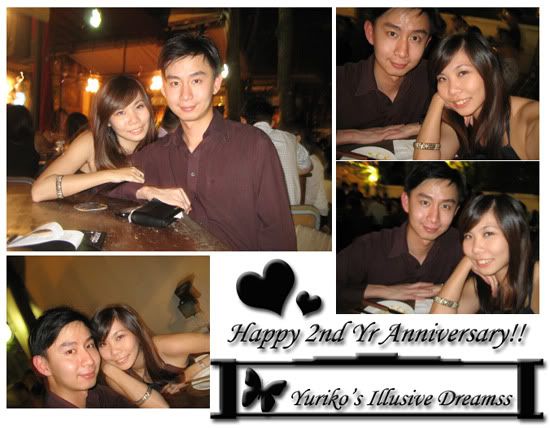 Us at Timbre!

then
Stan
said he was tired, so after the steak and finishing our drinks, we left the place without watching the liveband...
it just aint my day...simply unlucky to the max. thats all i can say. argh!! it was suppose to be a very nice lovely day of celebration...but things just didnt turn out the way we expect and want it to be....kinda disappointed...but still...nonetheless, thanks baby for bringing me there for dinner and making the effort to celebrate our belated 2nd yr. =)