a Fruitful day out!
its been months since i last met my
best of pals
! How time flies, but yet im thankful that our platonic friendship is still going strong! He's a friend i can trust, confide in and turn to when i'm down. A friend that have seen me thru my ups and downs. A friend that shares my laughters and tears. A friend who accepts me for who i am, and i can totally be myself. Someone who doesnt mind doing silly stuff with me! He's also a great neighbour, shopping, gaming, supper, and ktv khaki!! =) he's none other then
Darren Ling JS
! =)
and so we decided to meet up today for lunch and shopping! =D but in the morning i was woken up by a morning call from
John
at
5.45am
but i doze back to slp til
6.15am
, woke up and rush down for morning
Prayers Meeting
again! was so tired that i almost fainted and had gastric after the meeting, thus went to have
KFC breakfast
with
KaiYun
! and today just the both of us, we chatted for 3 hours before we parted and headed home~ In the afternoon met up with Dar below my place and we took the train down to
Bugis
to have
Sakae Sushi
! Yummylicious~ my all time fave~ Japanese cuisines~ hehe! we didnt eat much though we were pretty hungry initially. we ended up sitting there for 2hrs just chatting and laughing til we were so full we didnt eat as much as expected!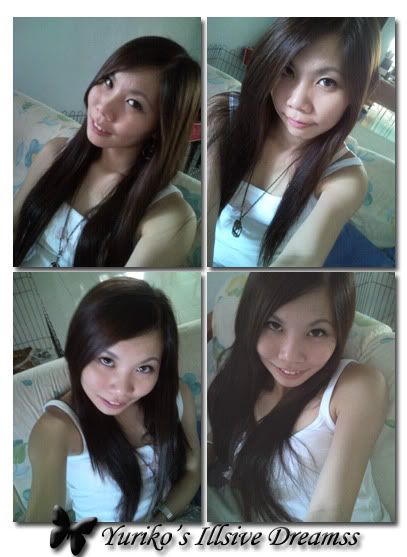 While at home awaiting for Dar!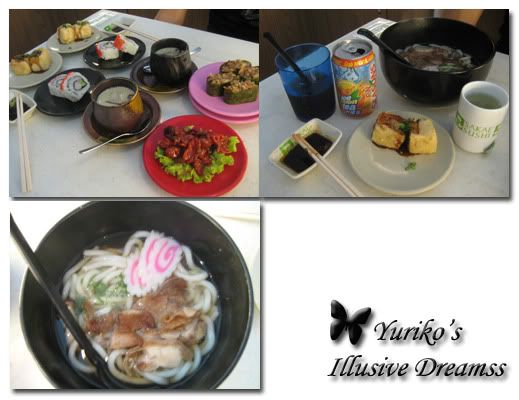 our food and drinks at
Sakae Sushi
~
Dar (
in short for Darren, pls dont be mistaken!
) and me~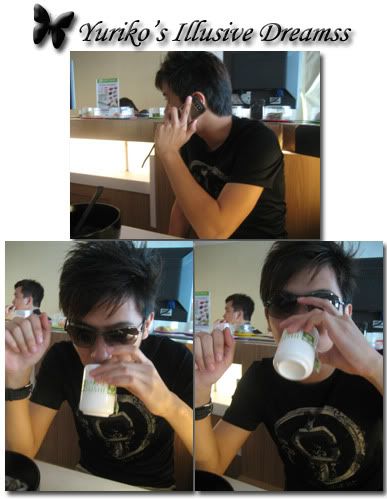 the busy man! his hp kept ringing nonstop thruout the day! haa! and candids of him drinking his green tea~
after which we headed down to
Haji Lane
to shop around! lotsa pretty, interesting unique and cool stuff there! suddenly im in love with the place!! so wanna go shop there again soon~ hehe! only down side is that theres alot of stairs to climb~ haha!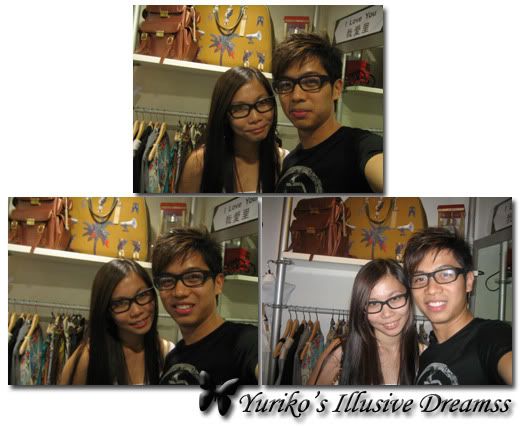 Us with
GEEKY Speckies
and silly smiles at a random shop in
Haji Lane
that sells really cool stuff! we're both hesitating to buy it! haha!
after which accompanied him to his music school along
Kandahar Street
to get his piano scores for his upcoming gig performance, before we went for a very filling dinner at
Empire State
, which is located at the new shopping centre,
Iluma
, for dinner before i head to school. :) and i must say...the escalator from the 1st to 4th floor is scary! super long way up~ my legs were trembling when i looked back down!! faints~ if we were to trip and fall~ tts it!! dead for sure~ (
in hokkien also known as 'bua bua si!' haa!
) its sucha long way down and up!! and m too afraid to even move or take things out of my bag for fear i drop something! or else i sure tk out my camera to tk a pict of the view down from the escalator~!! haa! =p Plus the food at
Empire State
is not bad as well!! the concept is pretty much like
NewYorkNewYork
though. but good food indeed! recommended!! =)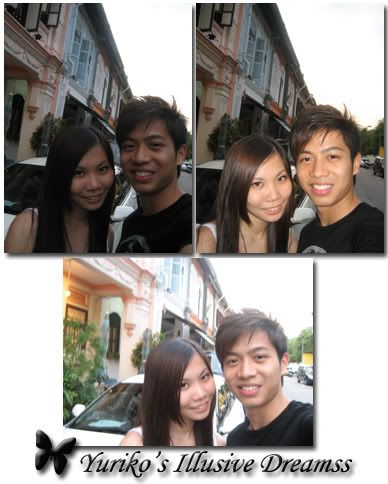 taken along
Kandahar Street
!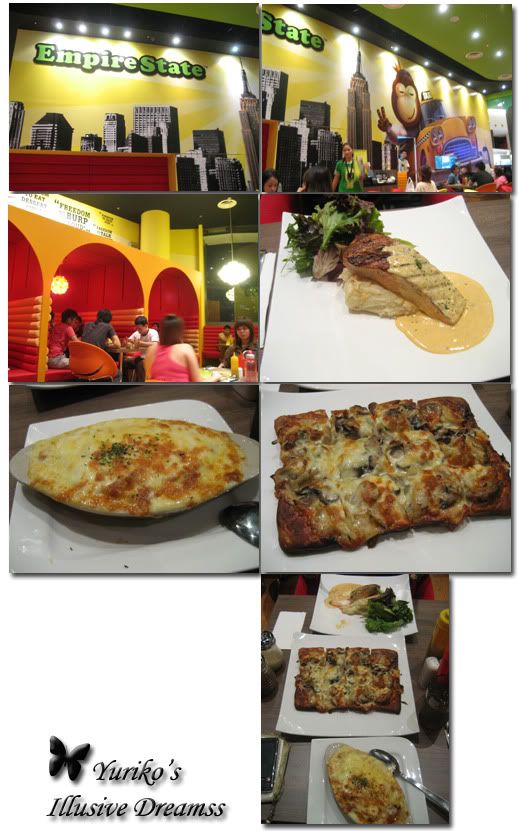 our dinner at
Empire State
! My Baked Macaroni, His Baked Salmon and Our Pizza!
May our friendship last for all times~ Thanks for everything! Thanks for being sucha wonderful friend! Truly Appreciate it! =D