Celebrity Weekend at CHC!
Friday night
, couldnt attend
Bible Study
as usual as i had to go to
school
for my
FYP briefing
! Sulks! But no choice as the briefing was pretty important for me! Was having quite a bad headache throughout the day and so after class i went home to tk some panadols and rested. Almost went to
ThaiDisco
with
Linda
and
Simin
, but end up after popping panadols and resting on my comfy bed, i eventually knocked out for the night til the next morning!
Saturday
, went to school for lessons. my day didnt start of pretty right! before leaving home i was looking for shoes to go with my dress, and realize i had
3
pairs of sandals and shoes that were already spoilt! *
sulks
* i didnt even noticed them til that day! so sad! and while looking through my shoe rack and searching through some shoe boxes, i found a pretty shoes that i havent wore for a long long time! probably 2 yrs at least! i had like tt pair alot but hardly wore it as it hurts my feet! but since i had bought a feet anti-blister wax thingy, i could wear almost any shoes i like without much blisters and pain! and so i decide to wear that pair of shoes out!! it was alright at first and i happily made my way to school! upon reaching
Douby Ghaut
and while walking towards school, i realise the shoe is getting loose and its kinda difficult for me to walk, but still i manage to make my way to school, only to find out later on while in class that my shoes had spoilt! sobs!! i was so sad! in fact by the time after school and while walking to
parklane
i was dragging myself there with a totally spoilt shoes!
SUPER UNGLAM
!! apparently i've kept the shoes for too long and the glue and all had disintegraded!! sigh....there goes yet another pair of shoes for the day!! in total i threw 4pairs of shoe in a day!! sigh... gd thing i found out in class and quickly informed my
BF
to bring a pair of my heels that i had at his place for me! and so he came to pick me up with
Sylvia
and i quickly changed into my heels and we headed for church service!
While in the car on the way to Expo and while in the toilet at Expo! =p Narcistic Me! i love my hairband! although i know its kinda too cute for me! haha! but still i like it! haa!
This is where my day got better! We were having the
Celebrity Weekend
!! some of the celebrities that came were
Liu Gen Hong, Milk aka Niu Nai (Ex Energy Member), F.I.R, Vanness Woo, Jacelyn Tay, Ocean Ou De Yang,
etc etc. it totally felt like a concert! and i felt that their testimonies were all pretty impactful and powerful! =D indeed a wonderful night! And the service was fun! =)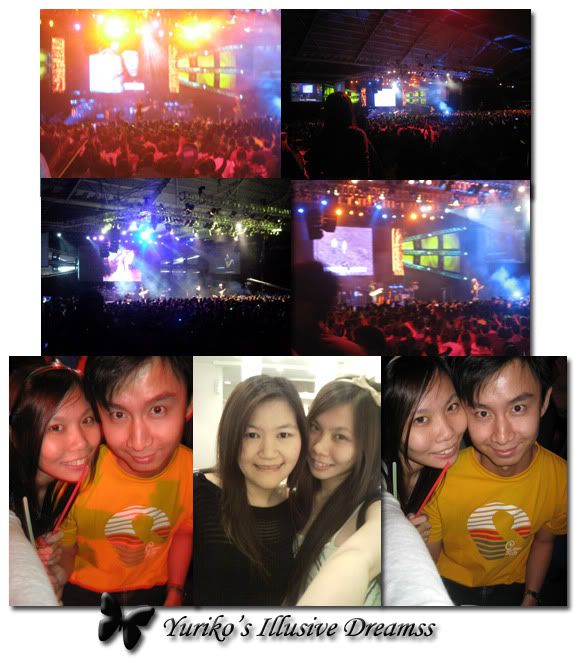 After service, we went to
Pasir Ris Dr 6
for dinner and to celebrate the
June babies's birthday!
Namely
ShuLing
and
WeiShun
!!
Happy birthday people
! =) After which
Sylvia, Bf
and
Me
headed down to
EastCoastPark, Beach Cabana
for drinks and chill while chatting bout some business stuff before we eventually parted and headed home for the night! =)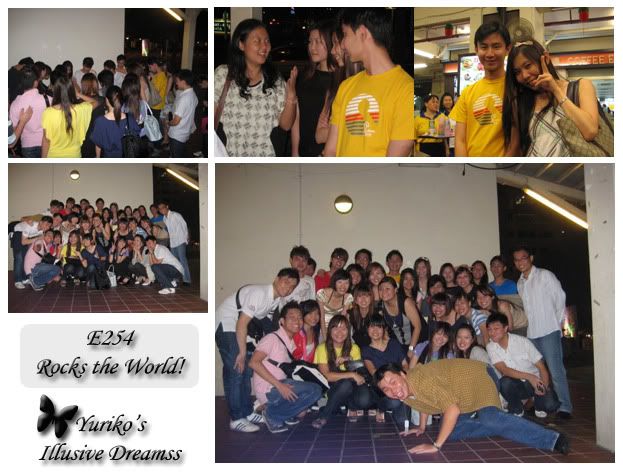 group photos at pasir ris! =)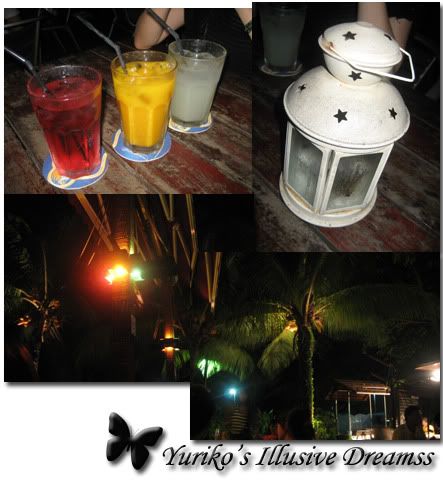 at Beach Cabana! Bf's Cranberry, Mine Mango and Sylvia's Lime juice! =)
As for
Today
, woke up and eat and napped and woke up and eat again! haha! its a lazy sunday for us!
Bf
did his last min packing of luggage before he send me home. After which
his dad
send him to the airport, as he's been assigned to give training in
India
,
Chennai
for a week. Gosh, after which i totally regret not going with him to the airport. sigh! well i didnt wanna trouble his dad to fetch me home after that, thus
Bf
had send me home before he went. =(
He should be at the airport now, checking in...and will be flying off in bout 2 hrs time~ =(