crazy and wild, but yet a fun and fantastic night out!
i've had
3
consecutive nights of booze and am having a bad hangover right now!!
Hoe Garden
at
Tangos
on
Wednesday
, more
Hoe Garden
again at
Mansion
on
Thursday
, and
Redwine
,
Heineken
,
Martel
yesterday!!
Alcohol Intoxication~ Tipsy~
anyway yesterday, took an expensive cab ($22) down to
Orchard Lido
to meet
Jerrain
Da Jie
and her gd friend
Fion
! was running late thus decide to take the cab..kinda regret it now...but anyway...met them at
The Canteen
where
Jerrain
was having her dinner while me and
Fion
were chatting and getting to know each other while waiting for
Jerrain
. Turns out she is a really nice girl to chat with! =) after which we walked over to
Fareast
where i bought myself a new concealer. Yea as most may already know, im not exactly a cosmetic person. Thus my 2 girls helped me with choosing one that suits my skin color! hees..
we then took a cab and headed down to
Boatquay
. as we didnt have any plans as to which pub to head to, we just went into
Red Mansion
which is quite newly opened and cuz the cab happen to stop us near it! haa~ I would say its a nice place with a
Oriental
concept, soothing live band which sings sentimental songs and allows dedications, really well decorated toilets, oriental mix japanese dressed waitresses and i especially love the posh red cushion seats! =D We ordered
Lindemans' Shiraz Red wine
and the Super yummy fried chicken wings, chatted and laughed alot. and i really mean alot. cuz after some time we got louder and louder and it seems as though we're the noisiest there! *
blush
*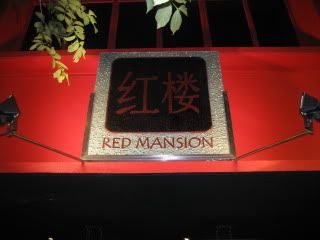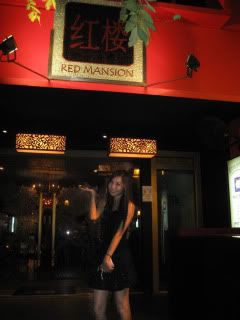 Entrance of Red Mansion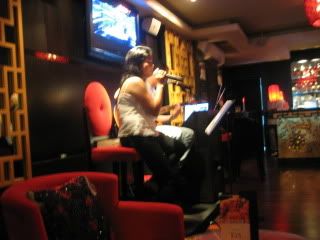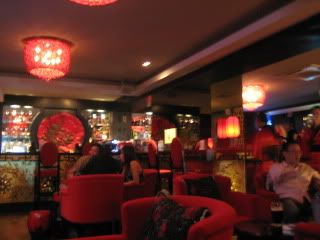 the liveband and part of the interior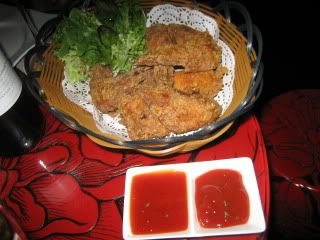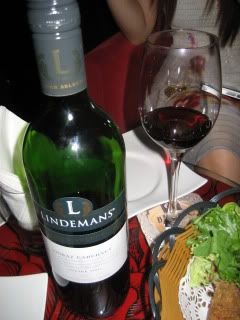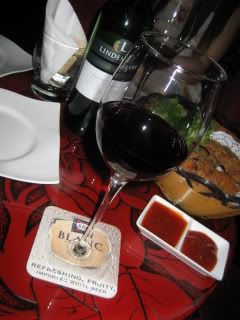 our 'really-very-yummy' basket of fried chicken wings and Lindemans' Shiraz Red Wine!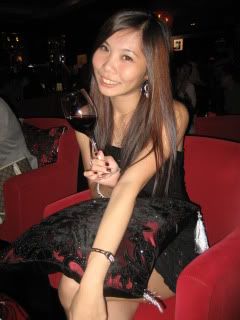 yours truly!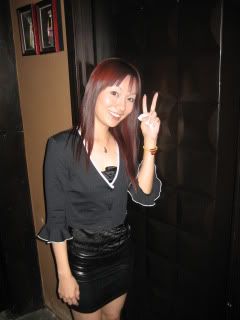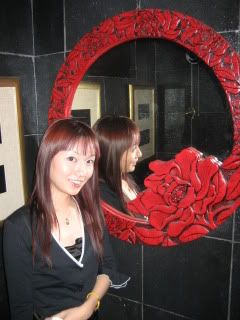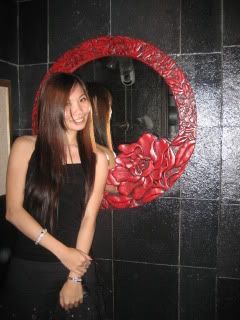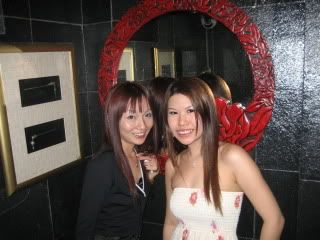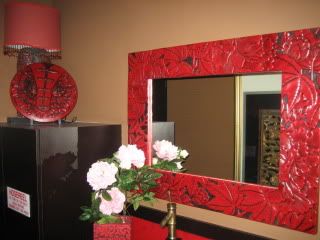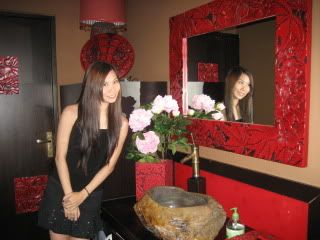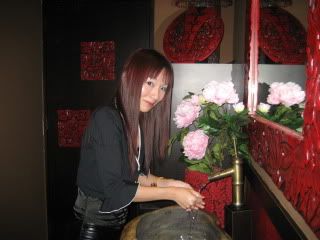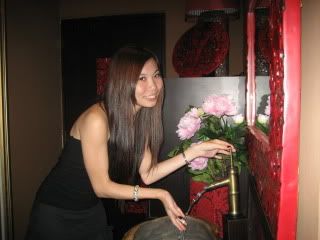 getting a lil caught up, excited and carried away and thus spend quite some time at the toilet area taking photos! haa!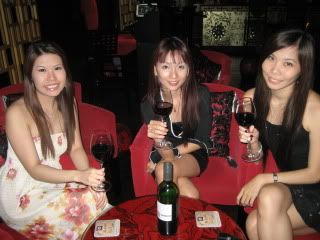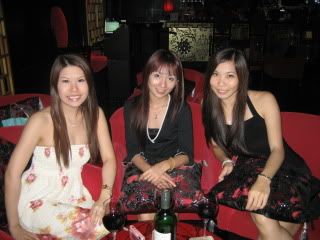 the girls! =D Fion, Jerrain and Me!
after we're done with our drinks, we head over to
Raining Bar
as
Jerrain
likes the word
Rain
. As you notice, there is a
Rain
in her name. Jer-
Rain
! =D i really like her name! seriously~ anyway, names aside, we went in and had
2
buckets of
Heineken
.
Jeffrey
and
James
came in to join us for awhile before they left and headed to
Club Sabai Sabai
, while the 3 of us stayed on to finish our drinks, had some fried sotong balls, sang songs, played games and continued our chatting and giggling.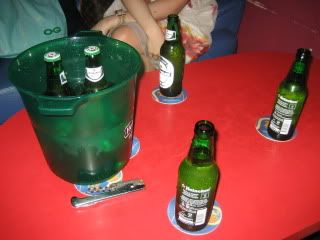 our bucket of Heineken!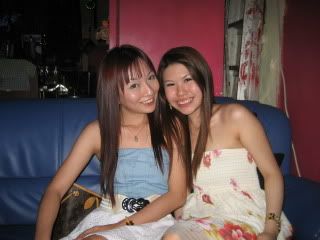 Jerrain and Fion!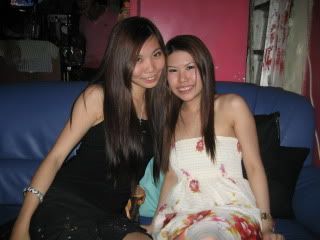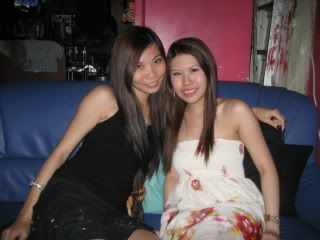 Me and Fion!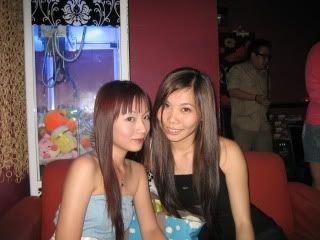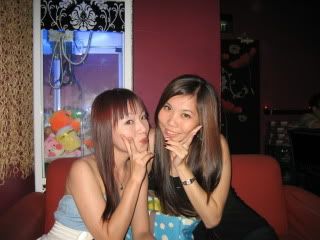 Jerrain and Me!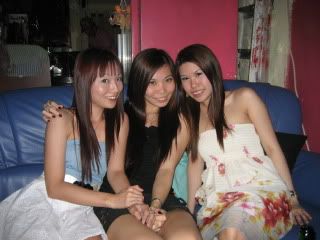 and finally the 3 of us again! Jerrain, Me and Fion! =D
Soon we finished our drinks and decide to take a cab and go over to look for
Jeffrey
and his friends at
Club Sabai Sabai
. We had
Martel
there and i guess i had abit too much and down too many glasses. Cause thats when the alcohol in me starts to go haywire and i start to drift in and out of
Twilight
zone! And im saying that cuz i dont rmbr the full details of what happened. only bits and pieces here and there! faints~ (
sorry my dear friends! and thanks so much for taking care of me though u guys are also pretty high for the night! haa!
)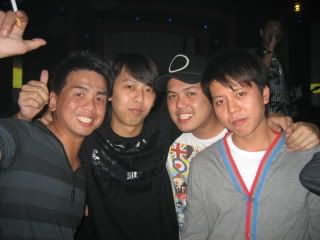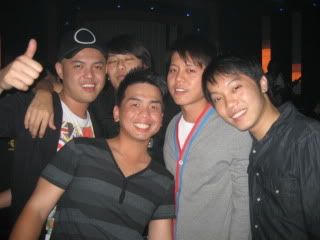 some of the guys! Benson, Dennis, Wallace, James, Jeffrey!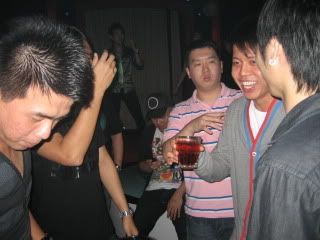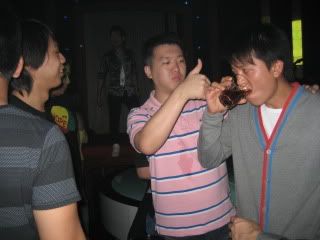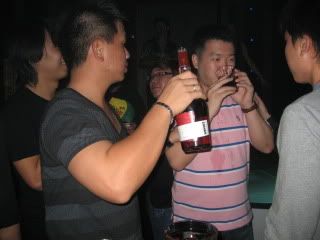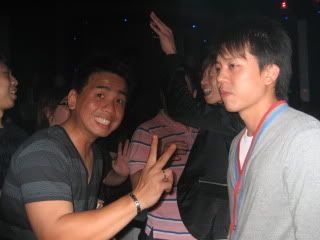 random!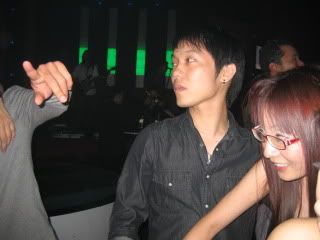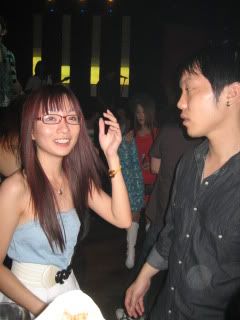 the couple who is always caught in candid moments! haa!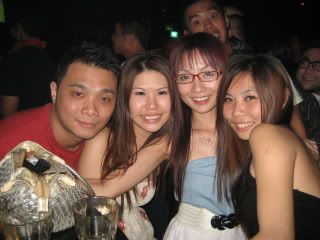 Bro Ah Keong and us girls! =)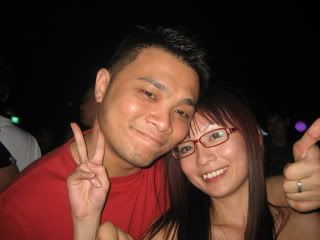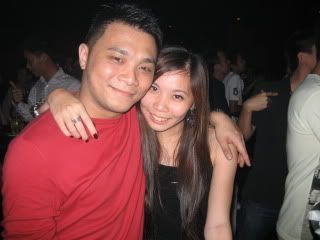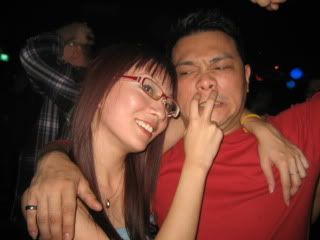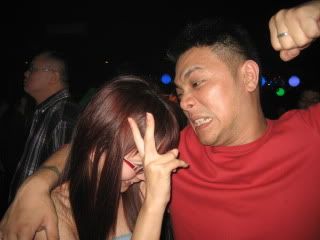 The ever fun loving people! Brother Ah Keong and Da Jie!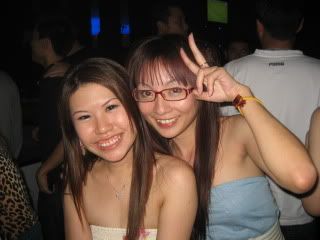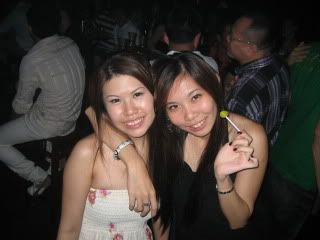 Fion and Jerrain, Fion and Me!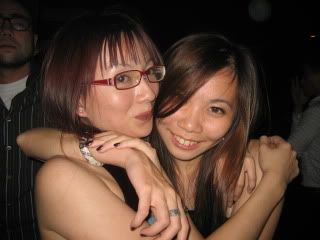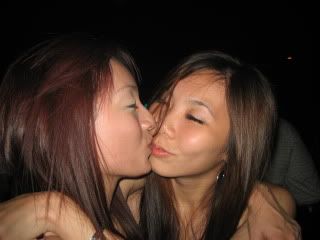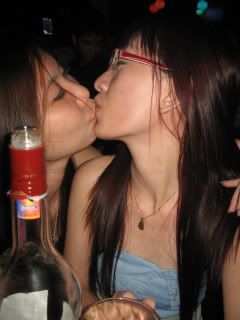 i love my Da Jie! i seriously do! hahaha! *muacks* and *hugs*!
This morning woke up and had a extremely bad hangover! As
Jerrain
mentioned to me, its the
lag
effect! haa! i didnt puke at all last night, but instead woke up, went to brush my teeth, walk around abit, went back to bed and suddenly i felt its gonna explode out of me and rushed to the toilet to puke out yucky foamy bitter stuff which i suspect its gastric juice! faints~ having a bad headache, i took panadols and went to school feeling pretty horrible. Upon reaching school showed
Jerrain
the photos we took, and she too didnt remember and cant believe we kissed! faints! haa!! its just so funny!! worse of all i realise we have alot of random photos which i dont rememeber taking, a small cut on my leg, i lost my hp pouch (
lucky not my phone though
) and one side of my faux lashes (
ok i know this is damn hilarious! i must have look so weird!
), and Jerrain lost her spectacles!! totally a crazy night!
Anyway my dear girls,
Red Mansion
again soon yea! *hugs* and thanks for the lovely night! really enjoyed your company! =)