Updates of My Weekend!
On
Friday, 29May09
, went to pick my
bf
up from work as his car's battery went flat and couldnt start up thus he didnt drive for the day. after which we went down to
Expo
to have our dinner at
BurgerKing
before we proceed for our
Bible Study session
!
Song of Solomon
! Very gd session indeed! Theres a total of 5 Session, and this is the first~ looking forward to the next 4 sessions~ During the BS, i gotta learn that
Lily
represents
Holiness
and
Purity
!! and so happen
Yuriko
means
Lily Child
!! Weeee~ hehe! After Bible study, we headed to have supper with some of our
CG members
and went to
Simpang Bedok
. After supper, sent bf home to get his dad's car, while i continued to send John and Jessica home before heading home to park and car and bf came to pick me up and we headed back to his place for the night. =)
Yesterday
30May09
, woke up in the morning and we sent
bf's
car to change the battery after which he sent me home and proceeded for his
Muay Thai
lesson while i prep to go to school. Went to school for my
EC tutorial
. After lesson
Kelvin
sent me home before he went to meet his gf who stays near me. Upon reaching home rested for awhile and waited for
bf
to come pick me up. He and
Sylvia
came to pick me up and we went for our church service. After service, we left and headed to
Pasir Ris Whitesand
to have
Superdog
for dinner. Well it tasted not bad, but i feel its so
NOT
worth the money!! cuz the bread used is those bread that we can easily buy from supermarkets! and i always eat that bread at home!! Faints~ I could easily buy some hotdogs sausages and make my own Superdog~ Plus the fries is nothing special as well. tasted very normal and i could easily cook my own fries that may taste better too! Swear i
WONT
eat it again!! Anyway after dinner we went to
Changi Village
as
Sylvia
wanted to meet someone there for awhile. After which we send her home and went to
Serangoon Central
to meet
Jiabao, Jialiang,
Adrian, Phyllis, Jaspal, Jenson
and
Dilwyn
for supper. Had
prata
while they chatted til very late before we made our way home. I was alrdy very very tired by this time as i had slept late the night before due to insomnia and woken up very early this morning. I even doze off while at the prata shop! faints~
Our Dinner. SuperDog.
as for
Today
!
31May09
, woke up and i made breakfast for us before we head down to get Mummy's present and went to
Hotel Rendezvous
to meet my parents for
Hi-Tea
to celebrate my
Mum's advanced Birthday
! =) We headed to
Straits Cafe
. Havent been there for a yr or so and realize they've renovated the place! looks quite gd now and the place seem brighter! On top of that, business seem much better as well~ the place was packed with people within no time. The food variety and taste are also better now~ But of cuz with that, the price per pax increased as well! haha! Its $32++ per pax now, i cant rmbr how much it cost last time though. haha! Anyway Hi-Tea was pretty good, with lotsa chatting, laughing, eating and also phototaking! =)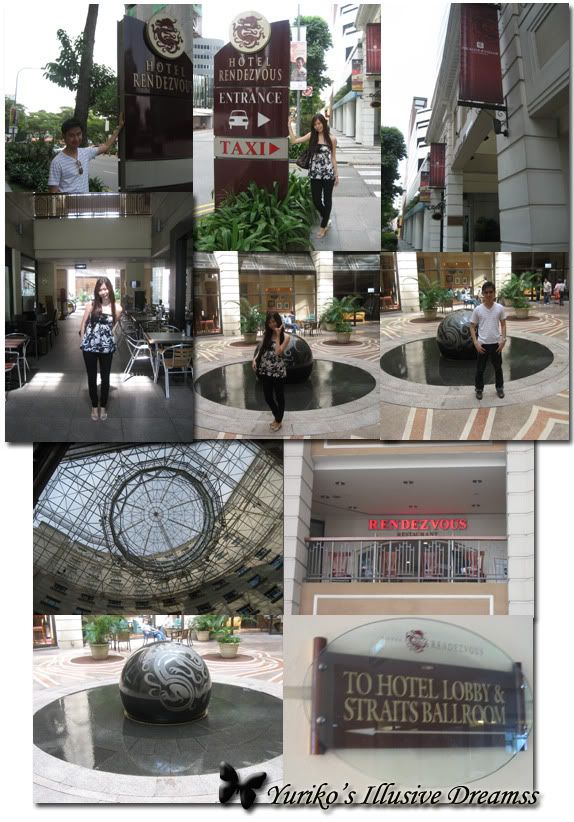 at Hotel Rendezvous!!
the interior and lobby of Hotel Rendezvous!
at the Hotel Drive-thru~ area!!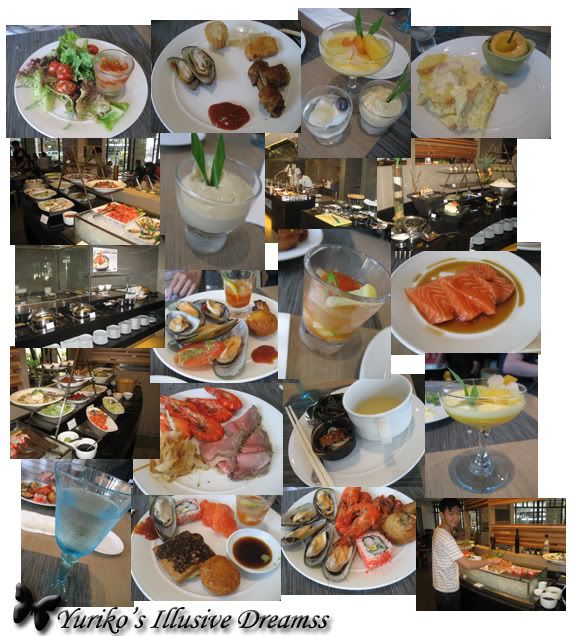 the yummylicious food, dessert and buffet area!!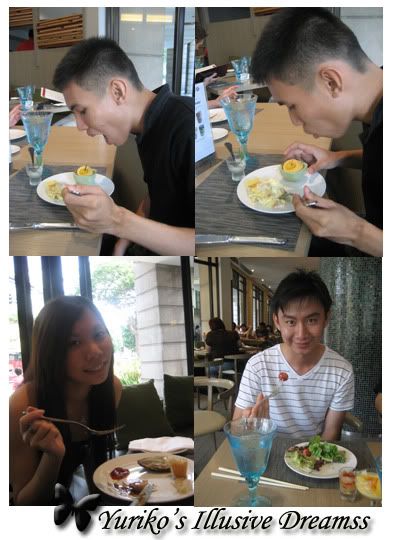 enjoying the food!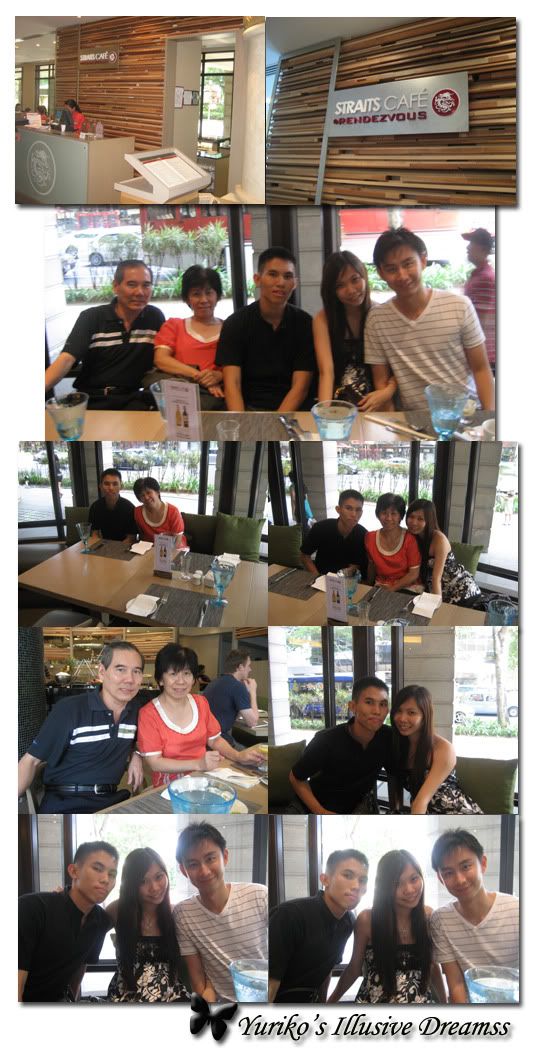 the people i love!! =) my loving family and beloved bf!
After the very filling Hi-Tea, my parents and bro went home as my bro had to book in to camp, while me and bf headed down to
Singapore Flyer
. Not for the ride but we went there to support some friends whose band is known as
ReZound
at their Gig performance held at
LoveTheWorld SoulRock Bistro Bar
! Order drinks and enjoyed the music while chatting before bf and i left for home as he had work to do.. =)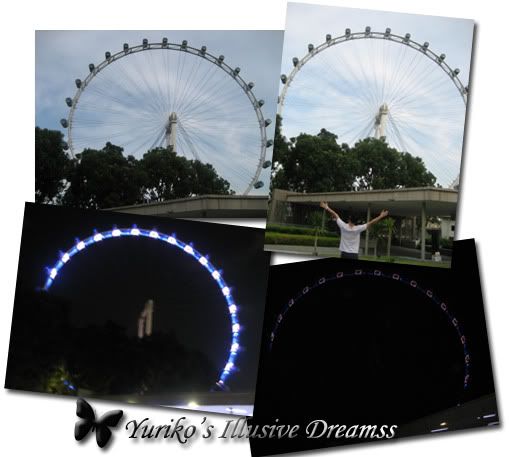 Singapore Flyer! Can u spot my Bf in the picture! hehe! =p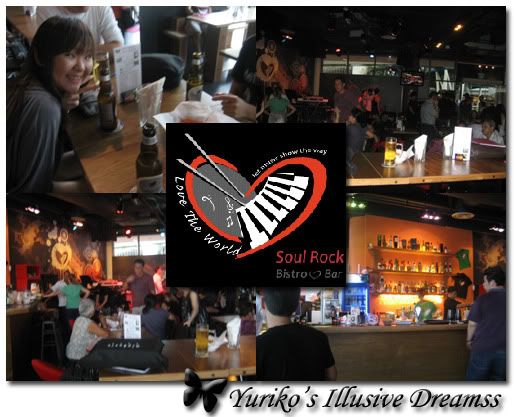 At Love The World Soul Rock Bistro Bar! The place, our drinks and sweety Christine!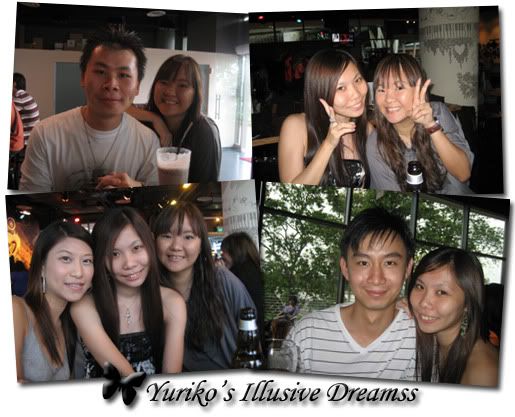 some of the E254 peeps who turned up for the Gig! Leon, Christine, Angela, Bf and Me.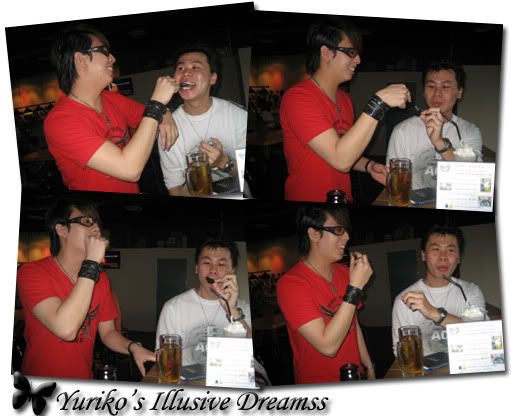 where the guys learn to care and share the oreo cookie! hehe! Leon and Jo (from ReZound)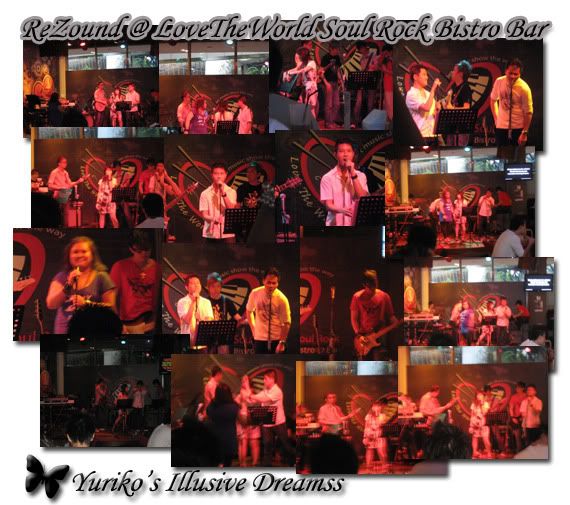 ReZound!!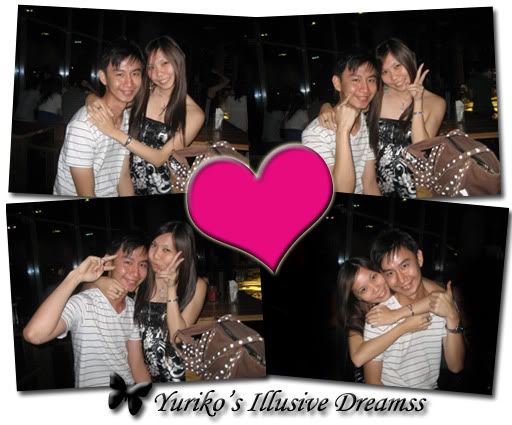 My Love and Me! =)