♥ Sweet Surprise from my Sweet Valentine! ♥
on friday after work,
Baby
came over to pick me up and we went back to his place since we didnt have plans for the night. upon reaching, and opening his room door, i received a very
SWEET
surprise lying on his bed! A present and a stalk of rose! i totally melted~ loss for words at that very moment and the next thing i did was to give
Baby
a very
tight hug
! words just cant describe how happy i was at that moment! You may say im silly at how easily contented i am. But thats how i am,
Silly
and
VERY contented
. Well, its a really rare thing for
Baby
to give me gifts or even flowers. In fact this is the first time he gave me an actual real flower
(recalling that he gave me chocolate roses last year for vday)
..He had always mention that he wont get me flowers cause its a total waste of money which i of cause agree to. But as a girl, its always nice and happy to recieve flowers!
(not saying i wanna recieve it all the time...cuz its really a waste of money! but to receive it in special rare occasions such as this, does really makes me very happy. No need for huge bouquets as it does cost alot i know, 1 stalk of rose such as this one that Baby had gotten for me is able to melt my heart totally!)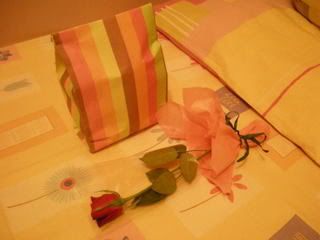 the first thing i saw the moment i open the door!
Happy Me with my gift(wrapped) and lovely rose!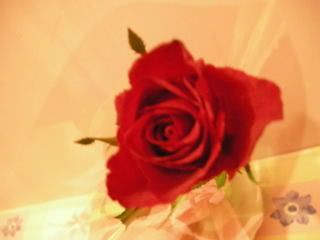 With the lovely rose yet again! cant help but keep snapping with the rose since i rarely receive flowers! haha!
Next surprise was the gift that he got for me!
Baby
got me to open the present! and excitedly like a lil girl, i sat on the bed and slowly openup the wrapping as i didnt wanna tear up the wrapping! And inside was a
VERY
cute lil bear! unlike the usual plushies i get which are Tiggers, Pooh bear, Mickey, Minnie, etc. This time is just a very normal cute lil bear!
Simple
yet holds
very sweet words
on the lil tshirt that its wearing. "
You are the love of my life ♥♥ & and joy of my heart
"
the gift(wrapped)
the very sweet and cute lil bear hat was hiding inside the wrapper! =D
My gifts! unwrapped!
♥
My sweet valentine!
♥
the box of Ferrero Rochers that came in later! Surprise No.3! =D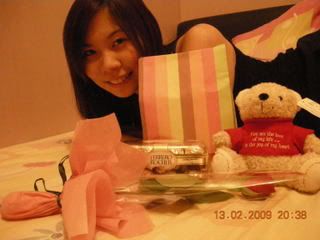 Finally with all the gifts for the day! =)
How can i not be happy and beaming from ear to ear! =D
Well, Its a total surprise for me cause both
Baby
and i had planned that there wont be gift exchanges this year since we've earlier on planned
(while chatting at Villa Bali)
to bring each other out to different places
(mainly to open concept bars and restaurants)
to celebrate Vday instead.
(this explained why lately we've been going to so many different places, and why i've mentioned Part 1 (Giraffe), Part 2 (Mount Faber JewelBox Saphhire), Part 3 (long day out and about) etc. of advanced Vday in my previous few posts)
We've also planned that throughout these few days we would be taking photos everywhere we go so that we can have a
Vday Photo Album
! So sweet yea? Hehe, its all
Baby's idea
! =D and i
Totally Love it
!
Loving my Baby unconditionally, always and til the end... ♥
I'm a happy and blessed girl! =D