First step to achieving my Scuba Diving Cert!
as i aint feeling well today, took
MC
and brought
Muffin
to
Baby's place
to study for my
Scuba Diving Theory Test
! studied the whole afternoon til evening and we head down to his bro's place. His bro is a certified scuba diving instructor and he will be the invigilator for our test! Thank god our hard work the whole day paid off and we passed! His bro then proceed to explain some stuff to us and took our sizes etc. as we'll be having our Pool dive in 2wks time on a Sunday! =)
Weeee~ i cant wait!!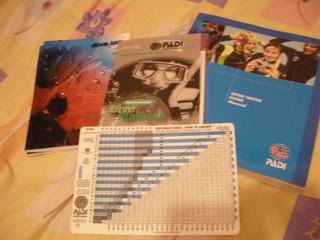 Our Diving Theory Book, Dive Logs and Dive Planner!