Yawns~ dreads puffy eyes~
feeling super duper tired right now~ my eyes are puffy and i have to force them open! its now open at 3/4 at most only. was watching the taiwanese drama,
不良笑花
, acted by
Rainie Yang
and
Pan Wei Bo
. Super cute and yet touching and loving show~ many sweets parts which would melts lotsa girls heart...and make u feel like a princess if u're in it. haha..totally fairytale like. which is almost close to impossible in reality, but yet i love to watch these shows. haha~ i guess most drama shows are like tt...and watching dramas like that nv fails to make me laugh and cry all at the same time~
well, i've finished watching this drama ytd night ad will be moving on to watch another 2 shows,
转角遇到爱
, acted by
Da S
and
Xiao Zhu
! i've alrdy started on it actually watched til Epi2 only. and i'll also be starting on
籃球火
starring my fave
WuZun
,
Xiao Zhu
and YanChen Xun. haha! i'm back into my drama craze again! ever since a few yrs back when i got so addicted to the Korean drama,
Stairway to heaven
, which i watched 7 times! faints~ im actually still contemplating if i should rewatch it again though.. haha!
anyway im super duper tired now..not gonna blog much le~ later still have to attend bf's co.'s
D&D
! sigh...hope i wont look like a walking zombie!~ haha! ciao for now~ :)
btw below are some photos taken in office just now during lunch! note tt my eyes are really puffy and tired! and i really look like a zombie! faints~ zombified~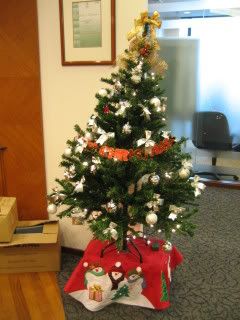 the xmas tree in office! weee~ xmas is coming soon~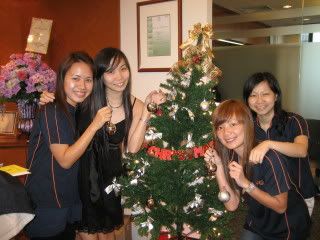 Jamie, Me, YingTing and Iesin! =)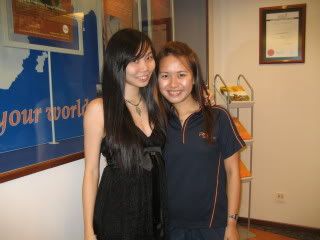 Me and Jamie!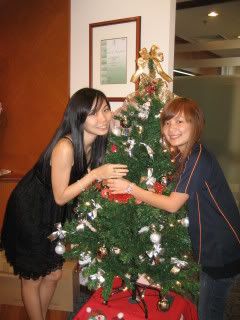 Me and Sweety YingTing!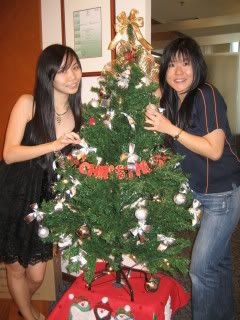 Me and Wendy! =)