fantastic wkends once again! =)
listening to: [zhang shao han - qing ai de, na bu shi ai qing]
friday
had a pretty rough day at work..knocked off pretty late after which rush down to
Boonkeng
to meet
Baby
before we head down to
Bumbu Thai-Indo Restaurant
at Kandahar street to meet
Daddy
and
Mummy
for dinner to celebrate
Daddy's birthday
!
*hugs* DADDY! LOVE YA! HAPPY BIRTHDAY!
dinner was yummylicious~ and all of us loved the place as its all decorated and furnished with pernankan antiques~ FYI, my family is
Peranankan
, tt explains why we like it alot! plus those antiques may probably be used by our ancestors~ =) and that also explains why my '
chee-na
' is so horrible~ haha! cuz we mainly converse in english at home, and a mix of peraanankan hokkien and malay with my grandma since young, but she have since passed on.. =( miss her alot~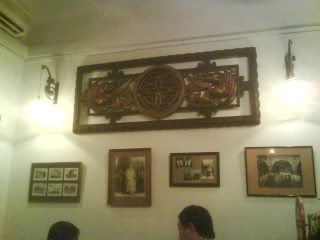 some of the picts taken at Bumbu. didnt tk alot as i didnt have my camara with me
after dinner
daddy
and
mummy
went
home
first while
baby
and me went grocery shopping at
marine parade NTUC
~ bought lotsa junk food like potato chips, chocolates, treats for
muffin
and also fresh milk~ after which we went back to my place to pick
Muffin up
and went back to
baby
's place. as we're both very tired after a long day at work, we went to slp very early~
on
sat
morning, woke up, ate breakfast and watch tv...and in the afternoon we brought
Muffin
to
Bingo's birthday party
! (btw, bingo is a friend's maltese!) there were many other maltese and a huge white samoyed there..
Pebbles
(muff's gf),
JiaJia
,
ToTo
(bingo's bro),
Custard
,
Astro
,
Bobby
and also
Frosty
(the samoyed)..all of them are white! so its like watching lotsa white cotton balls running ard the place. haha! and my poor lil
muffin
was the target of the day! most of the dogs including the Huge white samoyed
Frosty
want to hump him! haha! he was so victimised tt day!
LOL
! there's pebbles the only female one there~ but yet they chose
Muffin
. haha! tink muff too girly or they're gay! haha! and as usual pebbles was one of the more hyper ones there tt kept running ard~ lOL~ and my silly
muffin
didnt even bark or retaliate..he only stand still there and growl..haha~ silly boy~ beside that, there were lotsa nice food prepared for the party and also a birthday cake/pie for
Bingo
! it was definately a wonderful party, and i cant wait to organise a party of this sort in March for
Muffin
's 1yr old! =D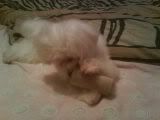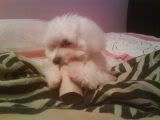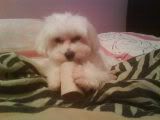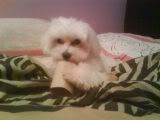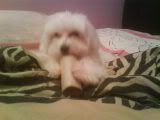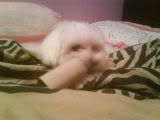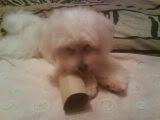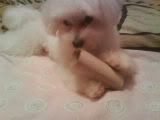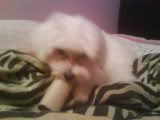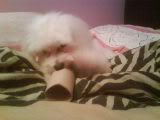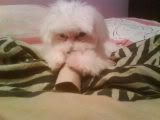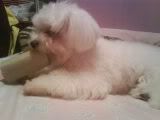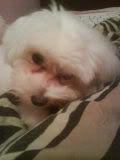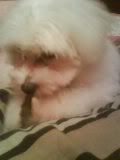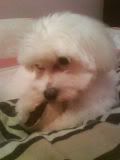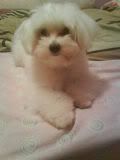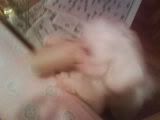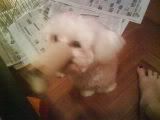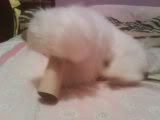 my silly muffin playing with the toilet roll in the morning before going to Bingo's birthday party`
after the party, we send
muffin
back home while we went to
ECP
to meet
marcus
,
his friend
,
yifeng
and
karen
for roller blading session again~ after which had our steamboat dinner before roller blading back to the car and went home to slp~
as for yesterday, we woke up early, went to get camara from
Cynthia
as i had lend my camara to my
bro
to bring for his
Macau trip
...after which went to get breakfast for
baby's bro
and
sister-in-law
..waited for him to finish brkfast while i was playing with their daughter,
Faith
! she's sucha darling! super adorable esp when she smile and giggle~
*melts*..
after which
his bro
,
baby
and
i
head down to
westcoast yatch club
to meet some of the divers for the day to go to
Pulau Hantu
...sadly it was raining thruout the day til evening..so we couldnt do much..watched the divers prep and go diving, while baby and i explore the island, took photos, collect seashells, and saga seeds~ =) and in the evening we had
BBQ
before heading back~
Baby driving us to his bro's place.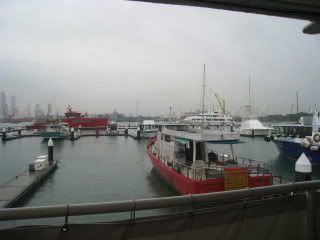 At the yachtclub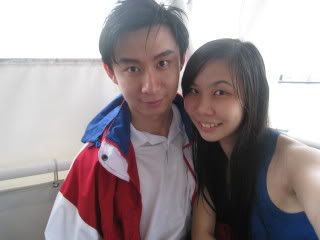 baby and me on board the yacht! notice our hair were wet due to the rain~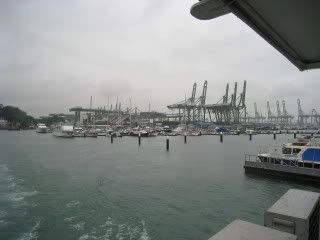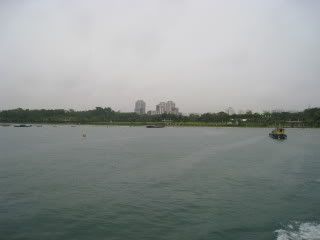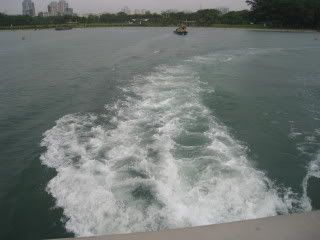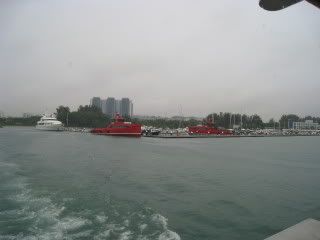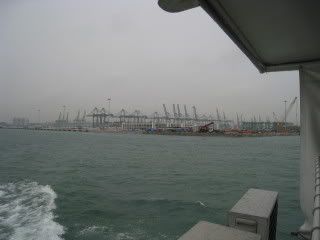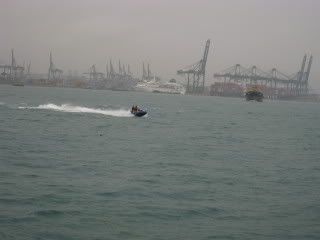 random shots of the scenery, the bigger ships, the beautiful sky, and a passing jetski =)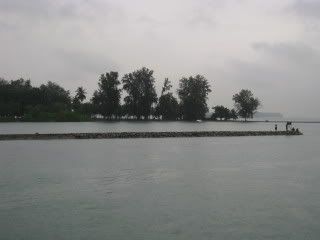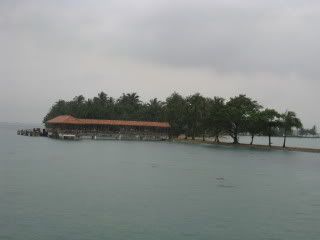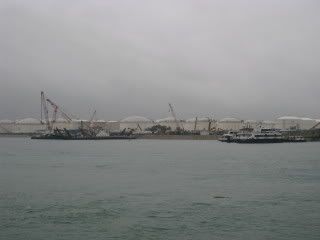 Approaching our first stop of the island!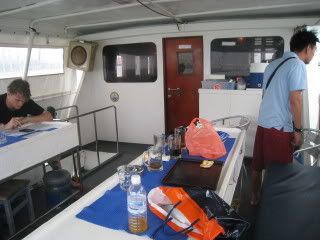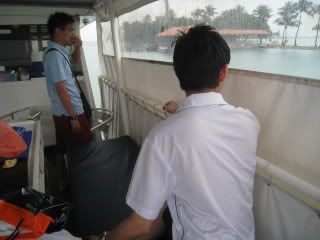 onboard the yacht!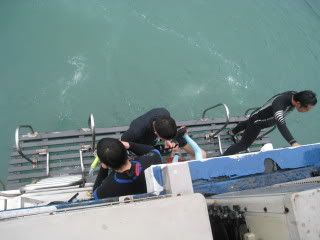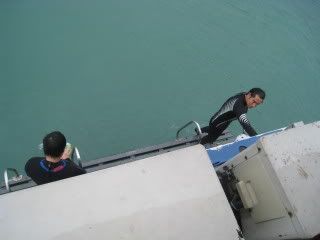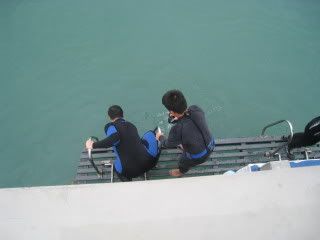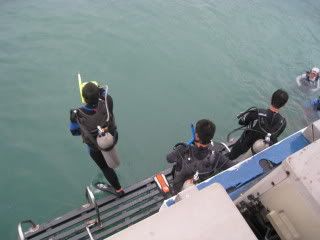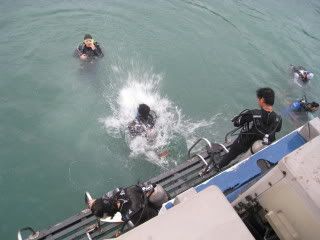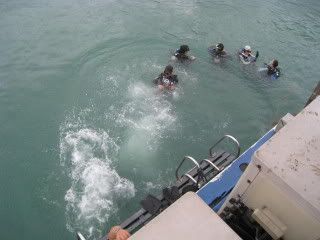 the divers~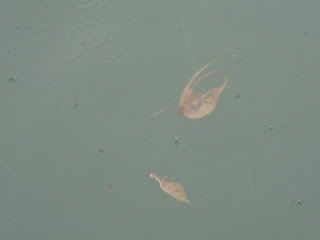 we happen to saw a octopus/sotong (i cant tell the diff LOL) chasing after a crab! what luck yea! hehe! without diving we could alrdy see such stuff..=p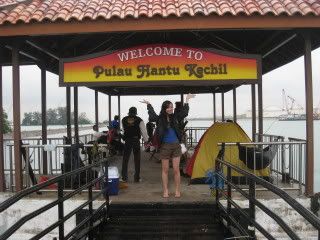 Welcome to Pulau Hantu! =D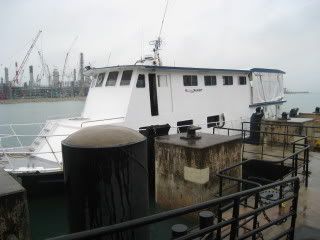 Our yacht!
Silly looking me at the beach~ wearing baby's windbreaker as it was still drizzling~ faint attraction is the scener behind me! so can simply ignore me~ lol..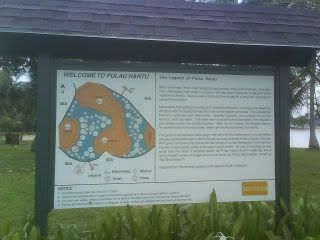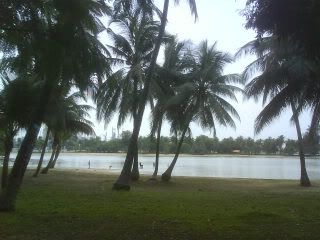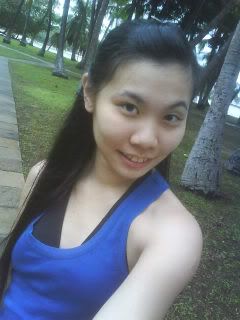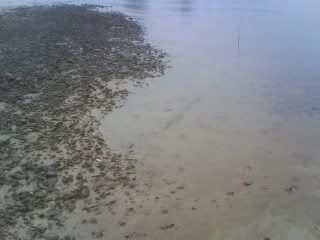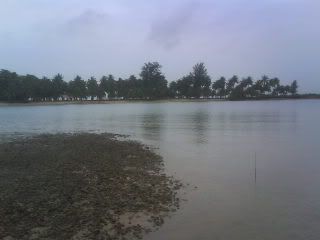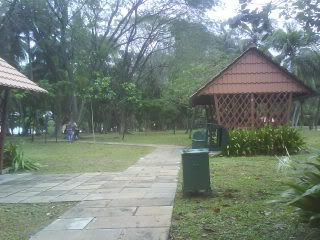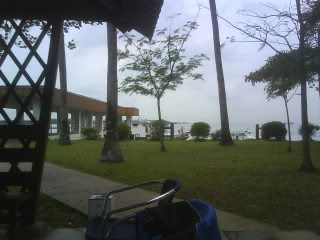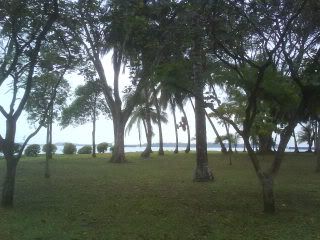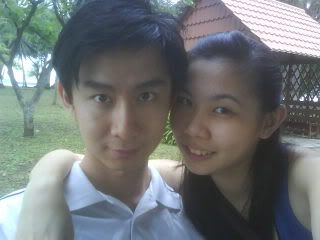 at our 2nd stop of Pulau hantu~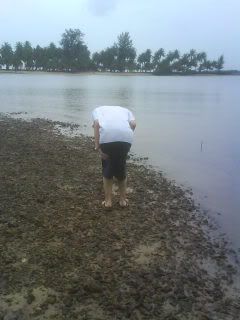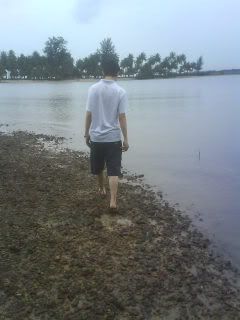 baby picking seashells for me~ =)
baby and me by the beach~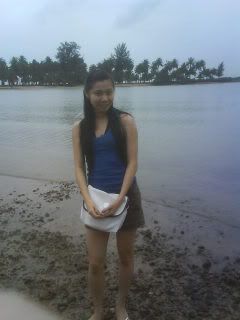 at the spot where we're picking seashells~
take a closer look! it aint all stones~ there're many shells still alive and moving ard~ so scary~ imagine we were walking thru and over those~ faints~ as i wasnt wearing my specs..i didnt notice til i bend down to see~ freaked me out! faints! hah!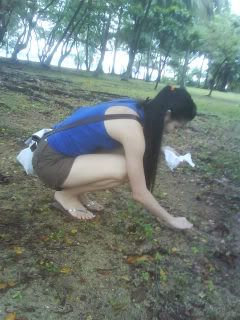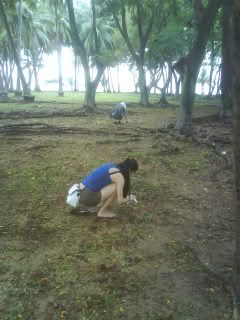 guess what am i picking this time? hehe i even have a competitor behind me! =p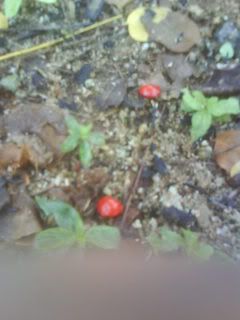 yeap saga seeds~ also known as love seeds~ =)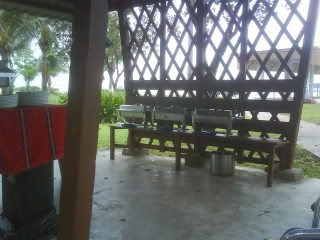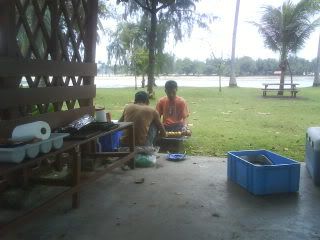 makan time~
overall a
wonderful trip
, except that i
dropped by Specs into the sea
!! sobs~ so
sad
~ now i can only rely on my contact lens..but i cant wear it that often as i easily get eye infection and its very tiring on my eye~ plus i cant wear my lens to work thruout the day else i would be so tired! sigh`..have to faster get a new pair of specs le~ else i'll be like a blind mouse walking ard~ haha! miss those specs ya! cuz its been with me for quite awhile and gone thru lots with me..if not for those specs i couldnt see this world clearly!~ haha kk..abit too emo~ =p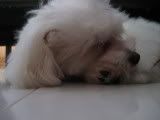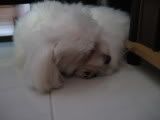 my lil angel slping~