Taiwan trip 25-29oct08
on
friday
night
24oct08
went home after work grabbed my luggage and went down to meet
baby
..went over to his place for dinner, after which had an early rest.
saturday 25oct08 (First day)(Tai Chung)
in the morning at
5+am
, woke up and prep and he send me to the airport to meet the others to check in at
6.15am
. by
8
, we boarded the plane(China Airline) and headed to
TAIWAN
~ *weeeeeeee~*
upon reaching the Taiwan airport, we met with our tour leader (
Asher
) and our tour guide from Taiwan(
Elephant
[nickname]). got out luggages and boarded our coach(718GG) which we'll be travelling in for the next 5 days~ we made a stop at the
Jin Yong DIY tomato farm
. i would say its quite interesting! i didnt know theres so many different types of tomato! bout 20+ types if i nv remember wrongly~ different colours, sizes and taste~ tried the tomato man tou and tomato juice which is blended with a few different types of tomato! its really sweet and tasty, and u can nv get that taste in singapore where u blend the usual kinda tomato we haf. after which, we headed to have dinner at a really cool restaurant with really nice sculptures, together with the other colleagues from group1, which left 2 days before us (
group2
). dinner was great and we went for our first shopping session at one of the night markets! (cant rmbr the name of it though..im really bad with rmbring chinese names and words! so do pardon me! hees`) after shopping, headed back to our hotel(
TaiChung Intl Plaza Hotel
) to check-in. after which we settled down and went out to explore the shops near our hotel.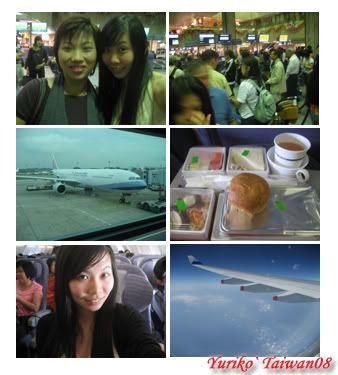 at terminal 1 and on the plane on the way to Taiwan! =) i love the view from the plane~ beautiful~ the food is amazingly quite gd too..wonder if its becuz im hungry? haha!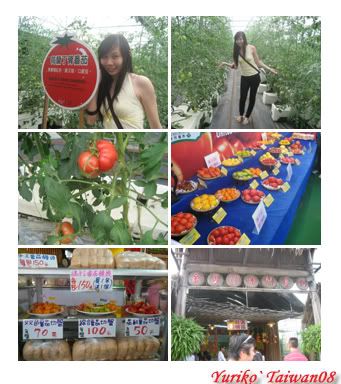 our first stop! the Jin Yong DIY tomato farm. look at the all the different varieties of tomatos~

at the very interesting restaurant! cool sculptures ya? even the toilets are interesting~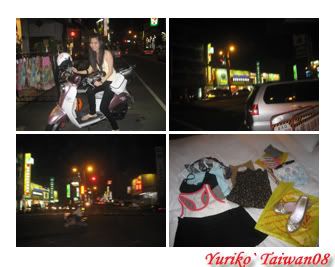 night shopping~ shopping grabs for day1! =)
sunday 26oct08 (Second day)(Tai Chung)
woke up at 5+ to 6am, washed up and went down for breakfast..after which we started on our tour yet again..went to a couple of places,
earthquake museum, sun moon lake, dinner, Chi Lin Fong Hot Spring
and then for shopping yet again at
Fong Jia Night Market
, followed by
drinking session
at night! i would say the
earthquake museum
is a real
eye opener
!! they've actually kept the earth quake sites intact and made it into a museum for us tourist who dont experience eartquakes in our homeland. we're really very fortunate i must say. the damages are really catastrophic and devasting! land and running tracks unravelled and eroded, collapsed building and schools.. totally unimaginable! the
sun moon lake
is a really beautiful place..really peaceful and the calm mirror like water with light reflecting off the waves allows you to experience the poetic and picuresque scenery all year round! i quite enjoyed the Hot spring too, as i personally like to bath in hot water. haha! great experience and its actually gd for body wellness and health. would love to ry the one at Japan though! hehe! heard its really gd!
Fong Jia night market
was quite a gd place to shop of all the placesm but sadly didnt manage to shop for long there..kinda wasted..=(
after which went back to the hotel to wash up and went for drinking session at
Mr Tay
and
Keith
's room, along with
Samantha, Watanabe, Lynda, Celine, Asher, Rafi, Mr Soo, Andrew, Enghuat
and
Robin
. it was a
crazy
night! haha! many of them actually go quite wasted!
LOL
! thank god i was still pretty sober~ hahaha! upon returning to my room i could still pack up some of my stuff~ haha!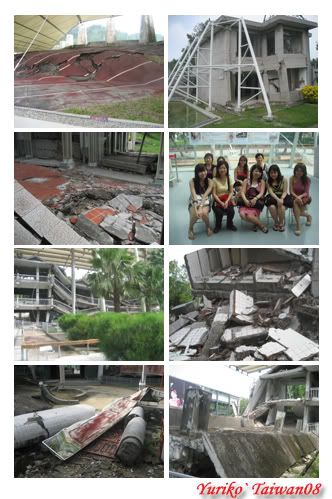 at the Earthquake museum~ look at the devastation~ frightening yea? if sg were to be hit by earthquake it would probably be the end of us all~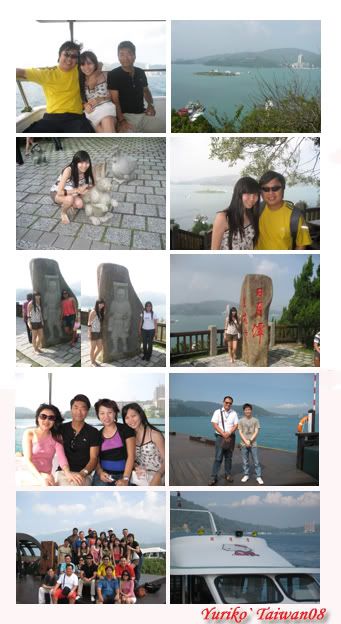 sun moon lake~ i love the yacht ride~ =) the breeze and the scenery are fantastic!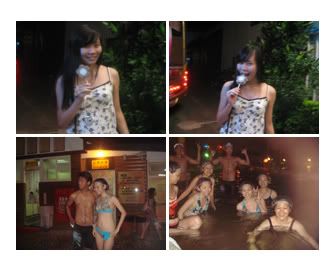 ice cream after dinner and before going for the hot spring~ and also photos at the Chi Lin Fong Hot Spring~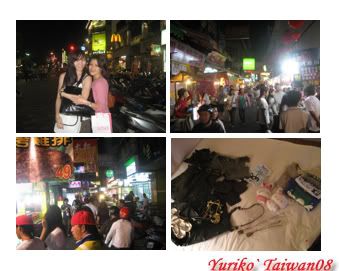 shopping yet again at Fong Jia Night Market~ shopping grabs for day2! and also 2 rabbits i caught from those machines which are located everywhere in taiwan~=D
monday 27oct08 (Third day)(Taipei)
morning we woke up early, had breakfast and checked out of the hotel. everyone looked super
zombified
after the late night drinking! haha! thankfully i manage to wake up and amazingly felt fresh! haha! we then went on our journey and headed to
Taipei
~ visited the
Fisherman Wharf
where the popular Taiwanese drama '
Meteor Garden
' was filmed,
Tamshui Old street
to shop a little,
Miramar Entertainment Park
, where the world second largest Ferris wheel is located on top of the building, a place to watch the taiwan soldiers march (forgotten the name of the place),
101 Shopping mall
which is the tallest building in the world for shopping and finally to
Shih Lin Night market
for shopping and makan before we head back to check into our hotel(
Taipei Riverview hotel
). yet again, i didnt manage to shop for long at the
ShihLin night market
! guess what happened? i dropped my wallet in the coach! and i tot i lost it! got so worried.. i manage to only go into 1 shop to buy some stuff for
Muffin
..thats when i realise i lost it! thankfully the place accepts cards~ so quickly paid and rush back to the bus to look for it! i was alone at that time and i totally panic! imagine being alone in a foreign country and realising u lost your wallet! it was a total nightmare! i hardly even spend during the pass few days~ so i basically still had lotsa cash on hand and hardly even enjoyed! imagine if i really lose it! faints! im gonna be a really sad girl for the rest of the trip! haha! but lucky for me i found it in the coach! careless me~ but by the time i found it, it was too late to rush back to rush further. so i stayed ard the area and waited for the others to return.. after we got back to the hotel, we checked in and after which headed to
Xi Men Ding
to shop and tried the famous
Ah Zhong Mian Xian
~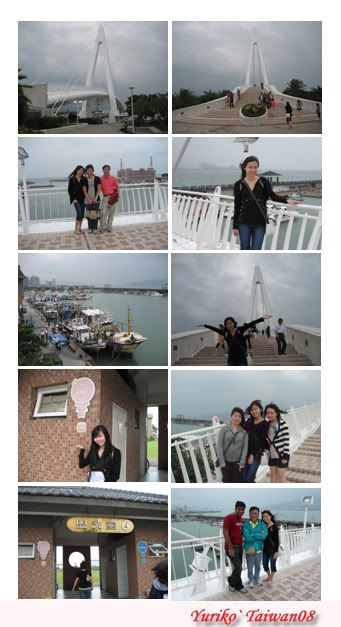 at Fisherman's Wharf!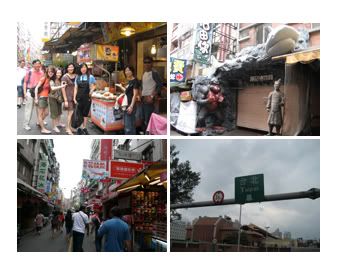 at Tamshui Old Street~ shopping~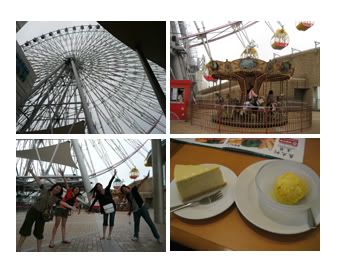 Miramar Entertainment Park~ huge ferris wheel~ didnt try it though. cuz it looks kinda like singapore flyer which i've tried before! went for desserts~ yummy mango icecream and cheesecake!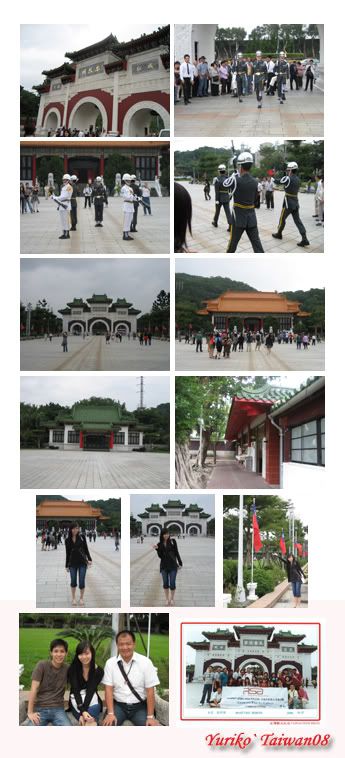 not sure wat this place is called. went to watch the soldiers march and perform spinning of thier guns.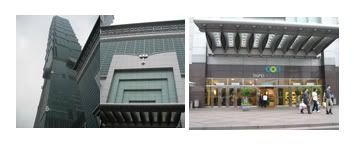 at 101 shopping mall. tallest shopping building at the moment~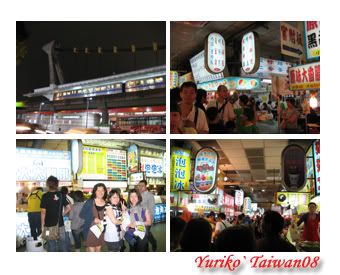 Shih Lin Night market~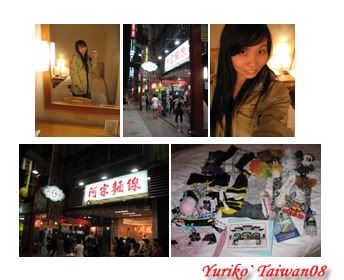 at Xi Men Ding, Ah Zhong Mian Xian and my shopping grabs for day3! =)
tuesday 28oct08 (Fourth day)(Taipei)
woke up early yet again, headed to
Long San Si
temple after breakfast to pray. after which went to
Yehliu
. It has an amazing array of artistic creation sculpted by erosion and other natural forces. Saw the famous and most spectacular "
Queen's head
" rock, "
Fairy Shoes
" rock and "
Candlestick
" rock. We then headed to the
National Palace Museum
, where the largest collection of priceless Chinese art treasures, spanning around 5000 years of Chinese history are kept. Next we headed to
ChiuFen
, to see the traditional way of life that still exists with the aura of old mining town that still reminiscent today. bought some taiwanese goodies and stuff as well. after which went to meet one of our company's supplier for dinner, before heading back to the hotel to put our stuff and headed out again to
Xi Men Ding
to continue shopping. bought many stuff and by this day, all the walking and carrying of shopping bags and stuff for the whole day have caused back and body aches! so i went for a full body massage! haha! after that went back to pack til 2+am before heading to slp.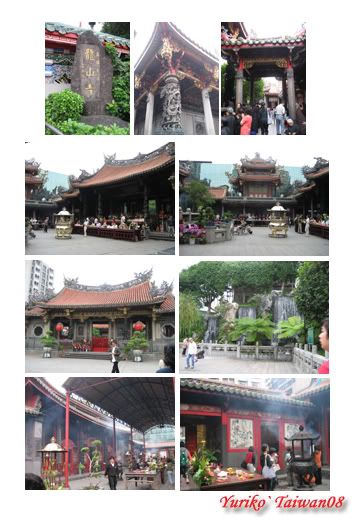 praying at Long San Si Temple~

Yeh Liu~ nice place yea. beautiful scenery and natural made scuptures~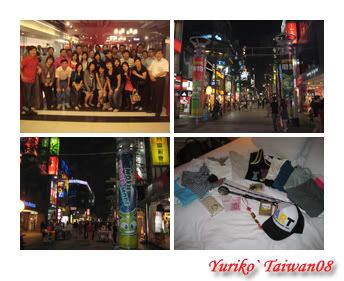 groupphoto during dinner and shopping again at Xi Men Ding. Shopping grabs for day4! =)
wednesday 29oct08 (Last day)(Taipei)
woke up pretty late and i skipped breakfast, washed up and pack and headed out to have
Brunch
at
Xi Men Ding's Ah Zhong Mian Xian
...as they didnt open very early, before that we went to
Carrefour
! haha! to get some tea and cup noodles~ lol! heard the cup noodles are gd! and cant be found in sg~ so i bought a few back to try. hehe! after eating, gotten myself my fave
Pearl Milk tea
and went back to the hotel to check out before heading to the airport. its pretty sad to have to leave alrdy.. wish could stay on a few more days~ but well after all the fun, its back to the harsh reality and back to work~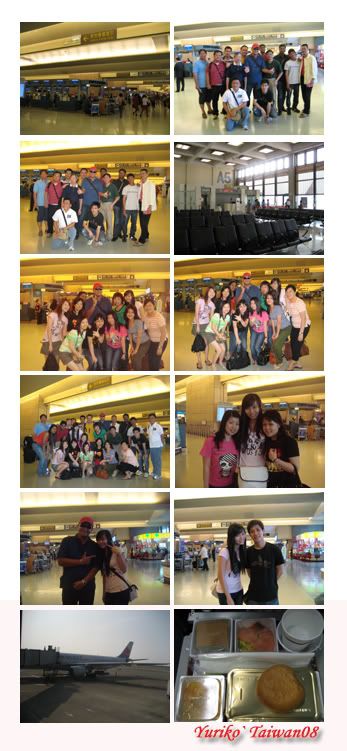 at the Taiwan airport where we bid our tour guide and Taiwan farewell~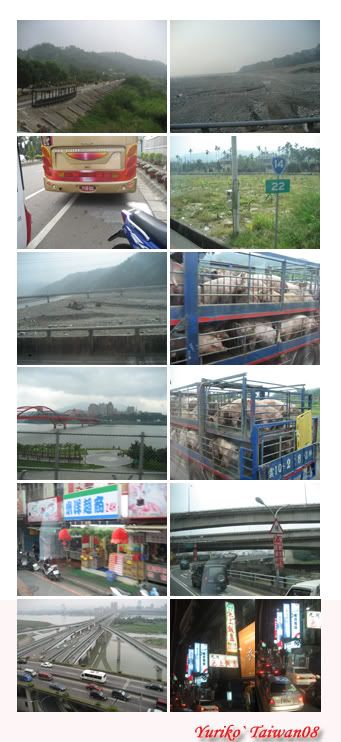 Misc~ some of the sceneries and picts taken while im in the coach~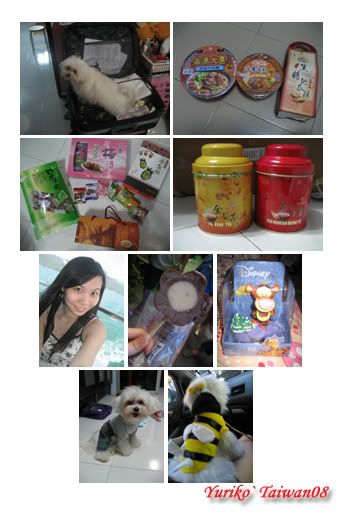 Misc~ some of the foodie stuff tt i bought, Muffin in his new clothes tt i got from taiwan, Muffin in my luggage!~
overall
, i would say the trip is pretty good and enjoyable! (although i felt kinda lonely throughout since most of the time im walking ard and shopping on my own..sigh..no choice my khakis are all in group1 or couldnt come to this trip..=( )but with that said,
Taiwan
is a really nice place with really nice people..quite a safe place too! considering the fact that i could freely without worried walk ard and shop alone~ haha! definately a place i would recommend people to visit if you've not been there before~ =)