bad wkdays, gd wkends..
i totally dread wkdays..in fact even friday aint very gd..but i totally
LOVE
saturdays and sundays! =D
last friday many bad stuff happened. work was horrible. and everything seem to go wrong. i received my results on friday as well. and guess what. its terrible! sigh`.. totally disappointed with myself. i actually
FAILED
1 module! DamnIt!
Results:
QMM - 80 (A)
IMS - 46 (D)
WBP - 67 (B)
OD - 30(F)
My results are like
crap
! either its very well done. Or totally thrashed. First of all, i'm really very happy and amazed i've got a high A, scoring an 80. Its my first A for this year2. But Its also my very first failure from this entire course! sigh.. i really better buck up and work harder this semester..=(
Anyway, as i mentioned. Wkends are always great.
Friday
night,
Baby
came over to meet me and
Muffin
for dinner below my place. after which went to the Mrt station to meet someone to sell a very pretty doggy dress that
Muffin
cant wear since he's a boy! haa`.. after which went back to
Baby
's place to watch tv. Went to slp shortly after as we're pretty worn out for the day.
On
saturday
, woke up very early at about 7am! and we decided to go to
Macdonalds
at
ECP
for breakfast! had my fave hotcakes and
Baby
's usual big breakfast, and after breakfast, we brought
Muffin
for a walk at the park! As
Muffin
was having so much fun, decided to walk him Off leash. he was running around happily, marking every lamppost and trees that he passed, and hopping around the grass patches! haha.. he certainly looked happy and enjoys it. After which practice recalls, and he's just sucha darling! perfecting every recall and ignoring every distraction in sight! Really very smart and i'm so proud of him! hehe! to think i've yet to bring him for any training yet! lol! anyway after which we went home, cleaned him up and watched some movies and rested. and at night we brought his
mum
and went to visit his
grandpa
.
Baby
's cousins were all so happy to see
Muffin
and kept playing with him, til they wont wanna let
Muffin
go home with me! haha! after we left, send his grandpa back home and we went for dinner before heading home..i was very tired and went to slp shortly after..Then around midnight,
Baby
receievd a call from his
dad
to go pick him up, but as i was too tired, i didnt tag along, wanted to continue slping, but
Muffin
kept whining after
Baby
left home, therefore i ended up waking up and coaxing
Muffin
while waiting for
Baby
to come home. By the time
Baby
came home, i couldnt get to slp already, so we both stayed up and watched tv and ate some tidbits til we got tired and went back to slp again..
On
sunday
, woke up pretty late, fed
Muffin
and ate our breakfast while watching tv..and in the afternoon, we went to
Earth Cafe
to meet
Kandy
,
her bf
and
Pebbles
for lunch! The place is not bad, as
Muffin
and
Pebbles
gets to run around the cafe and mingle and play with other doggies who were also there.. Food was alright though, felt that my creamy spagetti wasnt creamy enough. Haha! after which we all went home. upon reaching home,
Baby
rested as he was having a headache. while i was watching tv. Bathed
Muffin
shortly after and continued watching tv.
Baby
accompanied his
Mum
to visit some old neightbours for Hari raya and went to get our dinner, while me and Muffin were resting at home.
Baby
came home and we had dinner, then it was my turn to have a terible headache, so i took a nap.
Baby
send me and
Muffin
home later at night. =)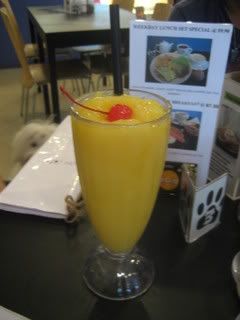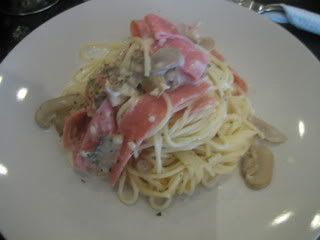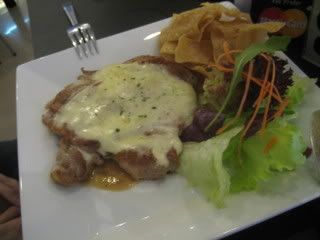 Our food and drinks at Earth Cafe. MangoMix.CreamyBuddies.CheesyChickenChop.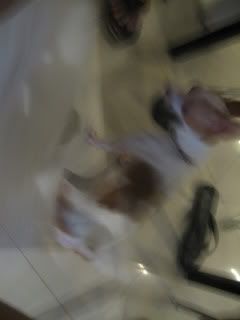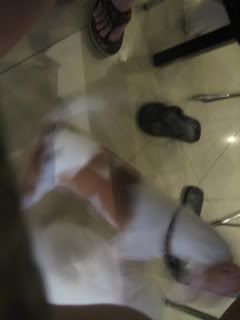 the chihuahua tt was playing and disturbing muffin! haha!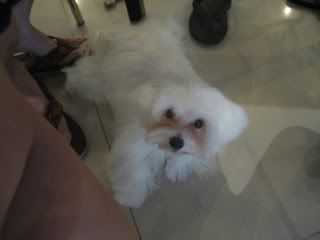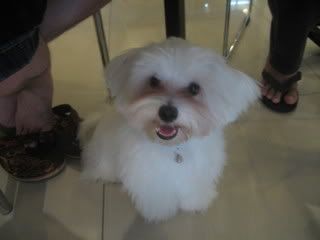 darling muffin under our table~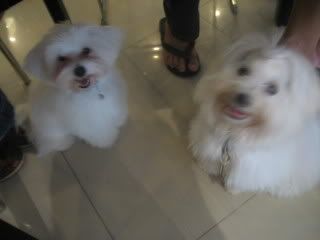 Muffin and Pebbles under our table!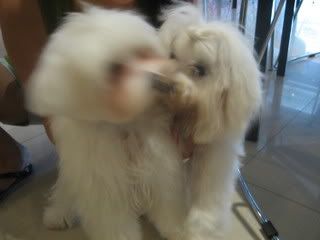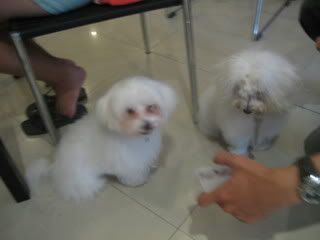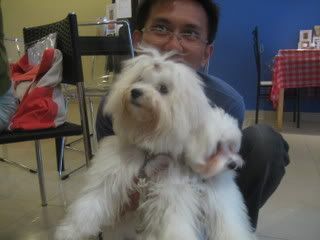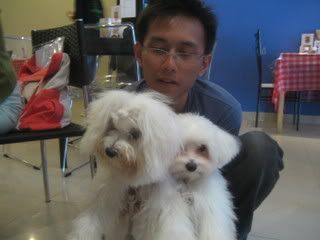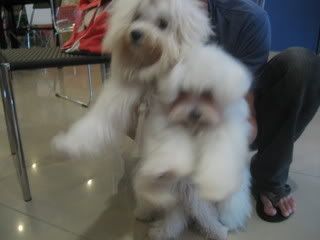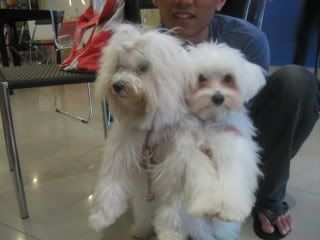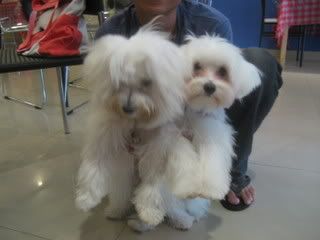 Random Picts of Muffin and Pebbles, It really difficult to snap a pict of them together. they kept moving and my lousy camara is unable to snap them nicely~ i think i need a new digicam soon! =p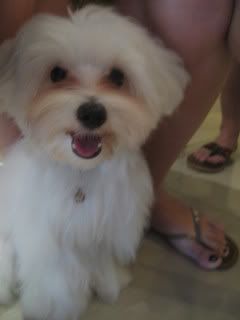 darling Muffin looks so happy! hehe! =D
as for
today
, i'm back at work. and i am
SUPER
early! dont wish to be headshot again! so i came very early. yawns. didnt feel like eating much, so i went to 7-11 to buy myself sandwiches and went to Mr Bean to get my fave pearly soya milk and a choc pancake for lunch. As for dinner, had our Annual Dept/Division dinner at NobleHouse. Food was fantastic! Abalone, Lobster, Sharksfin, and many more! Everything was so yummy~ Didnt manage to snap pictures though, as i was sitting with my CFO and FC..and i felt it aint very nice of me to be snapping around. =) after the very fullfiling dinner, came back home le. gonna be slping soon after this post~ so tired!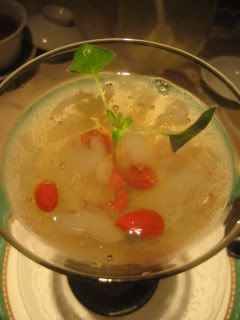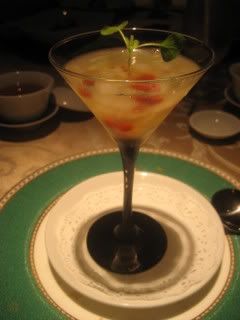 Though i didnt actually taken any fotos, there always dessert that i nv fail to snap! hehe! Desserts are always my fave! hehe! Yummylicious~ Hashima~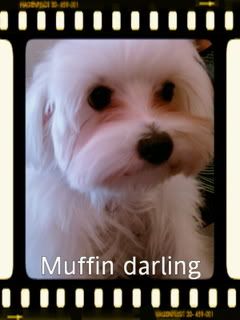 Muffin Darling to end my post for today!