My Love, Pride and Joy!
Friday
night after work, rushed to
Bedok
to collect
Muffin
's new harness, as i had saw it online and decide to purchased it. It a lil big for him though..but certainly looks gd on him. hehe and i tink by then when he's full grown should be just nice alrdy..=) and during this time..i realise my
hp
got problem le! its spoiling and brking down on me soon! sigh~ well..its a slide fone..and i cant slide it down..cuz everytime i do tt the screen will blank out and i wont be able to see anything unless i off and on my phone again! faints..now i have to leave it slide open..which is like so wierd..as i have a habit of sliding it close..plus it'll protect the keypads this way..but now cant...so inconvenient..cuz many a times i forgot and haf a habit of closing it..and i end up not knowing who called and cant read smses..and have to restart the phone~
duhz
~
double boo
! =(
i need a new hp asap
!! anyway..rushed home to pack my stuff and took
Muffin
downstairs to have dinner with
Baby
.. after dinner we went back to his place le. watched some movies and went to slp soon after..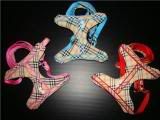 i bought the blue harness! :)
Saturday
morning woken up by
Muffin
at 4am...carried him up to bed to slp with us and woke up yet again at 7+ to feed him..had brkfast and lunch and went to
Pasir Ris
with
Baby
to install a new part into
baby
's car..after that came home and brought
Muffin
for a walk...washed him up and rested til evening, we went to
XiuHui
's 21st Bday Chalet at
Pasir Ris Coasta Sands
..ate some stuff den we left shortly after
Simin
came, as we had to go meet
Ansley, Adrian, Phyllis, Dilwyn, JunHao, Paulynn, Celina
and
Remi
for
Ansley
's belated bday dinner at
Serangoon
..dinner was gd! especially my fave butter crab that
Ansley bro
had ordered! hehe! Yummylicous~ after dinner we went home le..as
Muffin
was with us and its impossible to bring him to ktv with the them~ lol..so we came home and decide to watch the dvd "
Hearty Paws
" that mummy had bought. super lovely and heart wrenching show! made me very emo while watching though..lol..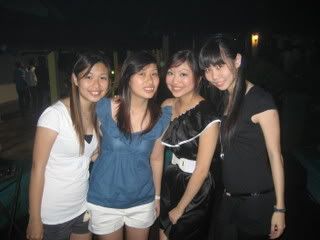 HsinPei, Xiuhui(bday girl), Simin and Me!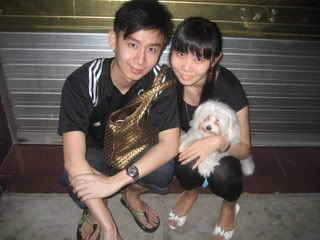 Baby, Muffin and Me while waiting for the others to arrive!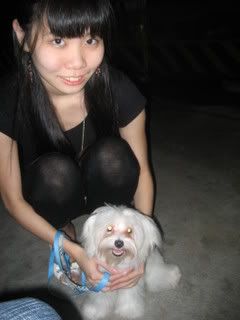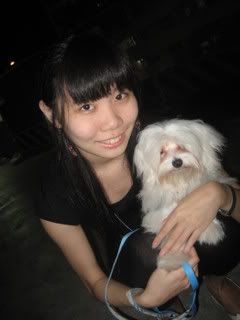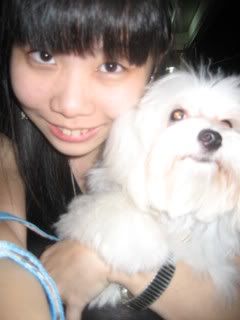 Muffin and me~ while waiting..got bored..lol!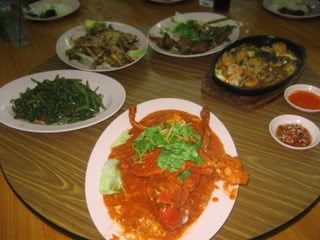 part of our food~ forgotten to tk the others and esp the buttercrab~ only manage to snap the chillicrab though.. =(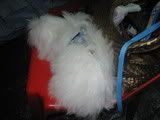 Slpyhead Muffin slping on the chair while we're eating! he slps everywhere~ =p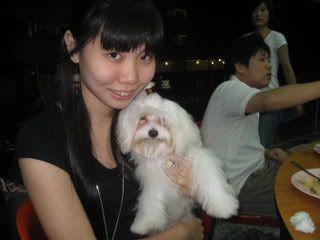 Muffin and me after dinner~ =D
Sunday
morning woke up at 7+ to meet
Muffin
and we laze ard for awhile before deciding to bring
Muffin
to
Petmovers Dogrun
to play! before that we went to
Whitesands
to get some breakfast...super yummy! prata wrapped black pepper sausage, prata wrapped satay sausage and cheesy sausages~ my fave! hehe~
Muffin
had a great time today til he didnt wanna go home! lol..play with so many big dogs and running ard...its just sucha joy to see him playing and having fun..and he played til his paws and body were covered with mud and dirt~ lol..cleaned him up and put him on the floormat as he's to dirty to sit on the car seats or our legs~ lol..after which went to get some treats from the mart and head down to
U-Petgamart
to check out the doggy swimming pool..and the mart..bought some more treats there..and theres this really super huge dog there! dunno wat dog that is..not sure if its a Presa Canario or something else...its so big that when its standing on 4...it reached my shoulders! faints! can u imagine if he stands up on 2! gosh~ for that moment i was tinking "
OMG!.why is there a zebra behind me!
"...trust me..i totally freaked out when
Baby
told me to turn ard and look behind me..haha..cuz he came close to sniff me and Muffin..faints~ i totally froze..wahah!
Baby
kept laughing at me la~ but the owner of the shop says we dont have to worry as its very friendly and wont bite...lOL..even Muffin was afraid of it and for once he didnt try to run over to disturb ya..instead he stand there frozen just like me! lol.. well..after which we went home and bathed
Muffin
and had our lunch before taking our afternoon nap and watched some movies again..soon its dinner time..and after dinner we watched tv before
Baby
finally send me home..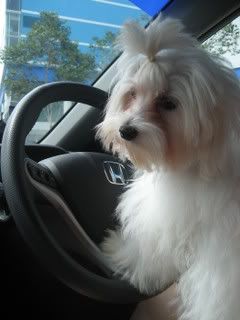 Muffin check left blindspot~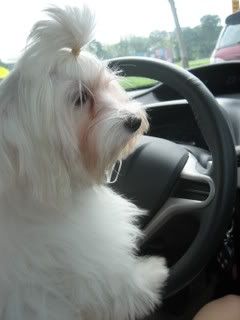 Muffin check right blindspot~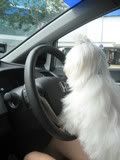 Muffin on the move~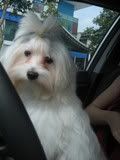 Muffin posing with the wheels~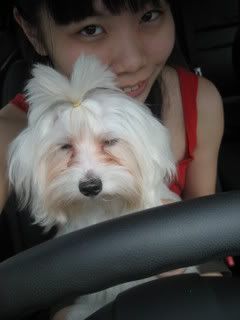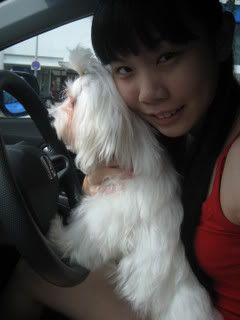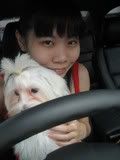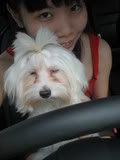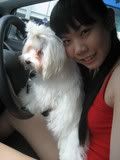 Thats my racer boy Muffin and me! =D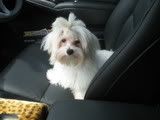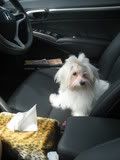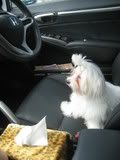 Muffin in the drivers seat!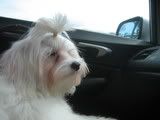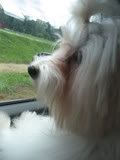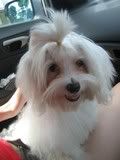 Muffin awaiting for Baby to come back with breakfast!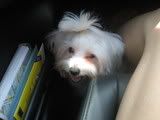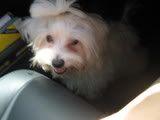 Muffin seating on the carpet after playing at petmovers! dirty but yet happy boy! hehe!
Muffin
is just so adorable and lovely..nv fails to keep me and
Baby
entertained with his silly and cute actions, movements and face...he's just sucha pride and joy!
Love Muffin
and definately
Love Baby
lots! *hugs*
anyway after this post im gonna go slp le..since afternoon having a
headache
again..faints..dunno why every sunday without fail i'll have a terrible headache~ ate panadols le..zZz...
Muffin
is so tired that he's slping on my lap now~ hehe..nitey all~