i love strolls at EastCoastPark!
Saturday
night
Baby
came to pick me and
Muffin
up after his work..went back to his place..and laze ard..watched tv etc..after which we went to slp..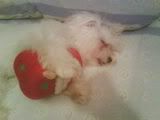 After a long day..cutie Muffin hugging his Santa to slp!
Sunday
woke up in the morning as usual to feed
Muffin
and we went back to slp...woke up pretty late..had our lunch...and wanted to bring
Muffin
out for walk..but then it started to thunder and rain..so
Baby
end up studying and napping..while i was doing some blog stuff..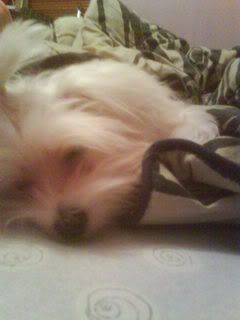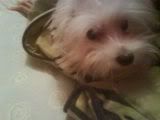 Lazy Muffin lazing around~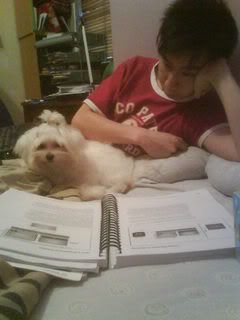 Muffin studyin with Baby! hehe~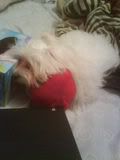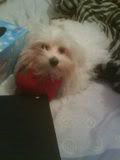 Muffin back to lazy again..and this time he played til he got tired and decide to lay his head to rest on Santa! serious i didnt put Santa under him or anything..all of these done by Muffin!
and about
4+
we decided to bring
Muffin
for a stroll along
EastCoastPark
~ the park was super congested and packed with people as usual...and despite it just rained and was still drizzling...theres still many people there~ well anyway...we went for ice cream at
New Zealand Natural
! yummylicious~ order the large cup which consist of 3 scoops! and we chose Mango, HokeyPokey & ForestBerry..hees~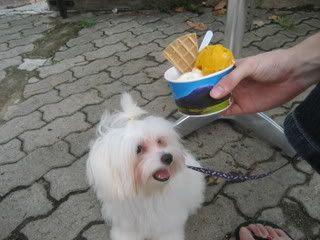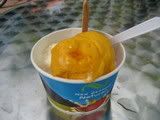 Our yummy icecream~ even Muffin cant resist it! =p
Muffin
was happy too..running around the grass, sand and exploring places..im so gonna bring him there more often~ hehe!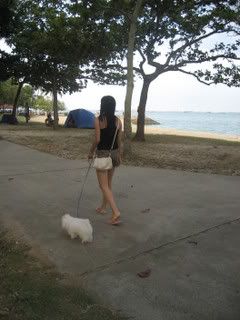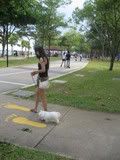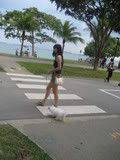 thats me walking Muffin! hehe!
after which brought
Muffin
home to bath..and it was playtime for
Muffin
with
Baby
's nieces and nephews~ all of them just adore
Muffin
! and it seems
Muffin
adores kids too! he gets so excited jumping ard and playing with them..hehe! just sucha joy ya..so glad
Muffin
can get along well with people, kids, and some other doggies..hehe~
later that night watched
CSI
til 11pm before
Baby
send me home ler~ upon reaching home i was super worn out and went to slp right away..
and today i was still super tired til i cant even get up! faints! went to work as usual..and after which went to
PS Daiso
to shop ard and i found a nice baby blue matching Collar and leash for
Muffin
! weeee~ hehe..after that went for dinner with
Mike, Jeffrey
and
Kelvin
before we made our way to school..and now im back home..so tired...gonna knock out to bed after this~ ciao!