-feeling random-
i guess it really true tt j__ dissatisfaction will cause poor performance and health setbacks...i've been performing terribly these days..and every morning when i wake up, i'll keep pondering if i should go or not..tt aside..my headaches and migraine are getting from bad to worse..i suffer it at
least
once every wk..and i dread the feeling..now even normal panadol tt could be purchased over the counter may not be of help..end up i took mc ytd..went to see a doct bout it..and was told its definately
tension headache
..faints..and im now given a stronger dose of painkillers, muscle relaxant and gastric pills incase the medication is too strong and my stomach couldnt tk it..faints`.. anyway tt aside..
baby
came to pick me and
muffin
up right after his work and we went back to his place for dinner and watch a very interesting and super motivational and inspirational movie called "
Sea biscuit
"..after which went right to slp~
Muffin and his Daddy(Baby)! hehe..they look pretty alike eh? with the same slpy expressions and posture..hehe!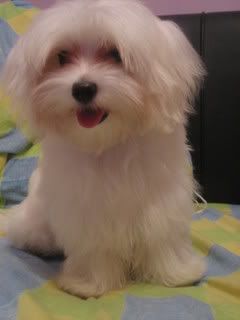 Muffin muffin muffin and finally Muffin and his Mummy(ME!)
muffin
woke us up at 4+..so we decide to put him in our bed to let him slp with us..he was just so adorable..he slept right thru beside me..lucky i nv crush him..haha...at 7+ we woke up yet agian to feed him and played with him..and we couldnt get back to slp..soon after
baby
went out to do some work stuff while im now home with
muffin
stoning ard..lol..
Muffin Learning to go down stairs~
baby
come home soon~
muffin
and me misses u! hehe~
later gonna go look for
Kandy
and her lil pup
Pebbles
at
Simei
ler..weee~
Muffin
is gonna go on a date! haha!
ciao to all..update again when i get my to my own home~
by the way,
Happy National Day Singapore
! =)