feeling sick again..=(
was feeling sickly since i woke up..ate some buns and did some last min mugging at home before i went to school for my exams in the afternoon..throughout my exam i felt terrible...end up i rushed thru the paper and rushed out to the toilet to vomit.. faints`.. and i ended up
vomiting
gastric juice..
EwWww
... its like super sour and gross! guess i was too nervous bout the paper and didnt eat much which caused the vomitting.. wierdly i didnt suffer any gastric pain this time.. anyway the exam today was alrite..the stuff i studied was tested...just dont know if my answers were sufficient...but well...its all over now..now the last paper to worry about..
Organization Design
..faints..the paper i worry bout most..
anyway gonna haf some rest now before i start mugging again...ciao for now~
beautiful view from my room taken just now, just as the sun is setting.. super nice sky yea? FYI, no photoshop involved!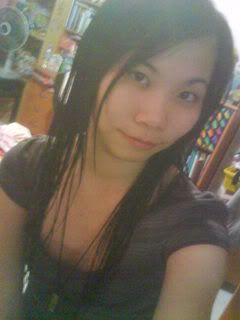 -randomphoto- taken before i met baby on saturday..
greedy
Muffin
keeps staring at his bowl of food!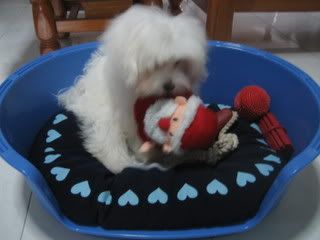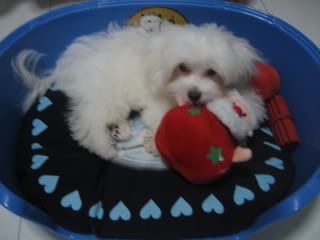 Muffin
playin with his new toy! stuffed santaclaus!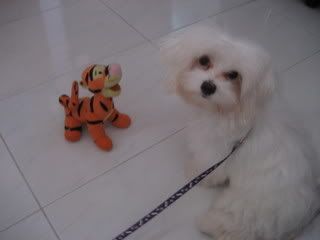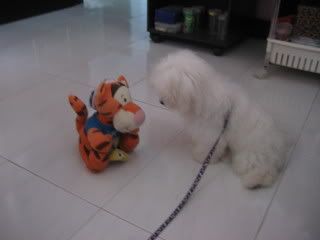 Muffin
with my tiggers~
Nope
im not giving those to him..haha~ in fact wierdly usually when i give him toys..he'll jump to grab it..but when daddy placed my tigger in front of him he doesnt even get near to them, as if knowing its mine and he's not suppose to play with them..lol!
Muffin
must be tinking "
why tigger keep staring at me?..hello? hello? no response -.-
" LOL!!