counting down 7days to exams!
just an update.
last
saturday
, went to
Unicampus
for out last lecture
OD
..after which we went down to
KAP
to study again...studied til 9+ before i left for home..
as for
sunday
, decided to stay home to do my own revision..and at night went for dinner at
Cafe cartel
with
my family
and we brought
Muffin
along! he looks super cute in his bag... hehe..after dinner, went to
NTUC fairprice
to get a
watermelon
for
Baby
while my parents went to pick up some groceries..send my parents and muffin home before i head out again to
Baby
's place...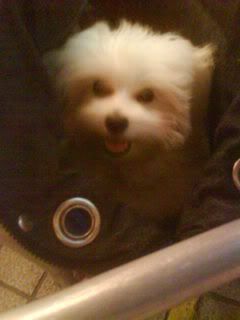 as for
ytd
, woke up early and drove myself home..upon reaching home
Muffin
was super excited to see me! he's just sucha darling~ hehe..prep and went to work..and after work, went to
Long John
at
Douby Ghaut
to meet
Mike Korkor
for dinner and study! yeap..he's my
QMM tutor
! and he sure has lotsa patience teaching me..as i was pretty frustrated and was practically slamming my calculator..haha..left at 10+ and i went home feeling mentally exhausated!
anyway...
Thanks Korkor
for dinner, chocolate pie and your precious time and effort in coming down and tutoring me! hehe~
as for today back at work..feeing kinda
zombified!
gotta be going home to do my revision again~ ciao for now peeps~