a new member to the family!
a short update before i talk bout my very happy news..
friday
was a very busy, frustrating and lousy day for me.. piled with tons of work..orders after orders came in...even at our knock off hours...end up rushed everything and i escaped at 6+, close to 7...rush down to
Eunos
to meet
Baby
, as he was there awaiting for me..picked me up and we went to
Siglap
,
Blooie's
for dinner! yummylicious...i ordered the shrooms and pasta, while baby ordered the lamb stack...cant rmbr the full dish name..but it tasted really gd...at a cost of cuz..haa...but for those lamb lovers...it is highly recommended..a
MUST
try! =D after dinner..went to his bro's place and we went out again to
Gelare
cafe shortly after for waffles~ yummy yummy! it was indeed a sinful day for me...but delicious food and baby cheered me up from my very gloomy day! =D
the very gd new comes now....
saturday
morning woke up and
Baby
brought me to
Serangoon
,
Bow Wow Pet corner
..and a very adorable Maltese puppy caught my attention right away...its like love at first sight!...play ard with it for awhile...and baby knowing i like it alot...decided to get it for me for my advanced 21st birthday present!! =D
*hugs* my dear boy!
Thanks
so much! this is definately the
best
birthday present i've received so far! hees! its like a
dream come true
!~
been wanting to haf a puppy of my own since way back in primary school...tinking and tinking bout it for so long...and now finally...the little precious one is in my arms..=) i'm so happy that just at the thought of it...i could feel my eyes watering up...those are definately tears of joy!
of cuz, with a new life in my hands...there comes much responsibility, sacrificing time, attention, effort and care...but seeing that adorable little face of his when he's ard you...its simply worth it.. =)
well..to continue the update...after getting the pup and some neccesities for it..we brought it home..upon reaching hm..
Baby
placed it on the bed..and guess what! it pee right away! LOL.. faster brought it down, cleaned him and the bed up...and let it roam ard to explore...fed it and we ate our brunch too...after which..we headed out again...and went to
Celina
's petshop to get the some other stuff..before finally going home...as the puppy just came home..we didnt wanna bring it out very often...so ended up i stayed to tk care of it..while
Baby
went to meet
Sylvia
and got dinner back...
Sylvia
was excited to hear bout the new puppy..so she wanted to come over to see it right away..haha..played with it for awhile and we had our dinner..it was indeed quite a tiring day for me and
Baby
..cleaning up its pee and poo...washing it up..playing with it and stuff like that..and it woke us up a couple of times in the night too! haa..faints...its really quite playful and hyper...very affectionate and loving..and pretty attention seeking too! haa`.. totally
adorable
!..
as for today..woke up really early..and brought the pup back to my place where it'll be residing in..except for wkends..where i'll bring it along to meet
Baby
...set up everything..and introduced it to my family...and went out with mummy and daddy to get a bed for it to slp on..and a few other stuff...got home our lunch as well...after eating and playing with it..it finally got tired..and is now slping soundly in it own little corner..=)
would say that im very contented and happy with my life now...having a wonderful supportive family, a ever-loving bf who dotes and loves me...and a wonderful adorable puppy to keep me company.. =) what more can i ask for...hees~
*loves my family, my baby boy and my new baby pup lots!*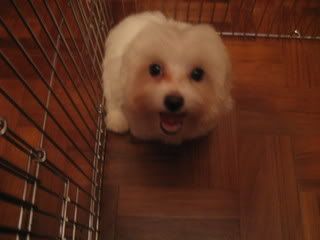 lil muffin's first photo!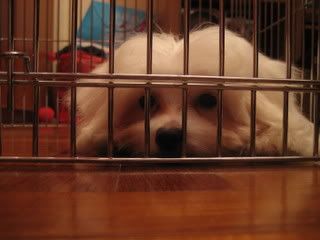 trying to gain sympathy to get out!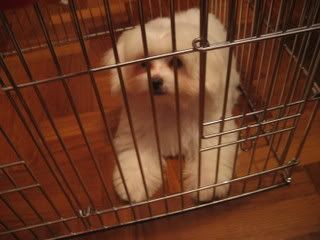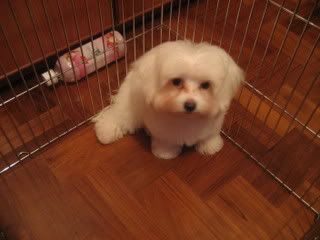 my adorable lil muffin! =)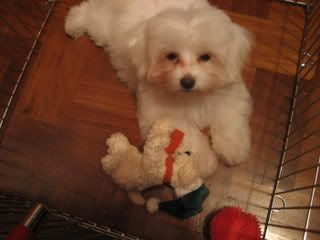 muffin and his toys!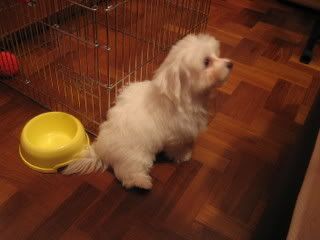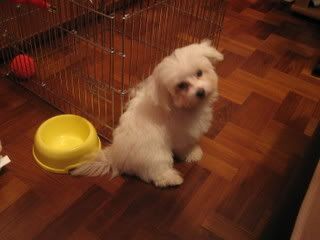 after his first feeding..asking for more? =p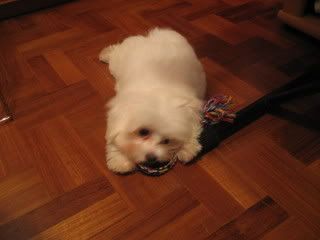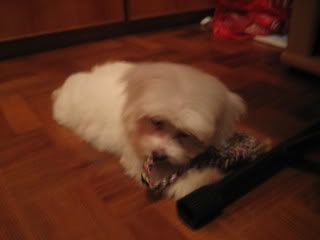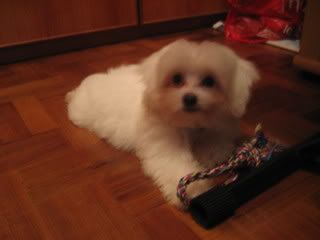 playing with his rope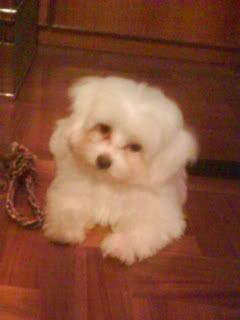 lil muffin posing for his picture taken!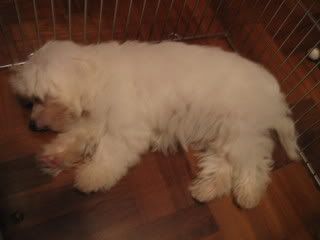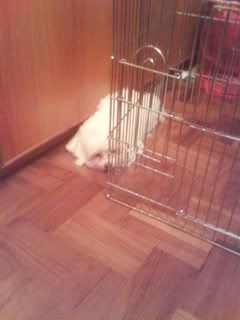 taking a nap after playing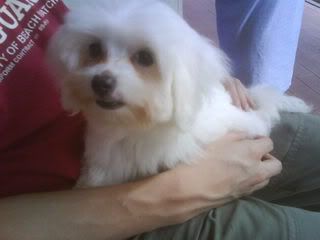 lil muffin on Baby's lap while at Celina's petshop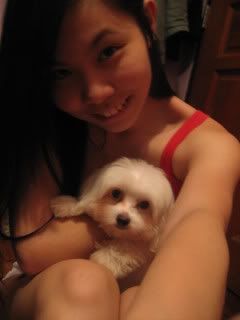 my lil muffin and me! =)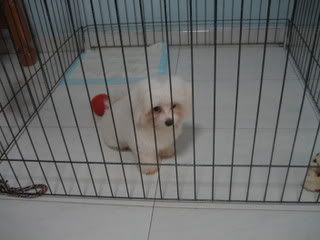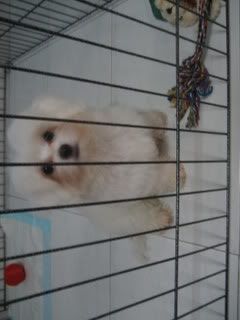 lil muffin back at my place!