Happy birthday to my beloved Mummy dearest!
another year have pass..how time flies...mummy is another yr older...how she have aged thru the years...its pretty saddening..and i wish she will nv grow old...same goes to daddy and even myself...life is sucha sweet and cruel thing...but well..tts life.. anyway...i still
love Mummy
dearest all the same! *hugs*
well..it was a very busy day for me at work..running ard office...and the orders in the tray just keeps piling...on top of that...more orders just come to you..faints..well..its been a tiring day for me...and just as its about 5+..came an urgent order...everyone else was busy...and seeing Jessie's desperate expression on her face...i felt i just had to help out...so yea..rushed the order..and thank god the people required for the process are all available...got all the signatures...done everything and i left in a rush...got home and my whole family were sitting at the living room awaiting for me...without stepping in further..we left home and headed down to
Downtown East
..the new Cathay and building is up..and we decided to check it out..had our dinner at
NewYorkNewYork
...food was great..for the main, we ordered, the clumsy soft shell crab, smoked salmon steak, fish and chip, cheesy chicken and spagetti carbonara with bacon..as for desserts and drinks, we ordered, the Big apple crepes, deep fried mars bar with ice cream and double chocolate shake...and as they made us wait too long..the manager gave us a bananasplit on the house! haha..yummy! =D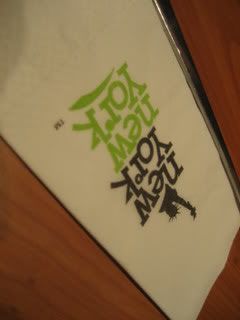 newyorknewyork!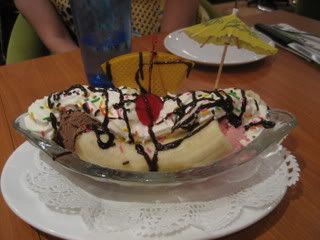 the banana split which was given to us on the house! =p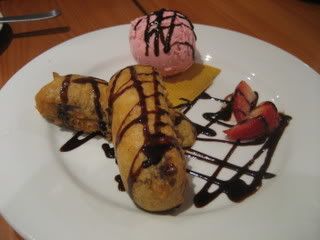 deep fried mars bar with ice cream! =) this is love!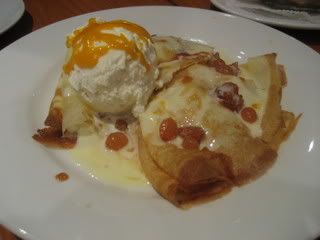 Big Apple Crepes with ice cream!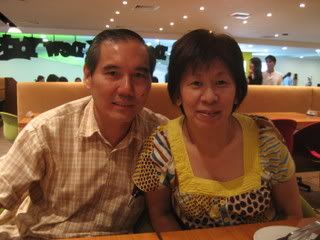 my beloved mummy dearest and daddy dearest! =)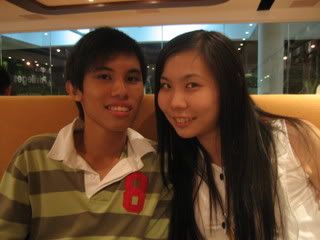 my dearest brother and me!
after which went to walk ard to get the food digested while i checked up on some chalet stuff before we head back to our home sweet home! =)