updates of my wkends~
thursday 20mar08
had the
paintball
session as mentioned...it was
FUN
! haa...many people were injured with blueblacks and some even end up having blisters and bleeding...but thank god for me..i escaped everything uninjured! haa`..and the best part was..
my team won
! =D it was quite an interesting experience being able to hold a 'almost' real gun in hand and shooting away...=) after which went home to wash up and took a cab down to
st james
to meet vincent, glenn, zhen han, grace and some others at
Movida
..
friday 21mar08
my boy came to pick me up..went to his place to rot..and in the evening we went to hk cafe for lunch cum dinner...and during dinner..had yummylicious curry fish head tt we bought home from Samy's restaurant...
saturday 22mar08
went to get breakfast..after which went to the car workshop,
Gen's concept
to get his car thingy done...went home for lunch after tt..and watch tv til he got tired and rested while i play the piano til he woke up and we went to
Cheryl'
s place for dinner gathering along with
Jenson, cheryl's fiance, AnAn, Anthony, Kelvin and wife
...dinner was cosy and delicious~ everything is specially cooked by
Cheryl
! yummy! after which had chit chat and wine drinking session for awhile before we head down to
Shenton Way's partyworld
for ktv session..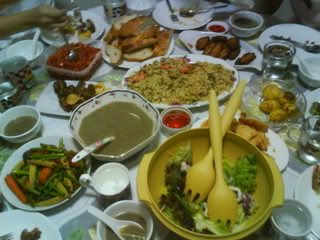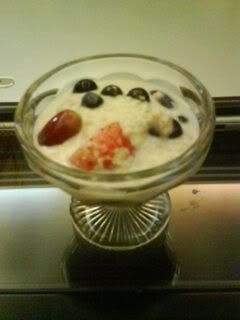 looks yummy right~ our sumptuous dinner and dessert~ =D *slurps*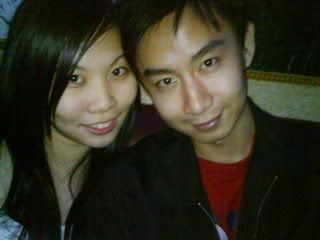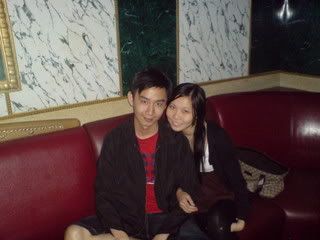 my dear boy and me at ktv
my dear one..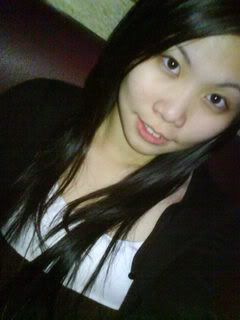 me~ looking very tired i know..haa`..
sunday 23mar08
my boy send me home in the morning..after which i went to
KAP
to mug with m classmates...and went to get a bday cake from
SwissBake
..and rushed home to wait for him to finish dinner with his mum before i rushed over to surprise him with his advanced bday cake! hees`.. it'll be his bday on tuesday..but he'll be going for reservice and i worry he wont be able to book out..tts y decided to have a mini celebration for him earlier..=D
*hugs* my dear boy. loves`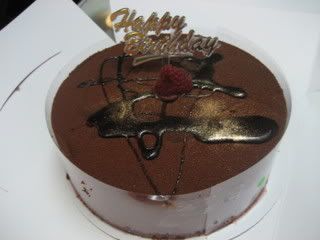 the bday cake i got for him~ milky raspberry chocolate~!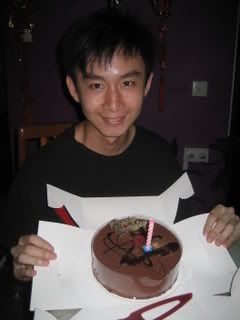 my dear boy with his cake! *all smiles*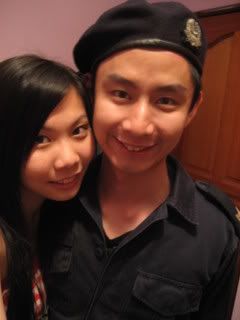 my smart looking boy in uniform and me!~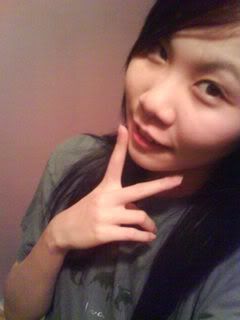 random me~