its a bad day`..
my day didnt go all tt well today...since morning been having a bad stomach..and had diarrhoe for the whole day...went to the toilet more den 6 times~ =( sulks.. that aside i had a pile of crap to do at work..though tt is pretty normal now...tt aside...i have 2 reversals today! sigh...of which both aint my fault at all~ and one came in at bout 6pm when im about to leave office to go home to prep as its daddy's birthday and we're gonna go out for dinner...sighh`..was super pissed off with tt colleague tt i shouted and scolded him in front of everyone..kinda accidentally raised my voice at my manager too...well..i was too pissed to bother bout tt...anyway..after tt left in anger as i couldnt complete the shyt as many of them haf gone home so nth much could be done til tmr~ sighh`..gonna be another bad day`... rushed home.. got changed and went out with my parents to pick my bro from his match..and we head down to
IMM's Cafe Cartel
for dinner as we didnt know what to eat and everywhere else is packed too.. after which i drove them home..and was caught in a
MASSIVE
traffic jam for at least an hour~ *sulks* my legs almost gave way considering tt its a manual car i drive~ and it aint fun to be stuck in a jam for an hour while driving a manual ride~ apparently theres been quite a serious accident tt occured at near Eunos PIE exit..and the jam started from Kallang all the way~ argh~
for today, the only 3 things tt kept me alive are the
Donuts
tt
Sly
bought for us to eat during teabreak~ haa..yummy~ been pestering him for quite some time ler..and he really bought it for us! =p reading the book
'The Leader in You'
while on the train after work tt calm my nerves after a long hectic day at work...and the other is the nice warmth dinner with my family.. =)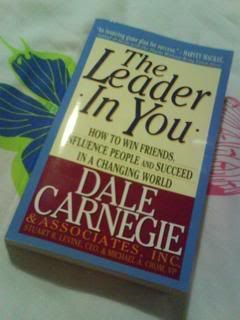 the book im currently reading..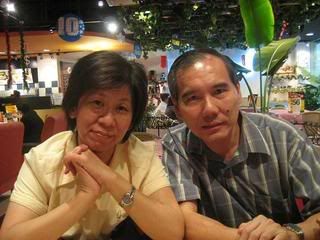 mummy and daddy at cafe cartel.. Happy Birthday Daddy!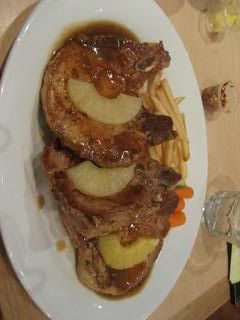 bro ate Hawaiian Pork Chop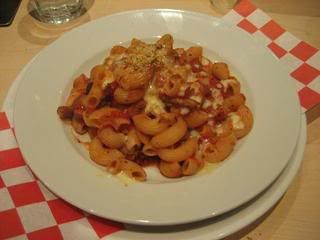 i ate Chicken and Mushroom Macaroni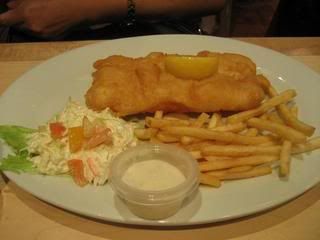 Daddy and Mummy ate Fish and Chips
anyway
Xmas
is coming..and everyone is getting into the mood alrdy...Xmas trees, Decos and Lighting ae put up everywhere... im quite looking forward to it..only worry is..im super Broke now~ how to get gifts!~ faint`.. and btw..did i mention tt im super FAT now! sighh.. i feel fats all over me..its gross~ and i hate it...wanna lose some weight but i obviously dun haf enough determination..plus lately going on holidays and im so stressed at work tt i cant stop eating...=( when can i shed of the flabby arms, thighs and tummy~ *sulkk*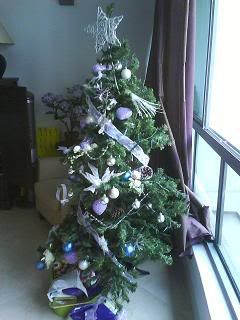 xmas tree at baby's sis's place tts nicely done up by his nieces and nephew~ =D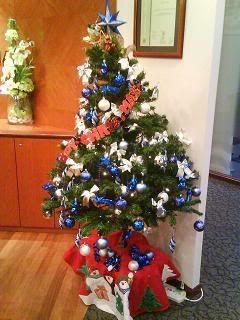 xmas tree in my office..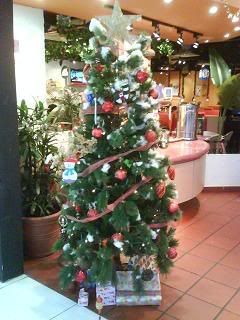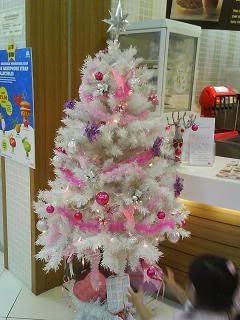 2 of the xmas trees i spotted at IMM..one at Cafe Cartel and the pink one at MosBurger.. i like the pink one alot! its so sweet~ hees`.. i wan my own xmas tree at home too~ keke`..
and to end this post..i wanna hereby wish Daddy again a very
HAPPY BIRTHDAY
! Love ya~ hugs!