a confident woman is a beautiful woman..
[tuning to: ji de ai]
friday
after work,
12/10/07
, went to
OUB centre
wit Siewling...the stuff there are so very cute!~ turn out we bought ourselves a handful of stuff..haa`..anyway after tt went home and prep and waited for bf to come pick me up..upon boarding his car, he gave me a pack of chocs! yummy! thanks
Baby
..went back to his place and had dinner..and later at night we went to meet
Adrian, Phyliz, Jasper
and
Jenson
..went to Lavender for supper and den went to
Breko
at
Bugis
to chill bfore going home..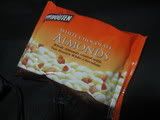 chocs~
Saturday
morning, 13/10/07, woke up pretty early..and we went down to the car workshop to get his new bumper..finally we can go into more carparks..haa`..and after tt we went down to his bro's place to meet the rest of
his family
...had a bear making session and i was taught to make my own bear! haa`...well..my very first handmade bear looks pretty cute..haa`..and im very proud of it!~be sure im gonna make more of it after i get the stuff...=p and after that bf and i went down to
EastCoastPark
to meet
his colleague
for
RollerBlading
...and bfore tt, sweetie
Baby
brought me to
Gelare
to have my fave waffles with icecream! yummy!` been having cravings for it since last wk! anyway..its been a WAY long time since i last put on blades...and yeap..i still can blade til date..haa`...but this time was quite an improvement i must say..i covered more distance...n i didnt fall!..lol..only prob is..i cant brake..LOL..and now both me n
baby
kinda hooked to blading and we're gonna go get our blades soon! haa`..i just love the feeling of blading hand in hand with the one i love..=) after blading, went to meet
his family
again for dinner...after dinner went home to wash up and we went back to
ECP
again to meet
Slyvia
..chatted for quite awhile bfore we send her back and went home too..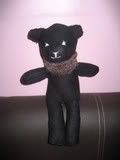 my first handmade bear!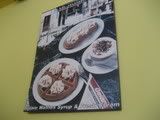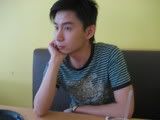 at Gelare.. tts baby waiting our waffles~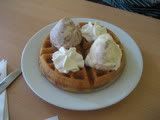 Gelare Waffles with Icecream (HoneyMalt and ChocChipMint) and Whipcream! yummy~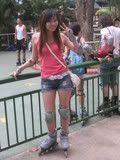 me~
as for
Sunday
, 14/10/07, woke up and rot ard bfore we went out to meet
my parents
and
relatives
for hi-tea at
Chillie Padi Rest
located at
Bugis
..food was not too bad...they serve Nonya food..yummy~ and after that all of us headed down to
Mount Faber Safra
as my parents and relatives wanna play the Fruit Machine..haa`..stayed ard for awhile bfore
Baby
and i left and went to
Parkway
to shop ard..bought Sushi to eat and went to hunt for rollerblades...but sad to say didnt find anything tt we like...we den went to to his place..had dinner and watched tv bfore he send me back ler.. =)