its a rainy rainy day~
back at work again..only today im feeling much more
fresh
compared to the past few days... as i slept pretty early last night! was so early i woke up in the middle of the night at bout 3+ to watch
baby
slp..hees`.. yea...ytd
baby
aint feeling very well...so instead of the usual wed where
baby
comes over to my place to pick me up...i drove myself over to his place and waited for him to come home.. =) and
baby's dad
got me a box of my favourite
Belgian Seashell Chocolates
! *yummy*..had a uber spicy curry fish head and another yummy dish (which i still dunno wat its called) tts cooked by his
dad
for dinner...after which..helped him out with editting his blog thingy..and we both knocked out at about 10pm..haa`..den this morning woke up at bout 6.40am..its sucha
joy
to wake up in the morning seeing your
love
one beside u..=) n i yearn for the day to be able to wake up and see him beside me every morning`..=D we washed up and i drove home while
baby
prep for work...the rain was so huge tt i could hardly see the road in front! plus it was flooding~ scary to drive under this kinda road conditions.. *gosh* the weather in sg is really getting from bad to worse! so unpredictable... n i'm seriously wondering if the flood situation is gonna get worse here in sg...*touchwood* though`..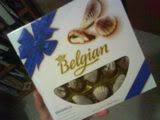 anyway upon reaching home prep and here i am at work ler`.. gonna get busy le!
misses baby
lots!~ *hugs*
my heart beats only for u..