counting down 1 days to beijing~
friday, 14sept07
.. was my bday..after work, went to
yiochukang
mrt station to meet
mybf
. after which head down to
grassrootclub
to wait for my family to reach...den we had our dinner.. dinner was great...food was great..and the company was great...after dinner, bf and i went to
orchard partyworld
...den
SinGen, Darren, Shirlynn and Qiuhen
came..been a long time since i last went ktv.. thanks guys for coming.. =)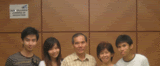 as for
sat, 15sept
..woke up at 8+am..prep and went back to my place to get my books..after which send bf's car to car servicing...and we took a bus down to parkway to haf our breakfast..had our breakfast at
SwissBake
where he bought me a very uber cute
orange shortbread man
to bring to sch to eat..haa`..but turn out..it was too cute to be eaten! so i let it live a little longer..=p after class...he came to pick me up and we headed back to eat...after eating..had a rest bfore we head out to
Safra mount faber
again to meet the others...played pool..watched them bowl and after which, went to haf supper...after which went home ler...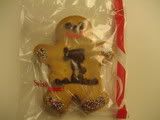 sunday, 16sept
..
happy 2nd mth
to my boy..=) woke up..and we went to
parkway
to have our breakfast cum lunch with his mum and sister-in-law at
Delifrance
..and after which we headed home and watched tv...when we woke up...helped him with his blog stuff and watched CSI as usual..bfore he send me home ler. =)
sad to say not much pictures for this post though its my birthday wk...ciao`...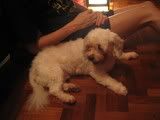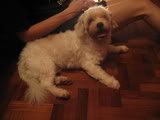 Happy!