BeiJing Trip 18th - 23th Sept07
okie..i'm finally free to blog about my BeiJing Trip!~ its quite a pleasant and fun trip i would say.. only a few things tt haf caused me to be pretty upset during these 5 days...firstly was tt the moment i reach there my face suddenly had a bad pimple outbreak! argh!~ secondly..cuz of the VERY sumptous meal that we have everyday for lunch and dinner i gained another couple of Kgs when im suppose to be losing weight!~ *sighh* lastly..which is also the worse thing tt happened during my trip is tt all my photos from departure at Changi Airport til the third day at the Great Wall of China are GONE! *sobs* i totally broked down and cried that day...its really very saddening ya...and i'm currently still in the midst of trying to restore the pictures from the Sd card...so if any of you knows any program to do so...PLEASE do inform me! Your help would be greatly appreciated and awarded! sighh...even til now..im still very upset bout it...though there are a few photos in SiewLing's and the other's camara...but it just aint the same..plus most of the photos of me and my 2 darlings are in it...sighh`... okie...back to the trip...
Departure Day (18/09/07 - 19/09/07)
went home after work and checked tt i've packed up everything...den waited for baby to come over pick me up...after which we went to Simpang Bedok to haf Prata and our fave Bandung! haa`.. den he send me to Changi Airport Terminal 2..though its just a 5 days trip...i was still feeling abit emo and didnt wanna let go off him as we hugged bfore i left to join my colleagues... anyway went in and met up with a few of them who've reached..then it was attendance marking time...checking in and shopping bfore boarding the plane..SQ812..funniest thing we did was to buy Bak Kwa and started munching as we waited for time to pass..haa`..
Day 1 (19/09/07)
Upon arrival, met up with our representative for our 5days in BeiJing...went for Breakfast and start off our tour..Visitted Gu Gong, the Forbidden City. It was once home to the emporors and the largest and most complete palace existing in China and the largest in the world today, filled with magnificent buildings, structures, pavillions, and pagodas. Next, we proceeded to Tian An Men Square. I must say that the structures are really well build! Went for dinner followed by checking into our hotel rooms! and as the 3 of us, Cynthia, SiewLing and Me were sharing a room..we got the biggest room compared to the others who only had 2people in a room...we have a nice kitchen too! its almost like a apartment! haa`.. btw..the 3 of us are stucked to each other like glue throughout the whole trip...so when i say We..its likely to just be the 3 of us...Took a cab down to a shopping centre nearby...cant rmbr the name of it though...Shopped ard and went back to the Hotel nearby to continue shopping..then its back to the hotel, bath and knocked out!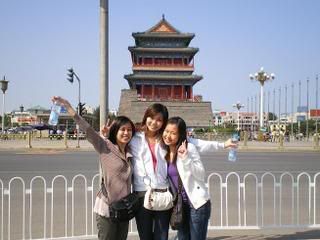 me and my 2 darlings ('san.ren.xing'..thats wat everyone calls us) at Forbidden City..
Day 2 (20/09/07)
morning woke up..washed up..went down to have breakfast..embarked on a leisurely cruise to the Summer Palace that is located within a lovely 12th-century park, once the Empress Dowager CiXi's resort. Continued to the temple of Heaven Park, the largest temple complex in China. This was where the Mind and Qing emperors prayed to the heavens for peace and good harvests for the country. The Main building is a cluster of temples noted for their exquisite layers and unique structures. The Hall of Prayer for good harvest is a particularly interesting, lofty cone-shaped structure with triple eaves and a blue-tiled roof. after which went for dinner at a restarant tt resembles a palace! was pretty awesome i would say! =D and yet again its shopping after dinner~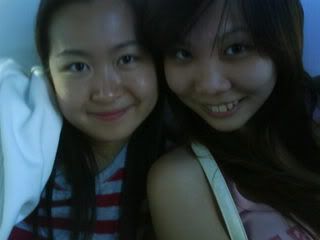 SiewLing and Me on the bus on our way to Heaven Park..
Day 3 (21/09/07)
Woke up pretty early this morning..had breakfast and off we went to one of the most famous place on earth...The VERY well-known, Great Wall of China! was pretty cold as the wind blows...but after climbing the steep uneven steps...we all started to perspire alittle...worse part is i have fear of heights and low blood! so after climbing the first flight of steps...my whole face turn white and pale!~ but the persistant me with encouragement from my 2 darlings...we continued to the top! of cuz not the highest point...but it was really pretty high up alrdy! plus we were the only 3 tt climbed that high up....climbing up aint tt much of a prob...it was the coming down tt was very much a challenge! my legs were trembling horribly! and i had to tk 1 step at a time and hold the railings to get down..and turn out my 2 poor girls had to wait for me! well..of cuz i did manage to get down..and upon doing so..we had sucha sense of accomplishment! we each made the Heros Card which is kinda like a certificate for climding the Great Wall...pretty memorable ya...den we each wore the 'Ge Ge' clothings and took photos! wahhaa`...not gonna publish the whole pict though..as the lower half is a awful sight! haha`..well...after that..went to haf lunch followed by the trip to the Ming Tombs...this is where traggic struck! upon reaching and walking ard...taking pict and all and suddenly poof! everything is gone! sighh..ok..enough of that...i didnt enjoy myself there at all..i broke down in tears and i didnt haf any mood to continue looking ard at all...then we went to the Olympic sites for photo-taking...its only til after dinner that my 2 darlings made me feel better.. =) and yet again...followed by shopping at Silk Street where we got stucked there for 1 and a half hours in the middle of the street trying to get a cab back to the hotel! its shopping centre there is really different from Sg..at 9SHARP..the pull down the cloth and knocked off..5mins later the lights in the shopping centres went off too...they're so ON-The-DOT! haa`...and at about 10pm the lights on the streets went off too!! goshh... anyway when we finally got the cab..went back to the hotel..and continue to shop for some stuff nearby bfore heading back and settle down for awhile bfore meeting up with Shirley and Joseph and we all head down to a Club, Cargo to check out the place...the layout is quite nice and is comparable to th clubs here in Sg...only prob is the music..haa`..after which headed back to slp ler...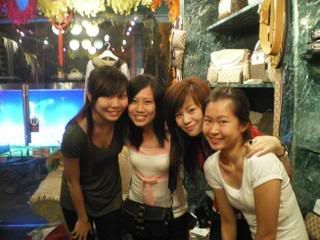 Me. Cynthia. XiaoXue(our new BeiJing fren). SiewLing in XiaoXue's Shop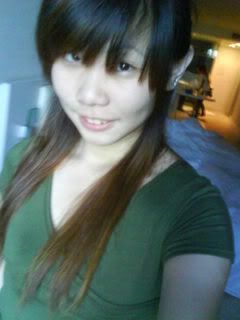 Day 4 (22/09/07)
had breakfast..and left for HuTong..where the 2nd group joined us on our tour...its a unique form of community that exists only in China. Took a trishaw ride and explored the place.. 'Hutong' literally means a small street or a lane between two courtyards..had our lunch in one of the villager's house..was quite cosy and homely i would say..and after that we headed down to Wan Fu Jing Shopping Street to shop and sample local snacks...turn out we didnt really buy anything there or try anything as we didnt quite dare to..plus the things there are pretty costly or same as sg...and we spotted one building tt totally looked like Taka! haa`..the layout an everything is almost the same ya...i guess in time to home tt place is gonna look just like our Orchard road! in fact there are alrdy many constructions there right now... after which went back to the hotel and had our dinner with the 2nd group tt had joined us..had games during dinner..and prizes to be won..haa`...after dinner...its back to shopping followed by Foot Massage with our Manager, Lian See...the massage is gd and cheap! went back to shopping after tt and we visitted our new BeiJing fren, Xiao Xue who owns one of the shop tt we visitted...she's really very sweet and the nicest person we know there...she gave each of us a parting gift, a unique ring tt suits each of us...so sweet aint she..for the last time we said our goodbyes and head back to the hotel..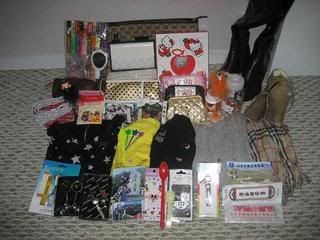 some of the things i bought for the 3 and a half days..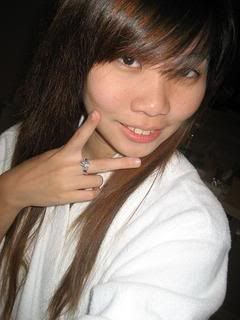 me in the bathrobe and ring that XiaoXue gave us!
With Cynthia's Uber Huge Box of Marlboro!
Day 5 (23/09/07)
had our last breakfast at the hotel..den it was last minute shopping again at Silk Street with Anita..den we rushed back...packed our stuff and checked out...went for our last Sumptous lunch which was by far one of the best sumptous lunch in our stay at BeiJing...then off we went to the Airport and took SQ801back to Sg...and darling baby came to pick me up and send me home ler...was super delighted to see him of course! hees`..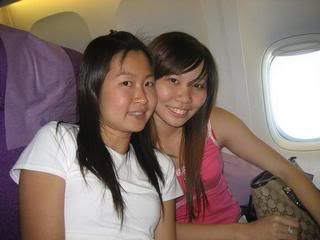 In the plane with SiewLing, on our way back to Sg..
sad to say...didnt haf enough money...plus nothing much to buy..and most things cost almost the same as sg..so turn out i didnt buy much.. =( theres simply tooo many photos...so i shall upload them another day! as for now lets just make do with these fe photos...*tata* for now~ nitey!