embracing the sun, sand and sea~
[tuning to: mika - love today]
Friday, 3Aug07
, had a long day at work again..ended work only at 8+..bz day at work plus had the
S&R commitee
meeting again...til bout 6+..after which
Qihui
and
Cecilia
came down to office to meet me and
Linda
!~ =D after work, we went for dinner at a Ramen place...food was not too bad...but all of them were like going "ga-ga" over one of the cute chef..haha`..after which, we went to
EskiBar
for a drink and chill out!~ i love that place...cuz its so nice~ and this few guys from NewZealand came up to know us..haa`..super funny...and one of them thought i was
Japanese
...
LOL
... anyway..after that,
sweetie Baby
came over to fetch me home ler.. =)
my beloved twinnie Qihui and me taken in the office while waiting for linda to complete her work bfore we head out for dinner
emjoying our drinks at EskiBar
EskiBar
Groupshot at EskiBar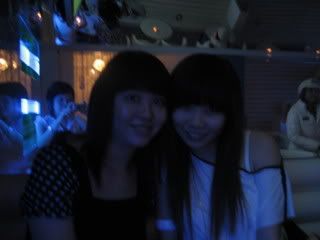 Saturday, 4Aug07
, woke up pretty early..laze ard and watched tv..had brkfast den send his Daddy to get food for his Bro and Sister-in-law...and along the way, we went to get
BananaPie
from
KSC
...and den head down to
JooChiat
to get our
Durianpuffs
! *Yummy*! den we send his
Dad to RedDotMuseum and head back home..upon reaching home, we watched tv and ate out durianpuffs and bananapie and dozed off right after...lol...yea..lazy us...haa`...den at 4pm, his Mum woke us up to send her and the maid to RedDotMuseum and pick his
Dad
home...Upon reaching home..laze ard and watch tv again..den at bout 5+, we head out to pick his colleague up to go
ECP
for his colleague's bday chalet...pple there are nice..had loads of food too..haa...meanwhile,
Baby
and i went for a walk to digest the food and have our time alone..=) den we found a spot to sit and
stargaze
, enjoy the scenery, chatted and
camwhore
!~ haa`..after which, we head back to the chalet..and we left ahwhile after the cake-cutting session...as dear was drank...i droved us home..haa`..thank god i have a license...else poor
Baby
cant drink and enjoy himself ler..upon reaching home...took a bath, as we smelled so
BBQ
ed! haa`...den after
Baby
dozed off in my arms while i watched tv alone...at bout 11+ to 12, we head out again...and i drove us to
Serangoon
to meet,
Adrian, Phylliz
and
Ansley
...rotted for awhile there bfore we head down to
Swensons
at
Orchard
as
Phylliz
was craving for ice-cream...after that, the other went to ktv while me and
Dear
head home ler..as we're both super tired alrdy...
the durian puffs..as we were too engross in eating..i forgot to k a pict of the bananapie..and only rmbered to tk the durianpuff awhile later...tis is wats left when i took the pict..=p
Dar and me!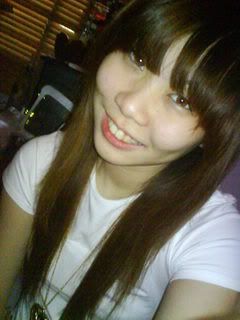 yours truly.. =)
us at ECP.. =)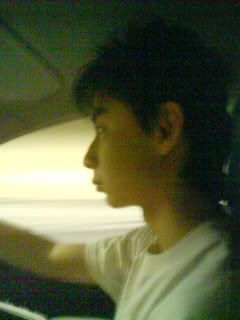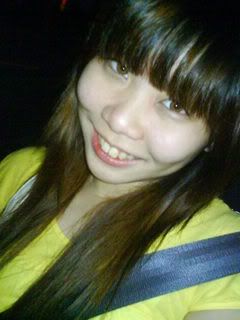 dar while driving us to swensons..
the white-chocolate blondie we ordered..only rmb to snap a shot of it while eating halfway again..lol..
as for
Today, 5Aug07
, woke up at 10+..had our breakfast of cereals and watched cartoon...den at 12+, we went out of the house to
embrace the sun and water
...yea..
suntanned
and swim
!~ and the camwhoring begins once again! in fact we took bout
65
photos! but sadly...no fotos of us together..all individual shots...haa`...but we certainly had fun and tanned! lol.. there bikini marks on me ler! thank god im still considered fair~ its been a
VERY
long time since i last embraced the sun! always been swimming at night..and hardly had time to just relax by the pool and laze the whole day! and after tt, we went back, showered and had our lunch bfore both of us concussed to slp! simply too tired~ and woke up at bout 7+pm! wanted to go get something before i head home..but the place is closed by the time we woke up..haa`..den at bout 8+,
Dar
send me home ler.. =)
bfore entering the pool, while hiding under a coconut tree~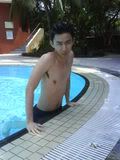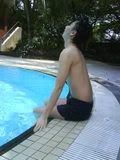 dearie.. one of the pict was rather cool...taken while he flick his head up from the water..so can see the water splashing upwards..hees`..taken by yours truly.. =p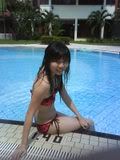 embracing the sun!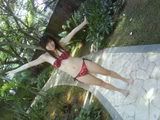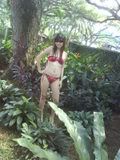 at the garden n playground.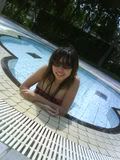 back into the pool.
we found this nice spot at the lobby, in front of the squashcourt! nice lightings there..haa`..
as for
tmr,
gotta go work le..and sch is starting tmr! weee!~ some how im quite excited tt sch is starting again...and m kinda looking forward to it as well..only thing is...it'll mean i'll have lesser time for dar..oh well...guess he'll understand.. =) *hugs* dar..