been a really nice wkend...til...
[tuning to: rob thomas - little wonders.]
friday, 10aug07
..busy busy day at work..well..anyway..after tt went home..and prep while waiting for baby to come pick me up...we then head to the groceries store to shop for some ingredients for spagetti and some tidbits...we then head back to his place..had our dinner...and continued watching "
24
"..den later at night, we went out to
Cineleisure
to meet
Adrian, Phyliz, JiaBao, JiaLiang, Jaspal and WenJing
...we then caught the show "
Flashpoint
"..all i can say bout the show is...its very violent!...lol`..and after the show its aldy bout 4am...so we head straight home and concussed...
saturday, 11aug07
..woke up and had our brkfast..after which prep and
Baby
send his mum to her office and send me to the
cashflow workshop
that he had helped me signed up for...the workshop was pretty gd i must say...after tt,
Baby
came to pick me up again...and we head down to pick his mum up...and we head over to get
Durianpuffs
! yummy!...then we went to his bro's place to feed his pets...there's lots of them wor! thier dog, happy..3 cats..1 parrot..fishes..plants...spider..rabbit...we then head back and i prep to cook dinner for his family! i was pretty worried as i havent cooked for quite some time..and kinda afriad that i've turned rusty!~ well..thank god everything went well..and all of them said its not bad...haa...=) after dinner...continued on "
24
"...and we finally finished this seasons of the show!...right after the show..we both concussed...
as for
today, 12aug07
..woke up early in the morning..had breakfast...den, we head out shopping... went to
Queensway
...looked for JiaBao as he's working there...shopped ard and
Baby
got himself 6 t-shirts with a little helkp frm me! haa`...glad he trusted my taste..hehe... and yes..he look great in the shirts! he was pretty excited and eager to wear them..and guess wat..he really did changed into one of the tshirt tt i had chose for him and like alot, right after our lunch of
Stewed Mutton Firepot
...its really yummylicious...recommendation from baby..hees`.. =) and after tt..we had intended to go to
Jurong Point
...but upon reaching...we couldnt find a suitable carpark...cuz
Baby
's ride couldnt enter the carpark at Jurong point itself...and can barely enter some multistorey carpark in the premises nearby..cuz his bumper is too low...haha`...i must admit is very nice...only bad thing is...difficulty finding carpark..and therefore we couldnt go to certain places...well..therefore we decided to change venue and head down to
Marina Square
instead...continued shopping ard and i bought myself a new skirt! =) we wanted to et a drink from Mos burger..IceMilkTea..but realise the MosBurger aint there anymore...therefore we went to a
Japanese cafe
for dessert! hehes`...i cant really rmbr the name of the place...
Azabu Sabo
..i think..haha`...well..will check on tt and update again.but the dessert there was not bad...and we were almost spoilt for choices...as all of it looks so yummy! end up..we got the
Mango sundae
...its not like normal sundae though...u've really gotta try it for urself to know the diff..hees`.. continued shopping ard for awhile more...bfore we head hm...upon reaching home..his sis, bro in law..3 nieces and 1 nephew were there...they're just so adorable! the last time i saw them was bout 2 years back when i joined him and his family to
Raffles Town Club
for lunch...and amazingly..his sis remembered me..haa`...den we brought his 3 nieces and mum to his bro's place to feed the pets again..after that head back to his place..and we concussed ler..as we're both super tired..woke up awhile later..for dinner...had steamboat...and after dinner...watched
CSI
on tv...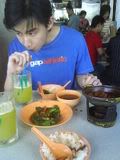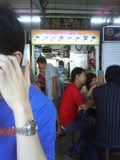 having our lunch of Stewed Mutton Firepot at Queensway..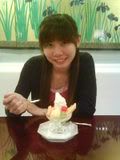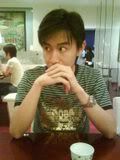 baby and me at Marina Sq having our dessert.. and tts baby with his new tshirt..nice right?..hees`... =) i think he looks really gd in it..though i always thinks tt he looks gd in everything..keke`..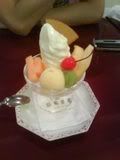 the yummylicious mango sundae..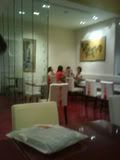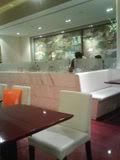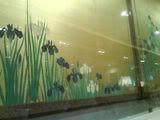 the Japanese Cafe..nice place eh?..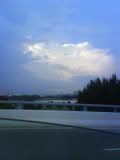 while on our way home..
everything was really sweet... til a phonecall came... its a private number..and as i've been receiving unknown calls for quite a few days without picking it up...i got kinda scared and got Baby to pick it up for me...guess wat...its from this guy called 'Jim'..i have no idea who he is...from wat baby described...it didnt sound local...Baby was upset by it...probably thinking in the wrong direction...i dont blame him for feeling this way...as who wouldnt be..when a guy calls your phone nonstop...and i claim i dont know him....well...actual fact is...i really dont know anyone unlocal by the name 'Jim'...sighh..was it a mistake to get baby to pick tt call?..i really dunno...but im just really scare....2 things on my mind right now... im afraid baby wont trust me... and im afraid this call will really affect us...sobs... im just so scare to lose him.. =( the other thing is....is this 'Jim' guy a stalker or something?...how the hell did he get my number!...or was it a set up of some sort?...
sighh...things felt a little wierd after the call...baby was acting strange..i shall not elaborate further...
upset.
period.