counting down, 3 days to exams!
[tuning to: til the end]
til the end
...a song tt's been stucked in my mind since the day baby send it to me bout 3 yrs back...and til date im still loving it... and yes...its a song we both love alot! hees`.. =D its a really sweet, nice and meaningful song...and i'll probably upload it soon and share it with those who have nt heard of it k.. =)
anyway...these few days..nth much to blog actually.. after work its back home for me... ytd had
Pizza hut
for lunch with a group of my colleagues(
cynthia, siewling, diana, dawn, james and jean
) as one of my colleague(
jean
) is leaving today...so yea..its a farewell lunch...we ate so much! 7 of us ate 4 pizzas, a bowl of soup each and bout 34 drumlets! haha.. was pretty scary...and apparently..something quite hilarious happened while eating tt made all of us laughed for quite sometime...haa`..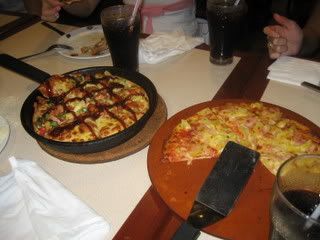 pizzahut~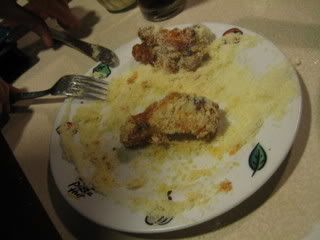 the thing tt made us laugh..shall leave out the details though.. =p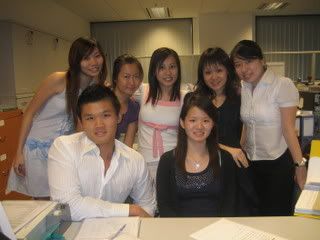 some of my colleague and me.. =) [see..im getting fat right?..sighh..]
and as for today, had another farewell lunch for
jean, qihui and cecilia
, with my dept, as my manager is treating..went to '
Teahouse
" for dimsum~ yummy... the food was great and yes...we ordered ALOT..its pretty scary actually, the 9 of us(
my manager, cynthia, siewling, qihui, cecilia, jean, celine and linda
), mind u..all ladies...haha...our whole table is filled with food and in fact we didnt haf enough space to place all of it...haha...turn out we ate til we almost exploded...lol..and yea...me and my darling cynthia's reputation in office have kinda been tarnished as the 2 hungry monsters...lol...u can nv imagine how much we eat! but who cares...'chi shi fu'...lol..but...i've really gotta start my diet regime again....im kinda worried that if my eating habits continue this way...i seriously cant fit into my clothes anymore!!
gonna miss my sweetie qihui
when she leaves...sighh...will b missing the all laughter and booing we share in office ler~ =( and i bet office will be so much boring n quieter without her with me!!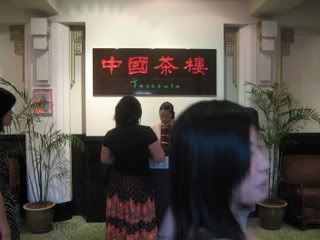 the entrance
dont be fooled...this is definately less den half of the food we ordered...after this photo i became too engrossed in the food le.. =p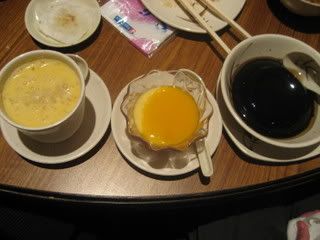 the yummylicious dessert tt me and cynthia ordered! hees`..
below are some photos taken last friday..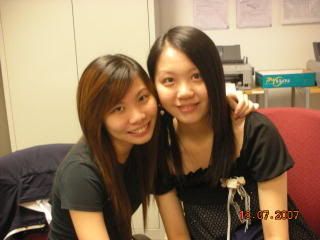 me and my sweetie, QiHui! [hungry monster & boo monster!]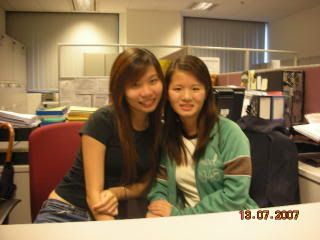 me and jean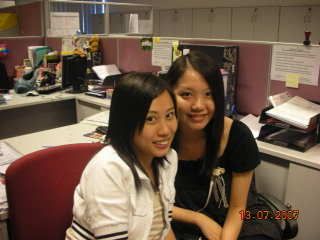 my 2 fave girls in office! my darling cynthia and sweetie qihui! =D *loves them lots!*
ok..as for now..its back to my mugging!! =( *sulks* and my leaves starts tmr til the last day of my exams! yeah and boo..