update update!
i just realise i haven blogged for more den a wk! haa`..guess im just too bz n lazy..=p
therefore im just gonna summarise everything into point forms...
* i didnt go out from

Monday

to

Thurs

besides going to work and sch!
* Friday, met up with Michelle at Central Mall. had dinner, shopped ard and i bought another new dress. went to Clarkquay;The Deck for a drink and catched up on each others.

* Saturday

, Kev came over to pick me up and send me to KAP to study with my classmates, Kelvin, Mike & Alex. had a short guitar lesson with Mike. den Kev came back to pick me up with Eddy, Izwan and fren. send Eddy and fren back, den the 3 of us went to Tiong Bahru plaza to wait for Joey to knock off from work den we head down to Marina South to makan steamboat. and apparently i have 2 really niceguys who can cook pretty well with us..and did i mention...Kev actually peeled all the prawns for us! haa`..so Joey and i were like 2 very '

xin fu

'

(lucky)

person sitting there waiting to be served..hees`..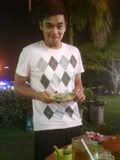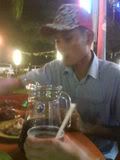 our 2 cooks for the day! =p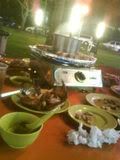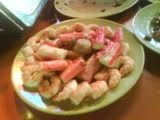 joey and me, the 2 lucky girls! and the yummy food. =D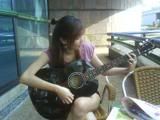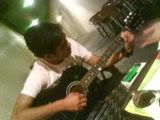 my new found passion ; guitar! and tts kevin trying out Lulu as well..haa`.. =p im quite a huge influence i must say...hees`..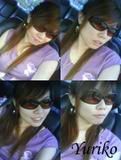 shades fetish!
* as for ytd,

Sunday

, Kev came down again to pick me up..brought me out for lunch where we ordered loads of food and end up finishing non of it..haa`.. after which he send me to KAP yet again to meet my classmates, Kelvin, Sebas, Jeffrey, Mike, Alex & Jerrain to study. In the evening he came over again to pick me up and we head out for dinner. =)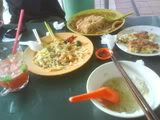 while having lunch. and tts the amt of food the both us ate..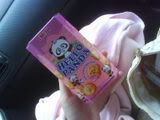 my strawberry hellopanda from kevin!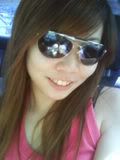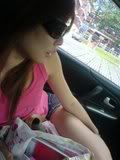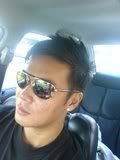 camwhoring in the car again..haa`.. yea..we're both having the shades fetish!~ =D
taken bfore going for dinner
as for
today
, went to work as usual...
Monday Blues
again..to make it worse..some docts in office kinda went missing..send them for signature last wk..and it nv came back...wonder if someone had took it by accident..hopefully will b able to find it tmr...anyway..
Sebas
came to pick me and my colleague,
SiewLing
up for lunch at
Chinatown
...den went back to work and i was simply like a walking zombie...after work, went to meet
Glenn
at
PS
for dinner bfore we head to sch together...and yes...i knocked out in class again...im just simply too shagged out...after sch head home straight ler.. the bad thing is..im always tired..but once i reach home..i cant seem to b able to slp again...and anyway...i just found my fave
strawberry yoghurt
drink at my doorstep a couple of mins ago! recieved a sms from
Phil
and was told tt he got me a lil something..i was like super shock..cuz its something i didnt expect! and i was indeed having craving for it a couple of days back! Thanks
Phil
! u certainly did put a smile on my face. =)
yummylicious strawberry yoghurt drink from Phil!

learning to appreciate, be contented and treasure the things i have... and for those tt i dont and am not able to have...i'll learn to let them go...