GSS is here!
wed
night after work, went to haf dinner at
Sakae sushi
with my colleagues, ex colleague and another girl who use to work in my co. bfore i came in..namely,
cynthia, jean, dawn, shaun, tricia
...after dinner we went
shopping!
ok ok..it was just
me, cynthia and jean
shopping..while the others are bz talking n catching up..lol...turn out i bought at least an item from every boutique i went into~ faints...can die sia...super broke! after which, we went for
ktv
session!~ weee!~ but jean left halfway...oh well..all i can say is...all of them sing so well~ =)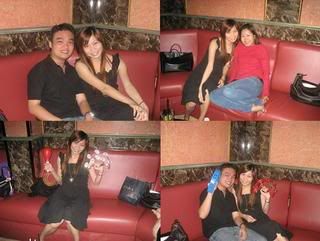 Shaun, Tricia and myself. the others refuse to tk photo.. =(
thursday,
its a public holiday, yeap...Happy Vesak day to all~ anyway...booked the tix for
Shrek3
...den
Sebas
came to pick me up and we went to catch the show..after which accompany him to his uncle's place to run some errands...and finally went to makan and he send me home ler..

as for
ytd
...went to work again...many things to do..yea...its been a busy day again....as i was nominated by my manager to b in our co. S&R commitee, went for the meeting which lasted for 2 and a half hrs~ lots of things to plan and see to....e.g the co.'s D&D, co.'s annual trip, activities and events...gosh..aside from work and study...now i haf more xtra things to do~ faints sia...it would b fun..but gonna b super tiring for me ler...and turn out....cuz of the meeting.i had to do overtime to clear up the work for the day~ anyway...after work..went to
Hougang
to meet
Kevin
...after which we drove ard not knowing where to eat...turn out
Sebas
called and ask if i wanna join him and
Yamei
for dinner at
geylang
...therefore we went down to haf dinner with them....after dinner of claypot rice and many many dishes tt we couldnt finish in the end...we went for dessert at
Bugis
...after dessert sebas suggested we go for a drink...so end up we went to
Beavers
to chill out..
as for
today
...pretty shag...still deciding whether to go down to join my classmates to study...anyway..shall update again bah..i go rest ler... =)